Projects and Documents
Once you log into UXPin, you will see a view which we call the Dashboard. The Dashboard gives you quick access to:
Projects – this is the place with all your prototypes and other documentation (personas, business model canvas, uploaded files) for easy management.
Projects groups – your projects are divided into groups so that you can browse through them easily and keep the Dashboard neat.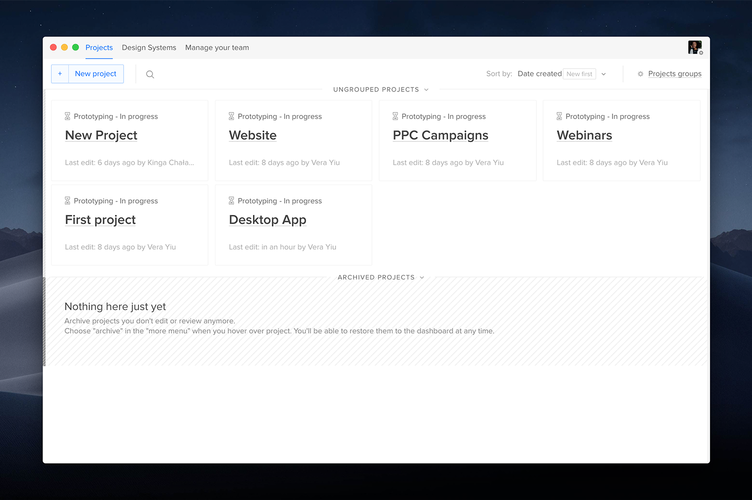 In the Dashboard you can also:
Search for projects — use the search bar at the top of the Dashboard.
Switch between projects quickly.
Sort projects by Name, Date created, or Date modified.
Manage access to projects for individual users.
Archive projects and change project groups
Dashboard View
The Dashboard View in UXPin lets your control the way your prototypes will be listed when you open a project. Open any project and at the top of the screen you will see a View dropdown where you can choose from Big, Small, or List views.
Tip
Use the list view for longer prototype names so that their names don't get cut off.
Creating Projects and Prototypes
To create a new project, hit the

+New Project

button in the top left corner of the Dashboard, give it a name and confirm with

Create New Project

.
Start creating a new prototype in UXPin from scratch or import your existing files in various formats (PNG, JPG, PDF, DOC, PPT, Sketch).
You can also add new prototypes to already existing projects. All you have to do is open a given project and click Create another prototype at the bottom of the screen.
Uploading Design Files and UX Documents
Below the Create another prototype button on the Dashboard, you can upload your Photoshop and Sketch designs as well as files in other formats, such as PNG, JPG, PDF, DOC, and PPT.
You can also add ready UX Documents, such as Persona, Business Model Canvas, and Project Canvas.
Renaming Prototypes
You can rename any prototype in the Dashboard. Double-click on the title and give it a new name or hover over the three-dots icon, click Change name.
This is also where you can move a prototype to another project. To do that, choose Move to project.
Moving Projects between Accounts
If you need to transfer your projects from one UXPin account to another, our Support team will be more than happy to help you with that. Please, contact us at hello@uxpin.com with the following information:
The email address of the account that you want to transfer the project from.
The email address of the account that you want to transfer the project to.
The name of the project. Please note that we can only transfer entire projects, not single wireframes or pages.
At UXPin, privacy and security is our priority. That's why only Account Owners can make project transfer requests. Once we have all the necessary details, we will be able to complete the transfer.