Multistate Elements
This feature is discontinued. The tutorial below describes multistate elements created before the October 2018 release. You can read more about the current States functionality here.
Multistate Elements (MSEs) are sets of items, such as boxes, buttons, and images that change between configurations upon interaction.
Creating a MSE makes copies of the selected elements. You can move, resize, recolor, or otherwise change the copies per state. For example, two configurations — states — may each show a different icon. Clicking the element could flip between the states.
By using multistates, creating carousels will be a piece of cake now, let's get started.
Creating Multistate Elements
Select the elements you want to work with. It can be a single element or groups of elements, images, etc. As soon as you do it, you'll see Statesmenu on the top right of the properties panel. By adding 'New state'you'll change your element(s) into a Multistate Element. As a result the elements you chose will now be grouped and named "Multistate" in the layers section.
You may want to change First state to your own name. To do so, just double click on the name and start writing.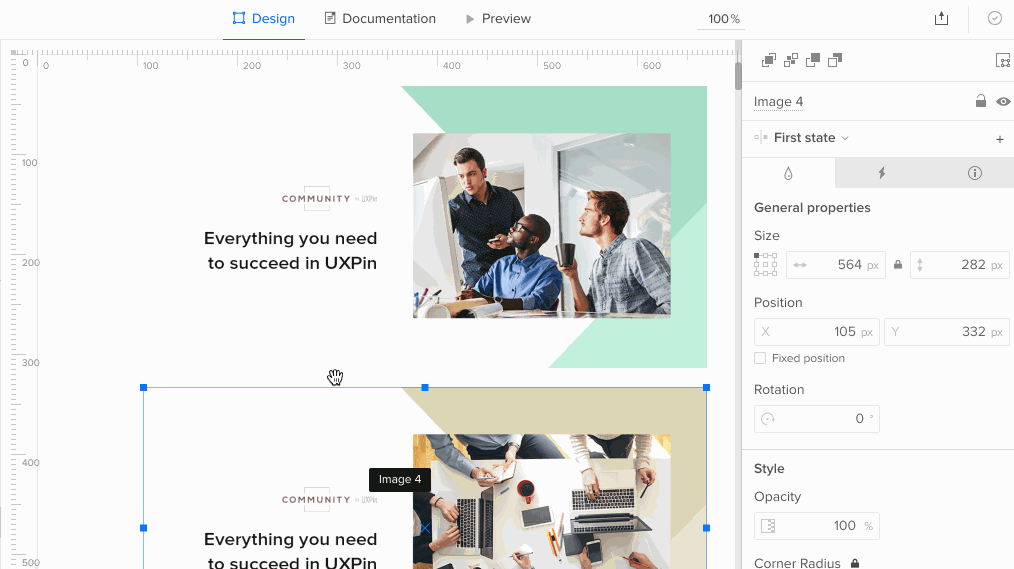 Editing States
Once you add the state, enter its Edit mode by clicking the boxy "edit state" icon in the properties menu or just by double-clicking on your Multistate element.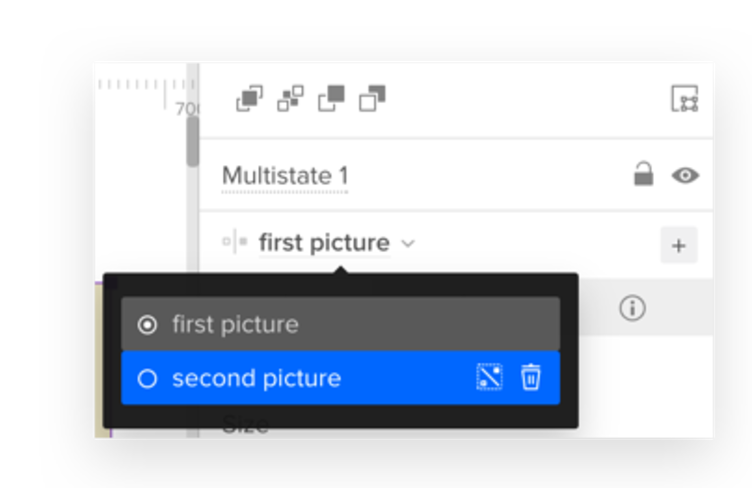 You'll see State switcher (marked in purple) at the top of the editor indicating that you're in the Multistate element edit mode. In this mode you can change particular states or add interactions that should only be activated on that one state instead of having them on the entire element.
What's more, around your Multistate element you'll see a purple dashed line (hint: a blue line appears around the group).
It's important to note that elements in different states are copies of the original items you selected for the MSE, which means you can edit their properties freely per state. When viewing a particular state, you can move elements within that state, change their styles like color and opacity, hide them altogether, or give theminteractions. To leave "edit" mode, click outside of the MSE — either on another element or the canvas.
Switching Between States
By themselves, MSEs don't do anything. They need an interaction to make them change states. You can easily switch between particular States of your element. Just enter interactions menu and define your action from the dropdown.
You have three multistates-specific actions available: Next, Previous, and Set State. "Next" advances the currently visible state, much like advancing a slide in a presentation. When a MSE reaches the last state, and an interaction says "next," then the MSE will show its first state. Thus a MSE with only two states will toggle between them with a "next" action."Previous" does the opposite of Next, moving the MSE one step back through its states. "Set State" will let you specify which step the MSE will show.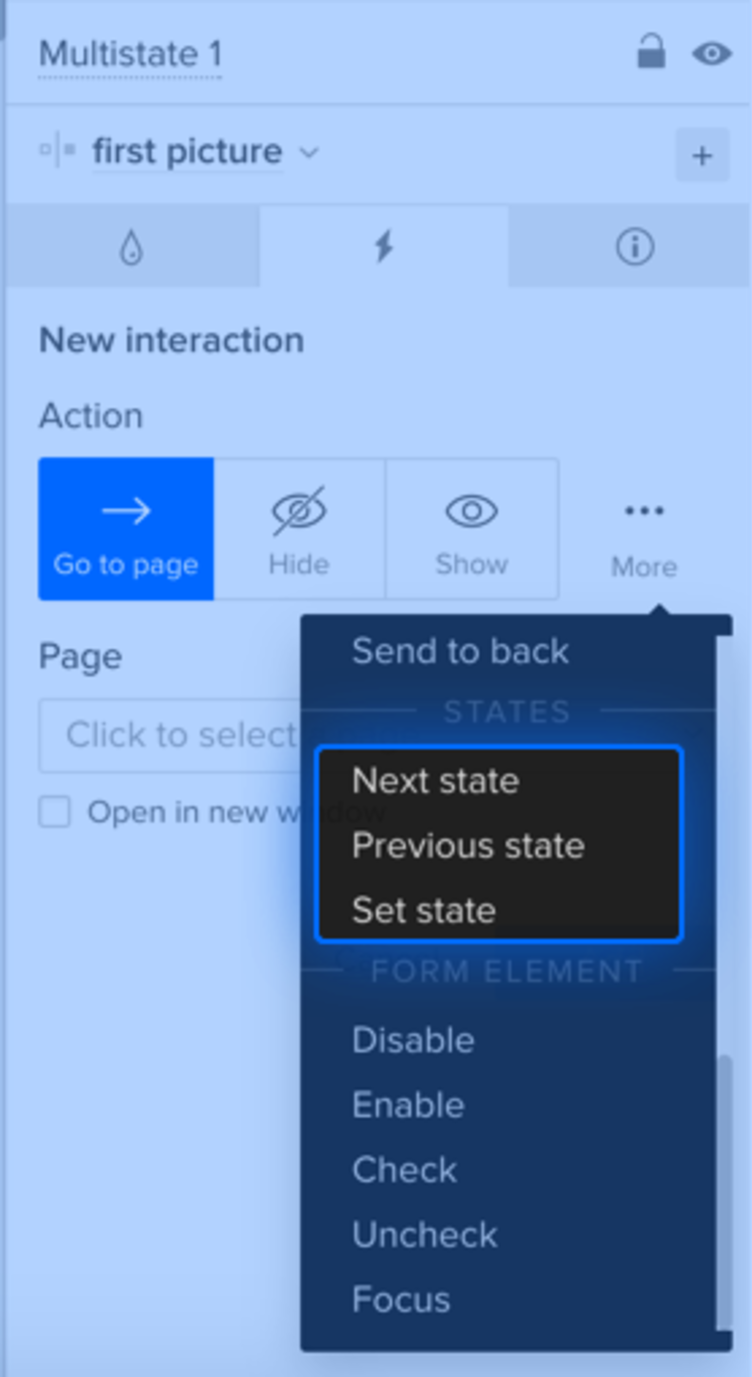 The difference between MSEs and simply showing or hiding elements with basic interactions is that MSEs can animate between states. Specifically, they can fade, spin, or slide from the top, left, right, or bottom.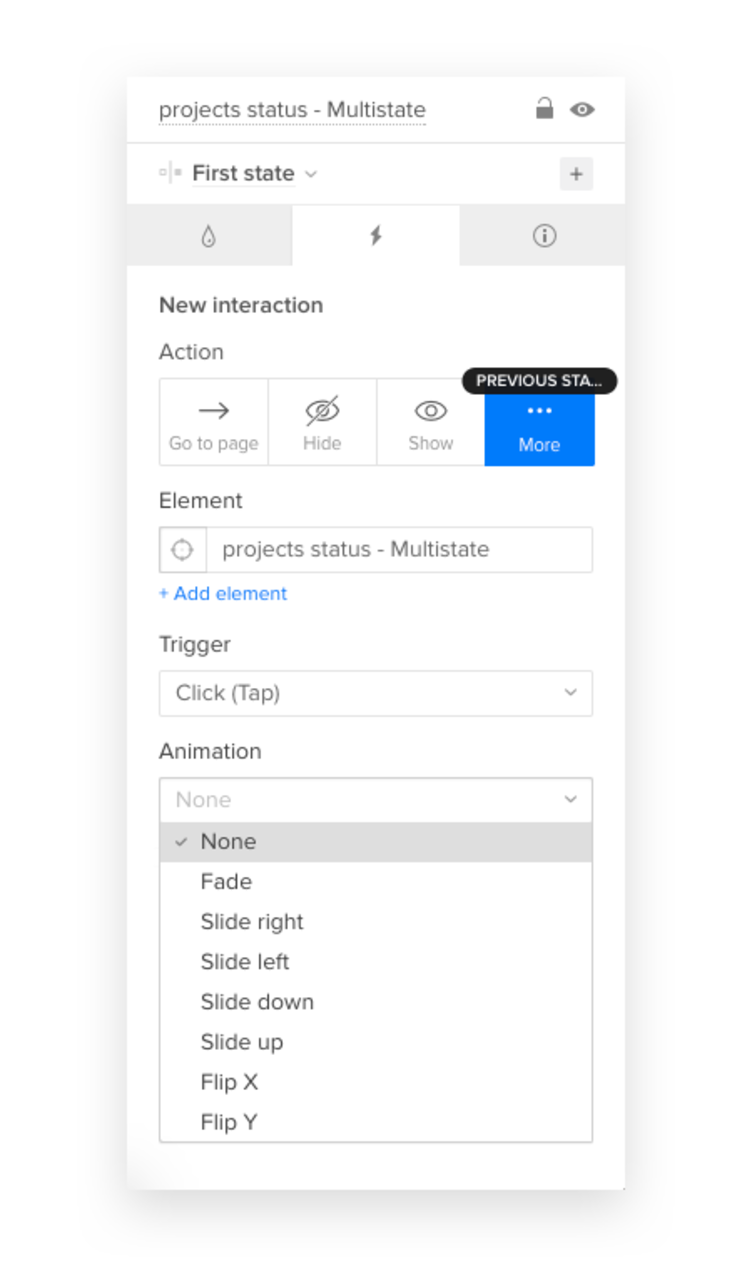 Examples
What are MSEs best at? Anything that requires sets of elements to change on demand.
Toggling icons, as seen above
Modal windows that appear or disappear
Revealing more information about an item
Showing groups, like optional form elements, on demand
Image carousels
Changing text in buttons on click or hover