The "rules" for e-commerce design can run contrary to what designers want to do. While minimalism, streamlined interfaces and limited text and messaging are commonly associated with some of today's best design projects, they aren't as practical on a retail site.
When it comes to e-commerce design, the ultimate goal is to get conversions. (More directly, you want to entice users to buy as many items as possible.)
The latest web design trends might be counterproductive to achieving that goal. In other words, they might come back to bite you in the cart.
Features vs. Function
Functionality is the core need when designing for e-commerce. Shopping websites need to be easy to use, secure, trustworthy and provide enough information for users to make a decision they feel good about.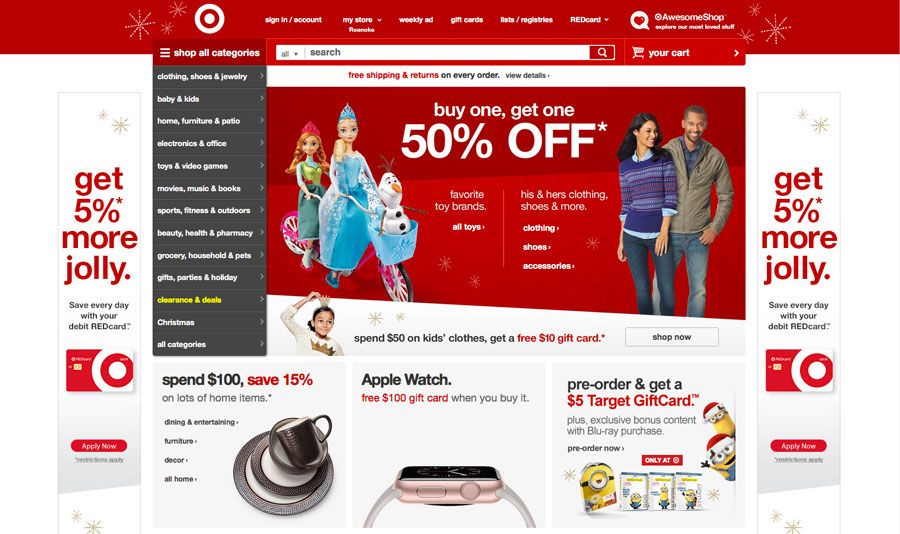 Photo credit: Target
With that, an e-commerce site might include less-trendy features because of this need for function. But there's still room for modern touches.
Target is a great example of meshing design and function. Its design uses a large header with featured items and trendy card-style secondary elements for sales. Each of these elements link to robust product pages with plenty of item information.
Functionally, Target also uses a more "old-school" mega navigation menu with many options sorted by department, almost the same way you would find items walking through a physical store. This combination of modern cards and old-school navigation incorporates a touch of trendy design with arguably-outdated navigation style that is still relevant for large e-commerce websites.
Personalization
When it comes to shopping, users want experiences that tailored to their wants and needs.
As discussed in the e-book UX Design Trends 2015-2016, It's the same concept as creating personalized user experiences for any other type of website or app.
This personal interaction should take only a glance. It starts with something as simple as a welcome message that addresses the user, or a shopping cart that "remembers" items for a day or two if they were not actually purchased.
Photo credit: Amazon
No one has the personalization market covered quite like Amazon.
Every element of the site is personally tailored to the user, from past purchases to recommended items to things the shopper might not even know they want. The retail giant has figured out a formula to make every shopping experience distinctly unique. And while the concept can be on the borderline-creepy side, it creates a phenomenal shopping experience that saves users time and effort.