Founded in 1937 as an asset management firm for local families, T. Rowe Price has since grown into a publicly traded corporation that manages over 810 billion dollars per year in global assets.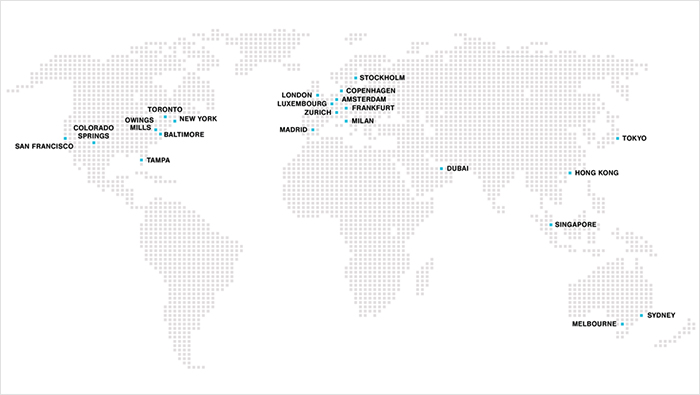 T. Rowe Price's offices around the world. Credit T. Rowe Price.
With over 6,300 employees in 16 offices worldwide, collaborative product development is an inherent challenge - especially when you add in the complexity of financial products.
In this customer success story, you'll see how the T. Rowe Price UX Design Team formalized its UX process, standardized cross-functional collaboration, and scaled a new Agile process successfully.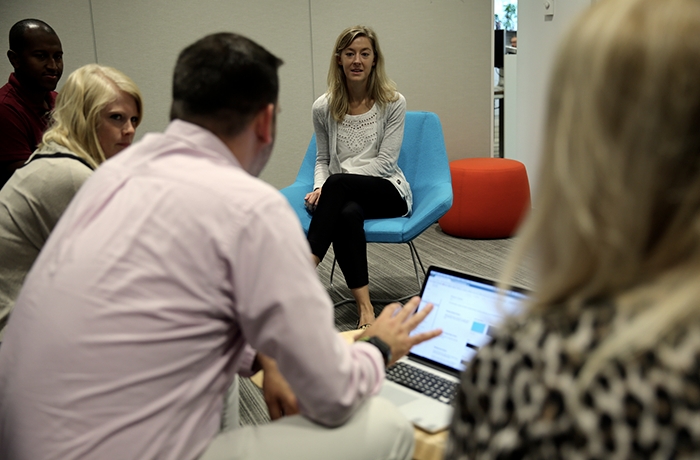 Photo Credit: T.Rowe Price

Challenges
The design team at T. Rowe Price is responsible for influencing the user experience across five business units. They needed to collaborate across 6 buildings on the Owings Mills, Maryland campus alone, developers in a separate campus a few miles away, and an offsite Agile team.
The T. Rowe Price team faced several challenges common to enterprise design.
Waterfall process
After a project kickoff, writers and designers separated into two workflows connected mostly by email. Writers worked on a Word copy doc while designers worked on static layouts. The first complete iteration wasn't complete until the writers emailed their copydocs as a PDF for designers to copy and paste into their layouts. Once layouts were presented to stakeholders, separate workflows resumed.
Long review and iteration cycles
Because project managers collected feedback mostly through email, it could take 3-7 days to review and consolidate the comments back to the design team.
Asset consolidation and compatibility
The team used Photoshop, InDesign, and Illustrator for visual design, Balsamiq for wireframing, and Axure for prototyping. Axure files created by UX designers would need to be rebuilt in Photoshop by visual designers if they weren't familiar with Axure. Desktop tools also required that the team needed to version everything appropriately and save to the server. The team started looking for a change because the process wasn't very scalable.
Manual redlining
The team was spending up to a day per sprint creating heavy redlines for developers, going back-and-forth in email, and providing assets. Since they used so many different tools, it was hard to ensure they were sending consistent redlines and assets to developers.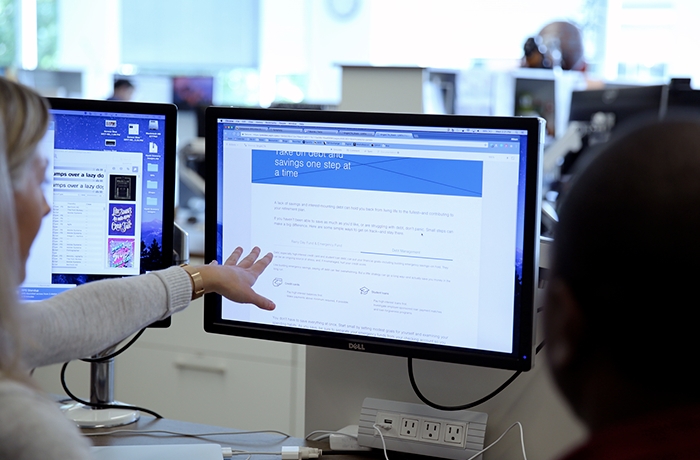 Photo Credit: T. Rowe Price
Solution
After weeks of research, T. Rowe Price chose UXPin as the full-stack platform for designing quickly and consistently, iterating work with other teams, and helping them through the development handoff process.
Transparent design collaboration
"Once we kick off a project, we add our stakeholders, project managers, and developers so they're part of the ecosystem," says Mark Figueiredo, Senior UX Team Lead. "Even if they aren't in the room, they can still collaborate. That's one of the best parts - design is no longer a siloed event."

Mark Figueiredo, Senior UX Team Lead T.RowePrice
Modular design process
In UXPin, the T.Rowe Price team has a sandbox project where people can suggest new concepts for the design language. Once they approve ideas, they can add them to the design libraries to use in projects.
No more email chains
T.Rowe Price has further united the two worlds of design and copy, eliminating the human error from copying and pasting assets. Writers and designers in different buildings will work and update the same screens in UXPin together in real-times. As designers move through meetings, the team can call in other folks to work on projects. Writers can create a new iteration of a designer's work directly in UXPin, and vice versa.
Efficient design workflow
"UXPin is a big part of why I can move my projects forward quickly," Mark says. "I can pull up my designs and everyone can visualize what needs to change. When people can see what you are talking about, you can think through options much more easily and go through iterations much more quickly. I can even get someone on the phone, make a quick change while we are both looking at a design and move on."

Mark Figueiredo, Senior UX Team Lead - T.RowePrice
Accurate product behavior across devices
Responsive prototyping and custom interactions helps the T.Rowe Price team create parity across devices. The advanced animations especially help the team quickly break down the look, feel, and timing of mobile products to developers.
Design feedback becomes action items
The team creates and shares everything in UXPin. Whether that's proof of concept work or a single design, they can quickly collect comments and assign them as action items to team members.
Easier developer handoffs
Designers and developers on the team use Spec Mode in UXPin, which has cut down on a lot of the back-and-forth time during handoff. They don't need to redline anymore - developers have all the specs and can download assets directly from the design. UX consistency also improves since designers can spot-check their work against the auto-generated style guides.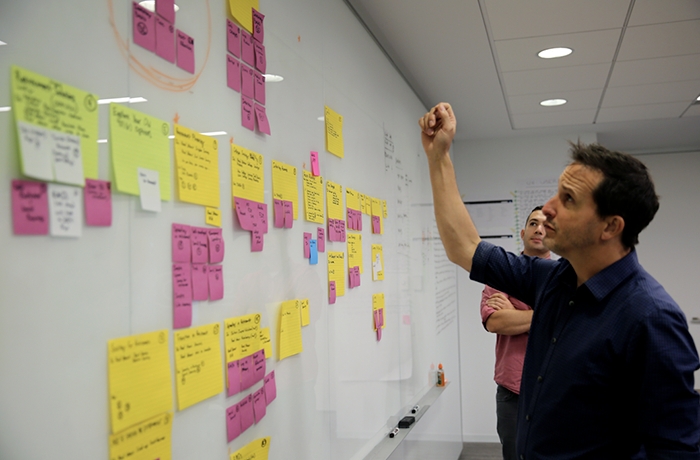 Photo Credit: T. Rowe Price
Results
Since 2015, the T.Rowe Price design team has doubled in the Baltimore campus. The team continues to adopt and grow their Agile design practice.
Months saved in the design and handoff process
"What used to take days to gather feedback now takes hours," Mark says. "Since we can also create comments that only certain teams can view, we also improve the efficiency of communication. Add in the time we've saved from not emailing back-and-forth and manually redlining, and we've probably shaved months off timelines."

Mark Figueiredo, Senior UX Team Lead - T.RowePrice
More time for solving product problems
By making reviews more productive and reducing the number of meetings, teams get more time for designing. Stakeholders can ask any question on a project and the team can provide an answer immediately instead of setting up another meeting. Because all the feedback and iterations are consolidated in the prototypes, the team can quickly switch between iterations to add context during design reviews.
Improved UX consistency across products and platforms
"Design libraries helps further standardize the look and feel of our product," Mark says.
Increased UX maturity and value to the business
Visibility for the team's work increases since everyone can collaborate on the designs. As a result, stakeholders, copywriters, project managers, and developers buy into the vision more because they're deeply involved.
Agile UX at scale
The T.Rowe Price UX team works in three Agile workstreams for their everyday work in addition to helping with special labs projects. The process is naturally collaborative and they even just launched a major tool that involved 290 employees from start to finish.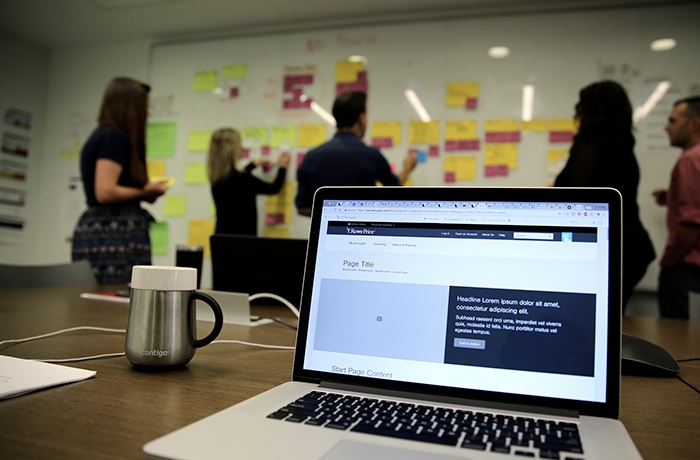 Photo Credit: T.Rowe Price