Based in Washington DC,
LookThink
is a full-service UX agency with clients on multiple systems and platforms.
Focusing on B2B enterprise product design, the agency's portfolio includes projects for LiveStrong, The College Board, FINRA, and Apptio.
In this customer success story, you'll hear both sides of the story: the agency side (UX Architect Nate Ginesi) and client side (Babel Health's CTO Mark Tobias).
Challenges
For an upcoming project, both Babel Health (a healthcare data management platform) and LookThink needed to adopt a more Agile design process. Current processes posed several problems:
Clients misunderstood Omnigraffle static wireframes.

The LookThink team would receive comments on visual design when they needed feedback on interaction models.
Difficult to consolidate feedback with remote teams.

LookThink designers needed to sift through long email chains between product owners, developers, and stakeholders.
Inaccurate project planning.

User stories in documentation don't represent the true scope of a design system. Babel Health developers couldn't accurately estimate their time.
Excessive specification costs.

Lengthy upfront sprints at Babel Health specified features that were overly complex and might later be invalidated.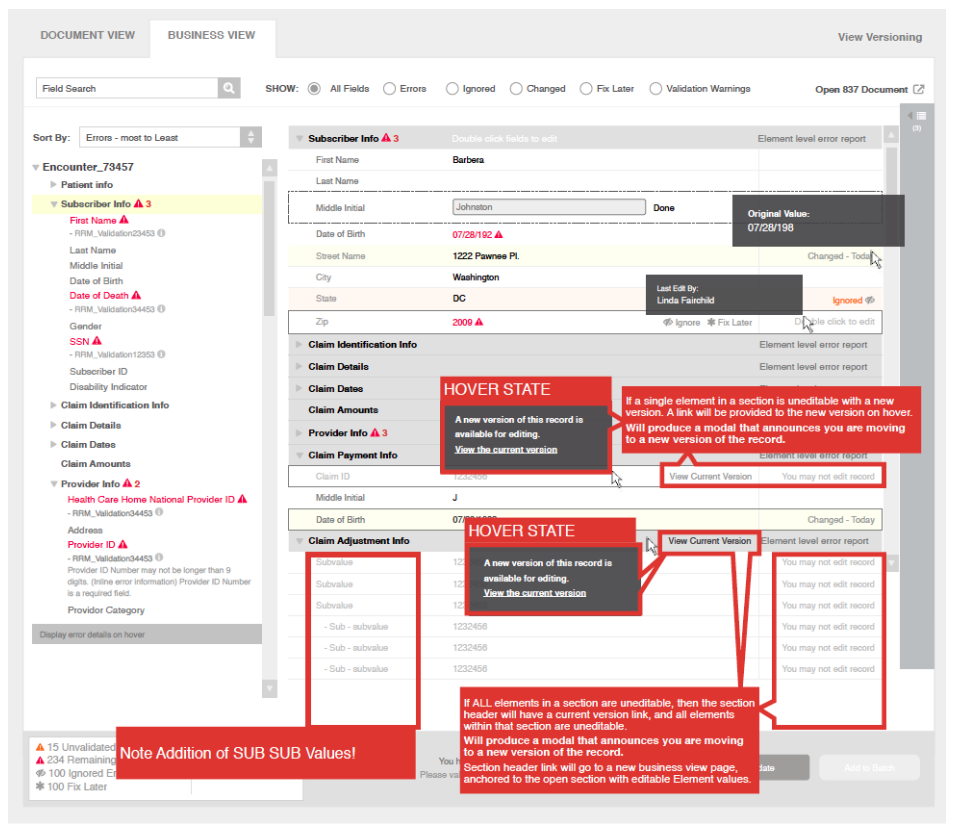 Confusing annotated wireframing before using UXPin.
"When clients are focusing on under­standing wireframe annotations, they're not focusing on the business problems you've solved for them. Not to mention, our email chains were out of control."

Nate Ginesi, UX Architect - Lookthink
Solution
LookThink used UXPin as a collaborative design platform to align the team to a clear "definition of done".
Acceptance criteria becomes crystal clear.

Instead of Babel Health's developers trying to match documentation to design, they see relevant notes inside the prototype.
Naturally documented design decisions.

The LookThink team can create iterations in UXPin with a single click without losing past versions.
Refined interaction design.

With less back-and-forth, LookThink designers focus more on refining interactions with UXPin's libraries and custom editors.
Faster content management.

"Groups inside of groups is life changing. It's saved me hours of design time in managing complex content."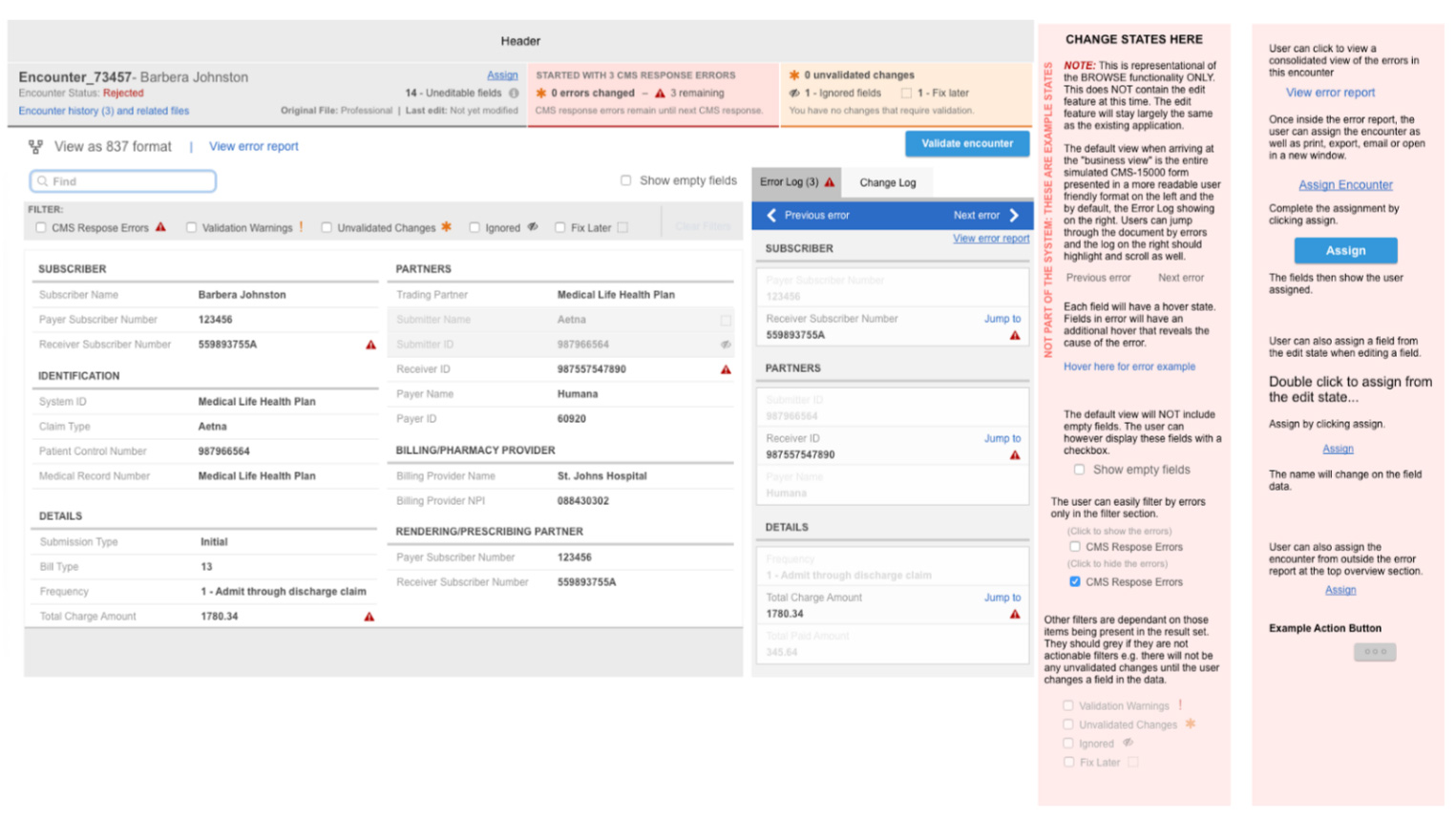 To minimize documentation, LookThink now creates annotated prototypes in UXPin.


"After considerable research, we chose UXPin because the collaborative and interaction design capabilities were ahead of competitors. The platform has a simple interface with much stronger interactions than something that just stitches screens together. We get more usable feedback."

Nate Ginesi, UX Architect - Lookthink

"The interactions in UXPin help everyone understand how to move from A to B to D, and what happens if you skip C. It's great at creating conditional prototypes to evaluate different states that developers must consider. As a result, we proceed with lighter documentation in user stories."

Mark Tobias, CTO & Co-founder at Babel Health
Results
LookThink and Babel Health successfully launched an MVP thanks to a more lightweight Agile design process:
Faster feedback cycles.

Product teams are automatically updated on new feedback. Designers can iterate quickly on feedback, working a sprint ahead of development.
More accurate feedback.

Clients can quickly communicate reactions to how even the smallest features behave.
Decreased QA time.

Prototypes reveal product issues much earlier than development. The developers can then work against UXPin prototypes as core acceptance criteria.
Minimized documentation.

Instead of 8-10 pages of documentation per epic, the product team creates a bulleted list of user stories with links to UXPin prototypes. Developers now better understand and estimate the true scope of work.
Reduced development cost.

Less revisions for internal and outsourced teams increases velocity of development sprints for LookThink and Babel Health.
The right product gets to market months faster.

Clarity in each sprint shortened overall timeline for Babel Health.
"Before UXPin, getting everyone aligned on with static wireframes could sometimes add weeks to the effort. Once I introduced UXPin and was able to demonstrate a vision for the experience, I could get approval in a matter of days."

Nate Ginesi, UX Architect at LookThink
"With UXPin, we're no longer following lengthy upfront sprints with detailed specs and handovers. Nate and his team builds future states into UXPin. We can then see what's coming down the line as we evaluate and test features with customers. We're able to support a fully Agile product development methodology moving us towards MVP much faster."

Mark Tobias, CTO & Co-founder at Babel Health