Design and experience reviews are meant to help stakeholders strike the balance between human desirability, commercial viability, and technical and legislative feasibility.
These sessions don't always work out as we imagine, however, due to subjective discussions and competing priorities.
The net result is a convoluted human experience – not taking full advantage of the great work done by experience research and design, and an ongoing challenge to meet key business objectives.
If this reflects your reality, here's an immediately actionable solution: an experience review template that captures key desirability, viability and feasibility criteria . This will help satisfy experience design teams needs and ground experience design practices in strong commercial principles – making the rest of the business very happy.
Thanks to the good folk at Intercom, we're going to use their design review template as a starting point. From this, I've made a few adaptations based on my own work at Meeco .
Setting the stage
To help set the scene, let's imagine the following scenario:
You're an experience leader or experience designer at a bank.
Currently, the bank is facing challenges with its onboarding process. You believe that a Digital ID will help solve some of the on-boarding challenges the bank you work for is currently facing.
You've framed your hypothesis based on ongoing research, customer collaboration, as well as both pencil and pixel pushing.
So what now?
You have a few options, like talking to a coworker to gain further insight. You could conduct some research yourself, and try to make meaningful progress before exposing your ideas to anyone on your team. You could call a quick collaborative session to workshop the option. You could even add it to a product backlog, flagging it requires further exploration.
In this example, you're going to call an experience review session with your team, time box your effort, and put pen to paper in an attempt to crunch out your thinking quickly.
After a few hours, you'll hopefully end up with something of value. To do that, a consistent and balanced structure is vital.
What to include in your review template
To ensure objectivity and structure in your design review, include the below sections in your review template (scroll down for the completed visual example):
The problem : State the problem succinctly. The design and business teams will build a shared understanding from this foundation.
The system (current state) : Show how the system currently works (if it's an existing product) to help put the problem in context. Later, you can show show how the system could work with your proposed experience.
The job to be done : A shared understanding of what motivates your customers is pretty darn important. Succinctly mapping out the customer jobs helps build this understanding, and also helps stakeholders understand how customers decide whether to hire or fire your solution.
The business objective (NEW) : State why the business should care about the customer problem in commercial terms.
The metrics that matter (NEW) : You can't improve what you don't measure. These metrics should enable you to quantify the business and customer value that's being created through your new experience.
The proposed experience : Summarize the proposal in a sentence. Make it clear and comprehensible. The people in the room need to understand how this proposal relates to the problem you've previously articulated.
The implications of your proposal : How will your proposal  impact other parts of the business? Maybe you don't know. Developing an understanding of this early in the experience design process is critical to achieving balance in  desirability, viability, and feasibility.
Basic experience design: Give people a feel for what you're proposing with some wireframes. Sketch these on paper or create them together quickly in your design tool of choice. Think of the minimum amount of effort that enables you to clearly showcase how a human being will engage with your experience. In this context, this is your first MVP.
Insights informing the design (NEW) : What led you to develop this experience? What were the insights, hypotheses, etc.? Show your depth of thought in a few bullet points.
Hypotheses about new experience (NEW): What are your hypotheses about the new experience? Where did these come from? How can you align these hypotheses to the metrics you believe matter? These should be clear and testable. By conducting tests with clear pass/fail metrics, these hypotheses should also give you a strong foundation for measuring the incremental progress you're making.
The team's collaborative focus (NEW) : Why are you all in the room? What do you need the businesses help with? This new section of the experience review template helps set a very clear context and focus for the business stakeholders ultimately responsible for the success of the product. This is a team effort and requires team focus.
A complete visual example
Working off this Sketch template , let's look at the finished asset:
Part 1
Part 2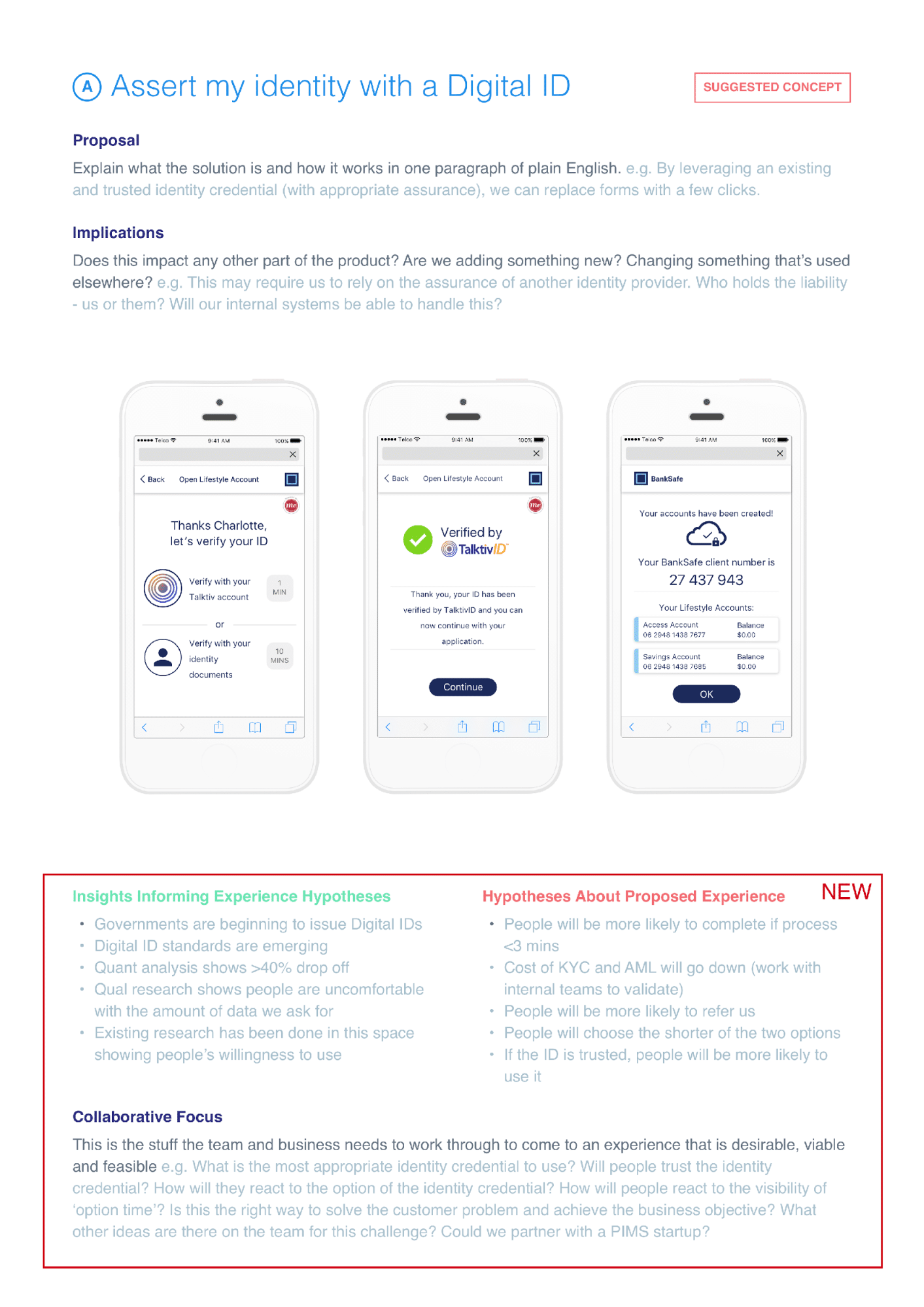 These core principle here is that these two pages capture the context of your hypothesis. They also succinctly capture the business relevance of solving this problem.
Both are equally important for a commercial design team. So what do you do once you manage to get the right people in the room?
Running the design review session
During the experience review session, work with your team to ask the tough questions, and then get outside that room. Regardless of the collective intelligence present, you won't find all your answers in this session.
Here's a few guidelines:
1. Circulate the finished template prior to the session
Everyone's busy, but working through this in real-time without the necessary context won't produce the results you need. Send the completed template 24-48 hours before your review session. No exceptions.
2. Time box the session
This is non-negotiable. If you work in a Scrum environment, you're familiar with timeboxing . Once you've clarified objectives and invited the right people, set aside one hour.
3. Document commitments
Products that are desirable, viable and feasible can't just be built by research, design and engineering teams. They require ruthless focus and commitment from various people and departments across the business.
In this session, define your collaborative focus and get the right people from within the business to commit to clear next steps.
Use this template as a foundation for an experience design culture that consistently produces valuable experiences. Over time, you'll decrease cost and/or increase revenue.
Your customers will love you, and the CEO will too.
For more practical UX process advice, download the free Agile UX Ebook Bundle.