Let's discuss the value of clearly delineating the mental model that is your design system, its artifacts, and the tools that implement it.
Whether you're creating your own design system, or implementing a design system created by a third party, it is important to understand the relationship between each layer of abstraction, the importance of drawing and maintaining a clearly defined line between each, and the business-oriented considerations which drive and justify a separation of concerns between each layer of abstraction.
In computing, an abstraction layer or abstraction level is a way of hiding the implementation details of a particular set of functionality, allowing the separation of concerns to facilitate interoperability and platform independence. — Wikipedia
In software development, separation of concerns is an architecture principle which drives the modular nature of a complex system. When following this principle, each section of the system addresses a separate concern. Concerns can be very general, such as hardware that software is being developed for, or very specific, such as the name of an individual method.
In this article, we'll explore each layer of an abstraction model for design systems and how to use it for better understanding and adding more value.
A Model for Design Systems
Minimally, at the highest level of abstraction, a design system should exist as four distinct areas of concern: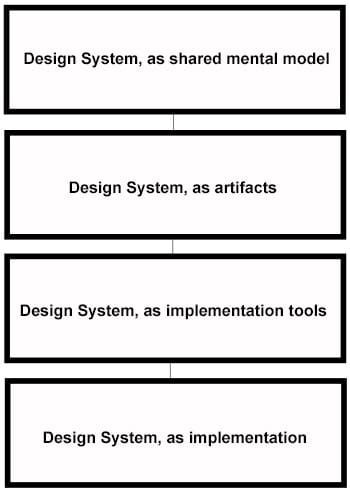 The four abstraction layers for a design system
Let's apply this abstraction model to the concept of accessibility: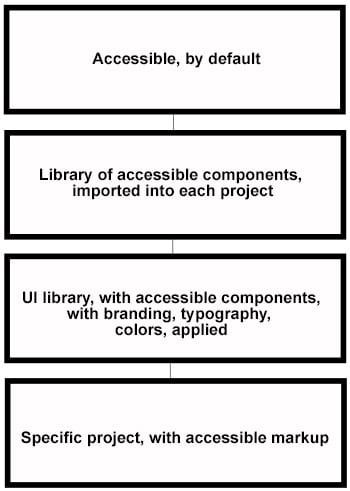 Our abstraction model applied to accessibility
At the first layer of abstraction, everyone agrees that form elements should be accessible.

At the second layer of abstraction, you have a code repository you can import at the beginning of a project which allows your developers to re-use code that meets accessibility standards.

Next, you have a UI library where developers can implement that code, with specific typography, colors, branding, and text applied, so that it may be shared and re-used within and across projects.

Finally, you have a real, robust implementation within the context of a real project, for the last layer of abstraction.
Now let's explore each layer of this abstraction model as it relates to accessibility.
The first layer: A design system expressed as a shared mental model
As a shared mental model, a design system should be thought of as a specification, or a description of the design system. It should contain high level concepts, such as the idea that a design system should encapsulate certain principles, among those being, for example:
A design system should assume accessibility, by default

A design system should be responsive, and should operate by a mobile-first principle

A design system should articulate standard, re-usable definitions of page elements and components along every stage of product design and implementation
The shared mental model is not the system itself, but the foundation upon which it is built. Before you start building out specific components, you should give yourself the time and space to create an agreed-upon emergent framework from which to organize your effort.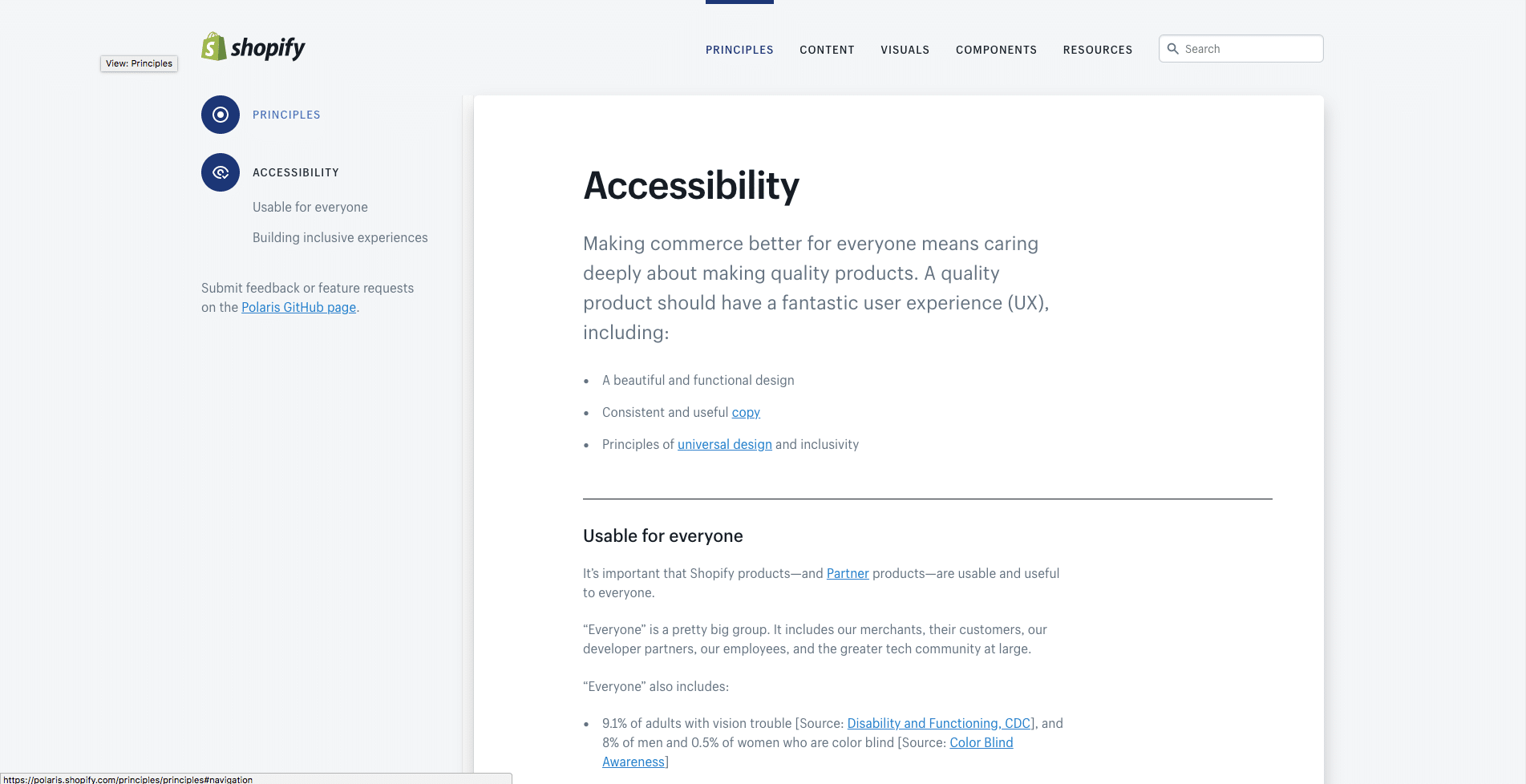 Principles for accessibility for the Shopify Polaris design system.
In an ideal UX process, a high level of cooperation would exist between each discipline. But in the area of generating and maintaining a mental model, your researchers will probably provide a large amount of value within this concern and can provide a lot of leadership with regards to determining the scope and boundaries of your design system.