7 Tips to Help You with Effective User Onboarding
Did you know that 80% of users delete an app if they don't know how to use it?
They don't reach out to the customer support team, nor do they research the instructions.
They simply remove it and move on to the next one.
While this is a harsh statistic, it highlights just how crucial the user onboarding experience is. If you fail to properly teach your users how to make the most of your product or service, they will take their business elsewhere.
How can you counter this? In this article, you'll learn what UX onboarding is and why it's so important to get it right. You'll also read about the six tips that will help you create a great user onboarding experience for your product.
Want to see if your design idea for an onboarding user journey is successful? Use UXPin to build an interactive prototype of your your UX onboarding and see how users respond to it. Iterate on your idea, pass it developers, and enjoy an improved onboarding flow. Try our prototyping tool that makes the work faster.
What is UX onboarding?
UX onboarding is the process of introducing new users to your product in a way that educates and delights them, setting them up for success from their very first interaction.
Technically, it's a series of flows after the signup process, usually as screens or contextual cues within the app, that guide the user to the most important product features. This sort of a product tour highlights product's values, and does so in the most engaging and quickest way possible.
Let's imagine you've just downloaded a new app.
A good UX-focused onboarding flow would be one where you're guided through each of the app's core functionalities. The walkthrough would explain how everything works and how you can use these features to improve your life or work.
On the other hand, a poor onboarding experience – especially for a complex product – would throw you in at the deep end. You'd be left to figure everything out for yourself. An app experience like this would likely frustrate you and quickly lead you to give up.
With that in mind, it's important to understand that an effective onboarding process is about more than fancy video tutorials or pop-up instruction manuals. It's about reducing any chance of error that could portray your product in a bad light and making the entire adoption process smooth.
Why is it important to build an onboarding flow for users?
To answer this question, it's worth putting yourself in your users' shoes. If they're using your product for the first time, they might be feeling any (or all) of the following:
Apprehensive
Intimidated
Overwhelmed
Excited
Curious
Your job is to design an onboarding experience that gently eases them into your product so they feel confident, understood, and supported every step of the way.
Make sure this happens the first time they use it. Here are some more reasons why this process is essential.
First impressions only happen once
A study by IPSOS reveals that there are three factors behind what we call a "first impression". These are relevance, differentiation, and the price paid.
So, your onboarding flow needs to circle around proving that you're relevant to the user's needs, goals, and challenges. Secondly, it's about showing what makes you unique, i.e., explaining what you're better at than your competitors. The third aspect is subjective – given what they've seen, it's up to your users to decide if the product was worth the price they've paid.
To help users navigate through the app
As a product designer, it's your role to ensure that users can freely move through your app. The more complex the information architecture and the more features, the more important it is to build an effective onboarding sequence.
Let's refer to the usability testing analogy here. Notice how user testing sessions feature tasks like "Go from the home page to your account settings and change your invoice details" or "Find the option to change the ingredients from US cups to grams". These questions are important, as designers want new users to ease into the platform. So, it's important to create an onboarding flow that shows how users can get from point A to point B. Doing so will help prevent confusion and user frustration.
To clearly convey your app value
While it might seem like a paradox, the more your app or platform can do, the higher the risk of certain users feeling overwhelmed. This doesn't mean your app has to be simple and only offer one core feature. You can provide a complex app, but what matters is that your onboarding process makes it easy for them to find what they need and achieve the goal they came here for.
For example, say that you offer a suite of 10+ productivity tools, but a new user has signed up just for the time tracking feature. Upon logging in, they should be able to go right to it, but they might get distracted by all the other modules they don't need (at least not yet).
Effective UX onboarding will help direct them to the right module quickly, all the while gently inclining that they can get much more value from your full offer.
To extend user lifecycles
A Salesforce study has found that there are two factors that can bring the user lifecycle to an abrupt end. 50% of respondents have admitted that they leave a business that:
fails to anticipate their needs
offers an app that isn't easy to use.
These two risks can be minimized by your onboarding experience. Firstly, a good onboarding flow will showcase how your app can benefit the user. Secondly, it can give them a quick product tour and create a great product experience right after the account creation.
Beside those two points, app onboarding can increase retention rates and prevent churn, two metrics that product teams are concerned about.
To increase user engagement across the board
Taking all of the earlier points into account, a good onboarding experience will improve user engagement. This creates a whole range of benefits. From bringing value to your target user base and increasing conversion rates, to boosting app retention and even reducing customer support costs. Spending time on your onboarding process saves and makes you money.
Overall, it helps your product become as successful as it can be.
How do you design an onboarding experience?
With the importance of the UX onboarding experience fresh in your mind, let's get actionable and talk about the onboarding flow itself. Whatever medium your process is in, these are six tips you have to bear in mind.
1. Understand whom you are onboarding
This is critical for any business decision, especially when we're talking about UX onboarding. Ask yourself the following questions:
Who is your target user?
What are their needs, wants, and pain points?
How much do they know about your product?
The answers will inform your design decisions moving forward.
If you're not sure where to get your answers from, do your research.
If you already have an existing product, look at your sales and existing user base. Conduct a customer satisfaction or NPS survey. Or, if you're launching a new product and don't have any user data yet, conduct market research. Look into similar businesses or niches.
As you can see, there are plenty of ways to get to know your target users better!
Ultimately, you must take one step at a time. Start by understanding who your users are before building out a user onboarding flow that assumes what they want.
There is no one-size-fits-all onboarding template you can turn to. You have to tailor it to your target market. We will discuss this next.
2. Personalize and optimize your flow
Personalizing the UX onboarding experience is about more than adding their name to an email or a virtual walkthrough (although that's a nice touch). We're talking about using the data you've collected to focus their onboarding on the features that matter the most to them.
The goal is to make the user feel like this experience has been designed just for them.
And it's not as difficult as it might sound.
If you're a SaaS business, for example, you can show new users different features of your product based on their role. For example, let's assume that you've created a CRM software for sales, product, and marketing professionals. If the new user is a marketing specialist, guide them through the features that are most relevant to their role.
3. Don't overdo it with the number of screens
One of the biggest mistakes you can make is overwhelming your users with lots of screens and information.
The UX onboarding experience should be short and sweet. Give users enough information to get started and nothing more.
You can always provide more info later on, in the form of tooltips or customer support. In fact, you should constantly be testing and adding new content to your onboarding flow based on user feedback.
Despite what the term might make you think, user onboarding is not always for new users only. Your existing users will also need a quick explanation of the new features and updates you've provided. Therefore, always design your UX onboarding flow with both of these user groups in mind.
4. Onboarding must align with the product
If your product is sleek, minimal, and professional, the onboarding must be sleek, minimal, and professional, too.
Think of your UX onboarding experience as an extension of your product. Everything from the colors you use to the tone of voice should reflect what your product is about.
The whole purpose of an onboarding process is to get your first-time users into using your product. It's about them slipping into the value of your product, feeling your brand, and, ultimately, building loyalty.
If you're distracting them with colors and content that don't make sense, you're not going to achieve this. User experience onboarding is not a time to get creative; it's a time to be consistent.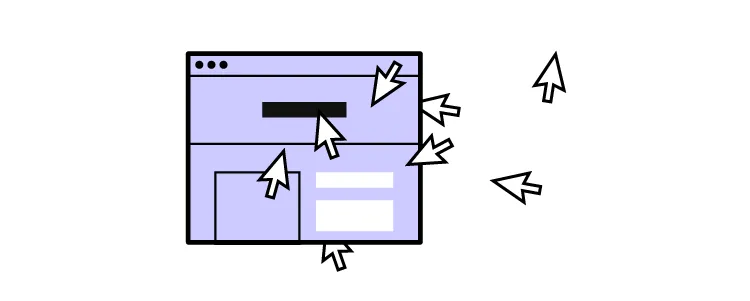 Make sure your onboarding flow aligns with the product and its UX design. This way, your user can familiarize themselves with your app or service as early as in the onboarding flow. Next, they can transition into using the product with as little friction as possible.
UXPin is ideal when it comes to getting this process right.
Product designers can use UXPin to quickly bring their onboarding ideas to life and build out a prototype of the onboarding sequence. You can share these prototypes with the team to collect feedback at any stage of the onboarding process.
With multiple design iterations, you can easily test and evaluate each step and screen, until you've designed the perfect UX onboarding experience for your users.
5. Give users the option to skip the onboarding flow
While some users will appreciate an in-app onboarding experience, others will prefer to skip it entirely and find their own way around your product. This will be particularly the case if your desktop or mobile app has a simple information architecture and/or if some of your users are tech-savvy.
Take a simple project management board like Trello, for one. High chances are that your users have used similar platforms in the past and will understand how a Kanban board works. And even if they haven't, the drag-and-drop feature is fairly self-explanatory.
So, add a clear "skip" button so that your new users can jump straight to using your product, at any step of the onboarding sequence.
6. Create an external onboarding sequence
Your UX onboarding experience doesn't have to live inside your product only.
In fact, it's often more effective when you balance having an in-app flow, and then accompanying that with an external tutorial. For instance, you could send out an automated email sequence that you divide into chapters and send out over a number of days. You've probably experienced this with products you use in your own life, especially if you operate in the B2B industry.
Again, you don't want to bombard your users with too much information, but instead, give them a little nudge in the right direction.
The great thing about an external onboarding UX sequence is you can be a lot more flexible with the content and design. It's also an opportunity to show your brand's personality in a way that may not be possible inside the product.
But don't think you're only restricted to email.
You could also create a series of social media posts or even blog articles that new users can engage with to learn more about your product.
Consider where your target audience can be reached best, and target them there.
7. Don't overuse words–swap them with graphics
Your UX onboarding experience should be as visual as possible. Words are definitely powerful tools. However, your screen has limited space, and users are experiencing depleting users' attention spans. So, convey as much information as possible by leveraging graphics.
Make use of images, videos, and even animations to guide your users through your UX onboarding experience. For example, instead of a written description, you can record a 10-second video where you show how the user can download their invoice.
By using video and images where applicable, you simplify the onboarding process and, as a result, make it more effective.
Design an Onboarding Flow in UXPin
An effective UX onboarding experience is crucial to the success of your product, and if you click away from this guide with one thing, let it be this:
Your onboarding process must provide value.
If your product is the beach on a summer day, your onboarding is the GPS directions to get there. Make it simple for the best results.
And this is easy thanks to UXPin.
UXPin is a state-of-the-art prototyping tool that enables you to create prototypes and easily share them with the rest of your team. If you're serious about creating an onboarding experience that will engage and educate your users, check out UXPin today.