DesignOps at Uber: Who Are DPMs and How Do They Create Impact?
At UXPin's Design Value Conference in March 2022, we hosted five design industry leaders to understand Design and DesignOps at some of the world's biggest organizations.
One of those speakers was Maggie Dieringer, Senior Design Program Manager at Uber. Maggie has worked as a DPM at Uber since 2016 on the Rides and Eats products and has gained valuable experience working alongside some of the world's best tech talent.
In her 30-minute talk at Design Value Conference 2022, Maggie shared insights about how she helped build Uber's DesignOps from the ground up. Maggie talks about her practical approach to DesignOps, including three key "framing factors" DPMs must consider when working with design teams and stakeholders.
Enable your designers and engineers to use a single source of truth in design and code. Use UXPin's revolutionary Merge technology to solve some of the biggest DesignOps challenges. Explore what UXPin Merge is about.
What is a DPM – Design Program Manager?
Here is a quick definition to better understand Maggie's role if you're unfamiliar with the DPM position.
A DPM (Design Program Manager) works closely with UX teams providing the necessary operational support required to complete tasks and projects. Their job is to execute a DesignOps vision and roadmap–usually under the instruction of a DesignOps leader.
DesignOps at Uber
When Maggie started at Uber, two people were on the DesignOps team, including herself. The team's scope covered seven categories:
DesignOps: tooling, facility management, org management, DPM brand, etc.
Portfolio Planning: annual and six-month planning, scaling practices across teams, MTR, headcount comms, etc.
Roadmap Management: prioritization, managing cutlines, stack ranking with leadership, scoping, sequencing, QA, advocates for quality, etc.
Comms & Events: external brand, recruiting experience, office culture, team/internal/industry events, team meetings, celebration and recognition, team health, etc.
Modeling, Tracking, Reporting: Resourcing & allocation, negotiation of work, dependency tracking, intake of work, UX allocation reporting, kickoffs, crit management, design review templatization, etc.
Finance & Growth: budget/T&E/morale tracking, headcount allocation, growth narrative, playbooks and toolkits, etc.
Learning & Development: training, internal/external skill shares, external design events, onboarding, talent reviews/promo management, career paths, competencies, inspiring teams, external speakers, etc.
As of March 2022, Uber's DesignOps team has grown to 16 team members, supporting six offices (in US/CAN, EMEA, and LATAM), with an additional four team members who work cross teams at strategic DesignOps positions.
TeamOps & ResearchOps x 6 team members
Product DPMs x 12 team members
Director & Strategic x 4 team members
Uber's Approach to Framing & Scaling the DPM Role
Maggie shared her team's strategy for increasing the DPM's influence at various levels. She talked about three things.
Framing and scaling DPM (around your needs depending on your organization's current priorities)
Increasing DPM impact
Supporting DPM trajectory
Framing and Scaling DPM
Ask yourself, "where is your time best spent?" and "how do you ensure that you're having the most impact with that time?"
Maggie believes there is no right or wrong way to do something, but instead, we should frame our work to focus on impact. This approach aligns with one of Uber's DesignOps principles, which reads: "Our success is based on the impact our work has on product, business, design, and customer experiences. This impact may be organizational, strategic, or executional."
Maggie identifies the three framing factors that have the most impact in her day-to-day:
What's the size of the design team and the state of the organization?
What type of resourcing and allocation environment are we operating in?
What level is my primary design partner?
Framing Factor One: Size & State of the Design Org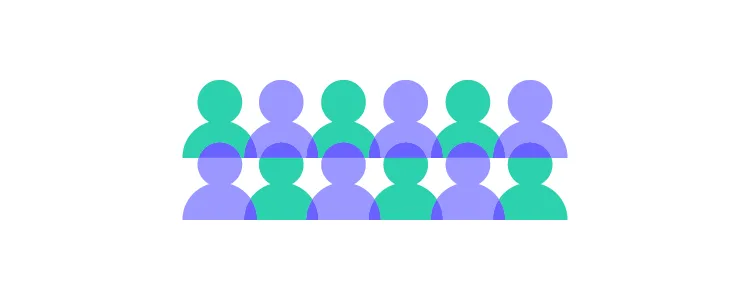 The state and size of your organization have a significant impact on what level you're managing and supporting teams.
"Regardless of the state of the organization or the team's size, we meet the teams where they are at." Maggie Dieringer, Senior Design Program Manager at Uber
State:
How long has the team been around?
What is the organization's level of maturity?
Size:
How big is the design team, area, sub-area, or portfolio you're supporting?
State of the Design Org
Maggie defines the team's state and maturity on a spectrum from nascent to established. This definition is important because a DPM's approach is very different at opposite ends of the spectrum.
For example, a DPM will focus on implementing processes and frameworks to facilitate growth and development in a nascent organization. Conversely, for established teams, a DPM focuses on evolution, iteration, evangelizing, and improving existing processes and frameworks to accommodate growth.
Size of the Design Org
Size is another component of the first framing factor. Maggie uses a similar spectrum with 10-15 team members on the low end and 30-50 on the high end.
The industry standard is one DPM for every 10-15 designers, but this ratio isn't the reality for many DesignOps experts.
For a 15:1 ratio, DPMs are able to integrate with the design team to offer granular support, including tasks like:
Meeting with IC designers daily
Managing and running team meetings
Attending and running design reviews
Project management
Optimizing collaboration on a micro level
As the ratio increases, DPMs lean more towards a high-level approach:
Meeting with IC designers monthly
Meeting with managers daily
Going to crits every few months
Attending design reviews to help connect the dots
Collaboration at a macro level
Vision exercises
Framing Factor Two: Design Team Resourcing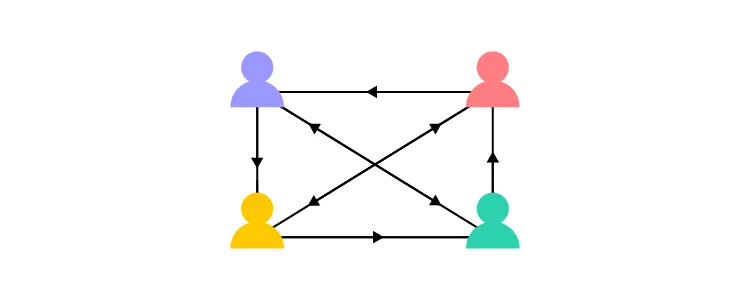 The way you set up your engagement and staffing model, as well as the allocation and organizational strategy, can have an immense impact on how DesignOps can and will lean in.
Engagement Model:
What type of staffing engagement does the team operate in?
Allocation:
Is the team you support well-staffed or operating lean?
Engagement Model
Maggie uses a spectrum to identify the organization's staffing model with "flexible" on one end and "fully dedicated" on the opposite. Like size in Framing Factor One, the staffing model can help determine on what level DPMs can engage with teams.
In a flexible model, DPMs may need to go deep into one area, whereas in a fully dedicated model they may zoom out and focus more holistically across many areas.
Allocation
Another consideration for resourcing is whether the company is constrained on resourcing, in growth mode (actively hiring), or somewhere between. In a constrained staffing model, DPMs must be creative, working with all available resources.
In growth mode, DPMs have more freedom to look at high-level vision and what the organizational growth strategy could look like.
Framing Factor Three: Level of Partnership
Level:
Are you partnering mainly with the ICs (individual contributors), Leads, Manager, or a Director?
Exposure:
Has your partner worked with a DPM before?
Level
When working with Design Managers and middle management, Maggie has found that she focuses more on a single area and activities like load balancing, team health, education on how to work with design, and other supporting roles.
On the other end of the spectrum, at the director level, DPMs work on organizing the leadership team who reports through the director, organizational strategy, looking at cross-team dependencies, scaling programs, and broader, more team-wide activities.
Exposure
The second consideration for factor three is your partner's exposure to DesignOps, and have they worked with a DPM before? If your partner is unfamiliar with DesignOps, it's crucial to educate them about the DPM role and set expectations.
Maggie says it's important for DPMs to outline their roles and responsibilities at the beginning of a partnership, including what they don't work on, to set clear boundaries and expectations.
Increase DPM's Impact
Increasing your impact as a DPM depends on the desired level of engagement for you and your team. Again Maggie uses a spectrum to assess the activities.
DPMs are more hands-on when zoomed in, working with teams on day-to-day tasks. When zoomed out, DPMs focus more on advocating, strategy, and planning.
The team's size and designer/DPM ratio have a significant influence on whether DPMs can operate at a zoomed-in or zoomed-out level of engagement.
"We use our size to help drive the desired DPM engagement." Maggie Dieringer, Senior Design Program Manager at Uber
Support DPM Trajectory
Maggie asks these five crucial questions often when considering DPM's long-term goals:
Which activities and environments bring me job fulfillment day-to-day?
Which activities will have the most impact and influence right NOW on the team I support?
How can I leverage my partner to work on the things that are important to my career?
How can I use my team size to influence the desired behavior and engagement?
Do I thrive doing tactical or strategic activities (or both)?
Maggie recommends that DPMs complete a framing exercise using the three factors above to plot where they think they can have the most impact.
Based on the activities mentioned in the three framing factors:
Where are you today?
Where do you want to be?
Where does your team want to be?
Watch Maggie's full 30-minute DesignOps Layers of Impact webinar on YouTube. If you prefer reading, head onto the blog post that recaps the full conference.
Increase DPM Impact With UXPin Merge
UXPin Merge helps you enhance design consistency and collaboration between design and development teams. It's one of the tools that every DPM should have in their arsenal to optimize design process and create impact faster. Check out UXPin Merge and see how it can help you mature design at your org.