DesignOps Leader vs. Design Leader – What's the Difference?
Key Takeaways
DesignOps isn't a substitute for design leadership; it's a separate role with different skills and responsibilities.
Although this separation exists, DesignOps must understand the end-to-end design process. Without this understanding, DesignOps cannot identify problems or implement effective strategies.
Organizations must understand the importance and difference between DesignOps and design leadership to effectively scale design and its supporting infrastructure.
Design leaders need the support of DesignOps to focus on the product and user experience without being weighed down or distracted by operational issues. DesignOps supports design leaders by providing the stepping stones to success.
DesignOps requires a different skillset to UX design and design leaders, so understanding its role and function are essential for hiring the right people and management.
A design leader is responsible for "what" the organization is creating (the product), while DesignOps must focus on "how" the company delivers the product.
This article summarizes part of a webinar UXPin hosted with Patrizia Bertini, Associate Design Operations Director at Babylon-Measuring DesignOps Impact. Patrizia explains the difference between DesignOps and a typical design leadership position and how DesignOps functions within the organization.
DesignOps' Role in the Organization
We published an article answering the question, "What is DesignOps?" Summarized in one sentence:
"DesignOps (short for Design Operations) refers to the optimization of design processes, people, and technologies to improve the product's design and business value."
DesignOps is an inward-facing operations process that reduces the administrative burdens from designers so they can focus on design and getting products to market quicker.
10 Key DesignOps Roles
Operations management: Creating and managing a design roadmap that aligns with design teams' goals while identifying skills gaps to achieve those objectives.
Process design: Creating design systems and mapping the tools teams need.
Project management: Design workflows, assign projects, set timelines, and remove any bottlenecks.
Creating a communication strategy: Liaising between the design teams and the organization, including communication channels and file and resource storage.
Onboarding new hires: Hiring, orienting, and training new staff so that they seamlessly integrate with design teams.
Building design team culture: Instilling the company culture with workshops, training, and other team-building events.
Budget allocation and control: Managing the costs associated with running the design team rather than direct product costs.
Legal: Working with legal teams to create NDAs, participant release forms, and other legal documents.
Managing the procurement process: Streamlining and managing purchasing decisions to meet budget constraints which involves connecting with financial departments.
IT and security: Liaising with IT to ensure all tools and processes meet security standards.
None of these ten roles deal directly with the product or customers, but rather the necessary administrative bureaucracy to get products to market and provide the best customer experience.
DesignOps Areas of Intervention
In Measuring DesignOps Impact, Patrizia separates DesignOps into three areas of intervention; business operation, workflow, and design operation, and people operation.
Business operation is managing budgets, resources, and other business-related design functions. Examples include:
Budget management/spending optimization
Spending policy overview
End-to-end procurement and 3PRM (practice in performance & reward management)
Contract negotiations
Onboarding vendors and 3P (process, product, people) risk assessment
Spending ROI calculation
Tools ROI/impact assessment
Resource asks assessment (tools + people)
CW/FTE sequencing
Workflow and design operation is a holistic view of the end-to-end design process. How do designers get from concept to final product? Examples include:
End-to-end design process optimization
Tools ecosystem management
Tools onboarding/off-boarding
Cross-functional collaboration optimization
Design system management
Data governance
Participant sourcing process management
Research and design asset management
Design standards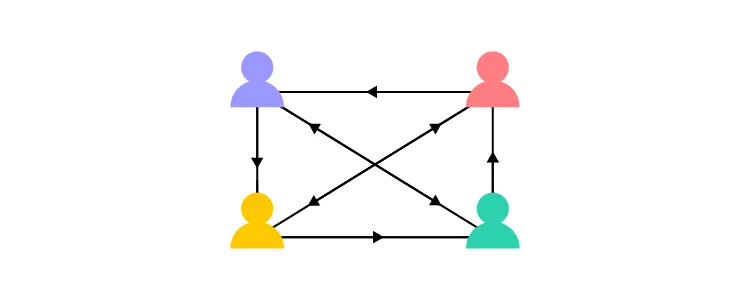 People operation considers the human aspect of design teams, like skills development, communication, and culture. Examples include:
Career path direction
Skills matrix/team composition assessment
Development programs and team training
Teams culture
Knowledge & experience training
Streamline ubiquitous cross-functional collaboration
Onboarding/off-boarding
Internal communication
Change management
Engagement models
Hiring/job specification/tasks review
DesignOps Leader Skillset
If you have ambitions to become a DesignOps leader, change management is the most important skill set. As Patrizia says during the webinar, "DesignOps changes the existing reality to bring more value. It's a very transformative discipline."
Further to change management, a DesignOps leader must have a project management background. A DesignOps leader must also have strong business acumen to manage budgets and strategize to meet long-term goals.
Since DesignOps requires cross-functional collaboration, communication and problem solving are vital skills for a DesignOps leader. They must know how to network and become spokespeople for design, drawing attention to significant wins and getting buy-in for important projects.
You can learn more about a DesignOps leader's qualities and how to get started with DesOps in your company in our free eBook, DesignOps 101:Guide to Design Operations.
What do Design Leaders do?
A design leader is someone who focuses on product design and strategy. Design leaders look outward to understand design's influence on the customer experience and how to create business value. They also coach and mentor designers to improve their skills to facilitate creative thinking and innovation.
Ultimately, design leaders must ensure that design teams meet KPIs and objectives towards the organization's business goals and user experience strategy.
DesignOps Leader vs. Design Leader
As Patrizia puts it in Measuring DesignOps Impact, the DesignOps leader/design leader relationship works similar to that of the CEO/COO. The CEO (design leader) has a vision for the organization (design/product), and the COO (DesignOps leader) creates the systems and processes to achieve that vision.
Patrizia uses five bullet points to compare the two roles.
DesignOps Leader:
Inward looking and process-oriented
Mission: the How / the performance
Focus: End-to-end design process & teams
KPIs: Team health, spending, & performance metrics
Deliverables: Ops roadmap & strategy
Skills: Change management
Design Leader:
Outward looking and product-oriented
Mission: the What / the product
Focus: Product/service vision & individuals
KPIs: Product & experience metrics
Deliverables: Product & design strategy
Skills: Influence & negotiate
One quality a DesignOps leader and design leader have in common is a strategic mindset. They must design and implement strategies that take the organization towards its long-term goals. The most significant difference is the DesignOps leader looks inwards when creating a strategy while the design leader looks outwards.
Design Program Manager vs. Design Manager
Below each leader position, you have people who execute their directives. These tactical roles support the leads to ensure vision's executed effectively and seamlessly. The design program manager (DPM) reports to the DesignOps leader and the design manager to the design lead.
We can compare these roles using the same five bullet points:
Design Program Manager:
Mission: Execute Ops roadmap
Focus: Align processes to execute
KPIs: Program metrics
Deliverables: Blueprints, project status
Skills: Process & project management
Design Manager:
Mission: Implement design strategy
Focus: Coordinate and execute design
KPIs: Project tracking metrics
Deliverables: Project status
Skills: Team & project management
A design manager must have a solid design background and have started as a UX designer or researcher. They must have hands-on experience with design to understand UX and its challenges.
A DPM is more project-based and therefore doesn't require the same extensive design experience, but must still understand end-to-end design thinking and processes.
Further Reading
DesignOps 101
If you're looking for more DesignOps knowledge and insights, you can also check out our free eBook, DesignOps 101: Guide to Design Operations. This free guide features six chapters, each written by DesignOps industry leaders. Topics include:
What is DesignOps?
The Importance of DesignOps
The Impact of DesignOps
How DesignOps Works
How to Get Started With DesignOps in Your Company
DesignOps Tools
DesignOps Pillar: How We Work Together
Would you like to create a stellar design team? Read our free eBook about the first strategic area of DesignOps, that is managing a design team. Learn about rituals, practices, and processes that will help you grow an amazing design team that's happy at their jobs. Follow: DesignOps Pillar: How We Work Together.
Use UXPin Merge Tech to Scale Design Operations
UXPin is proud to provide this free content to help develop and evolve DesignOps practices. We welcome you to learn more about our revolutionary code-based technology Merge–a tool that solves many DesignOps challenges by bridging the gap between design and development.