Successful products are created by designers that know their users. Everyone else is designing in the dark.
on
But with all the possible user research methods available, how do you select the right user research techniques? Real-life UX projects don't always provide enough time for the thorough research discussed in design theory.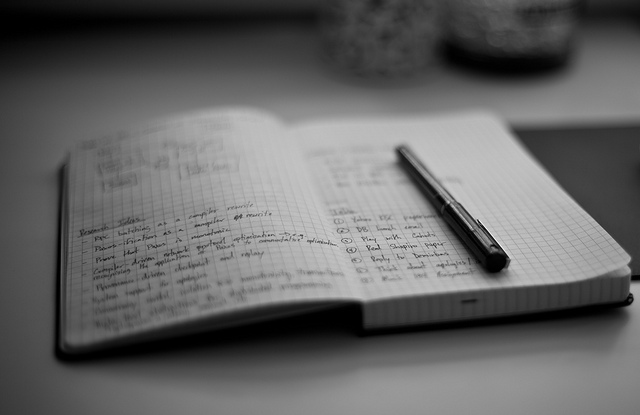 Photo credit: "Research." Neil Conway. Creative Commons.
In this post, we'll explain the different categories of user research, then dive into practical methods applicable for everyday UX design.
We've included useful techniques and resources based on recommendations from our own UX team. We'll focus on the tactics that offer the best insights for the time involved.
The 3 Categories of User Research
As explained in The Guide to Usability Testing, we can break up user research into three groups.
The user research and testing process isn't always linear, however, so it's quite common to mix up the order below based on your needs (e.g. you could start first with general usability testing for a redesign).
1. Preliminary User Research
As the name suggests, preliminary user research happens before the actual hands-on design. The goals of preliminary research are:
Better deciding which user groups to target

Understanding the preferences of the targeted user group (

persona creation

)

Gauging the viability of your product in the market

Revealing ways to increase the value of your product in the market (

product definition

)
Common preliminary research methods include: user interviews, surveys, and diary studies.
2. General Usability Testing
Once the design process starts, you can initiate general usability testing. At this stage, you're exploring the structure and functionality of the design.
Card sorting and tree testing help you create the most intuitive information architecture and navigation pathways, while low-fidelity prototyping helps you test early versions of the design.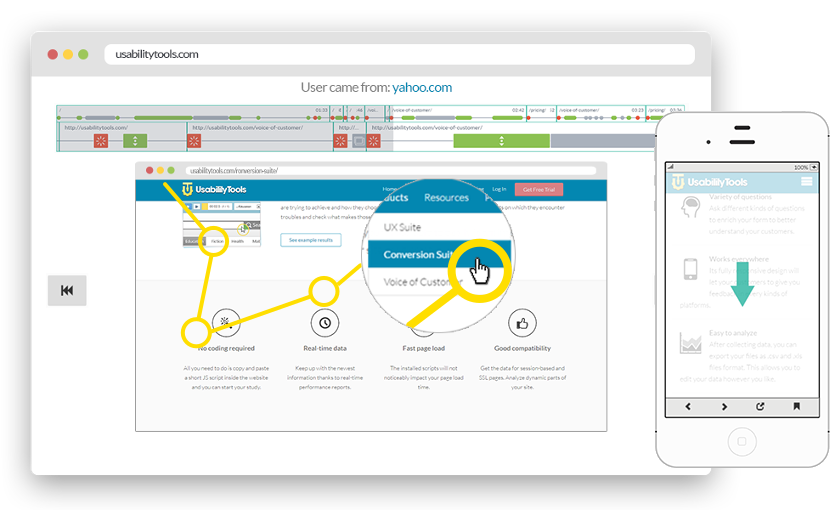 Photo credit: Usability Tools
You're "thinking broad to get narrow" as users help you decide which content structures and interaction models are worth iterating, and which should be scrapped altogether.
3. Fine Tuning Usability
As the design process nears completion you can begin fine-tuning with additional usability testing.
More often than not, this stage tests the validity of decisions you already made.
For instance, you might A/B test two variations of the same prototype to verify if a CTA above or below the fold generates a higher signup conversion rate.
Different Approaches to User Research & Testing
1. Moderated vs. Unmoderated
Furthermore, the tests within each category can often be either moderated or unmoderated.
In general, unmoderated tests produce more natural results since participants use the product in their natural setting away from a lab setting. Unmoderated tests cost less and are easier to schedule.
However, if your product is either naturally complex (e.g. a stock analysis app for traders) or you're still in a lo-fi prototyping stage (therefore more usability issues), a moderator helps to answer questions and keep users on track.
2. On-Site vs. Remote
You also occasionally have the choice to conduct the test on-site or remotely.
Remote testing is often beneficial for the same reasons as unmoderated tests: more natural user behavior. Moreover, remote tests are far easier to schedule, and allow multiple tests running at the same time. On-site tests are more suitable for highly confidential products.
3. What's the Best Combination?
The best combination depends completely on your budget, location, and timelines.
In our experience redesigning UXPin, however, we found remote moderated usability tests were the best choice early in the design process.
Our UX researcher Ben Kim could observe user behaviors in real-time, then jot down notes and ideas as they popped up. For our lo-fi prototypes, the presence of a researcher also helped guide them back on track when they encountered early usability issues.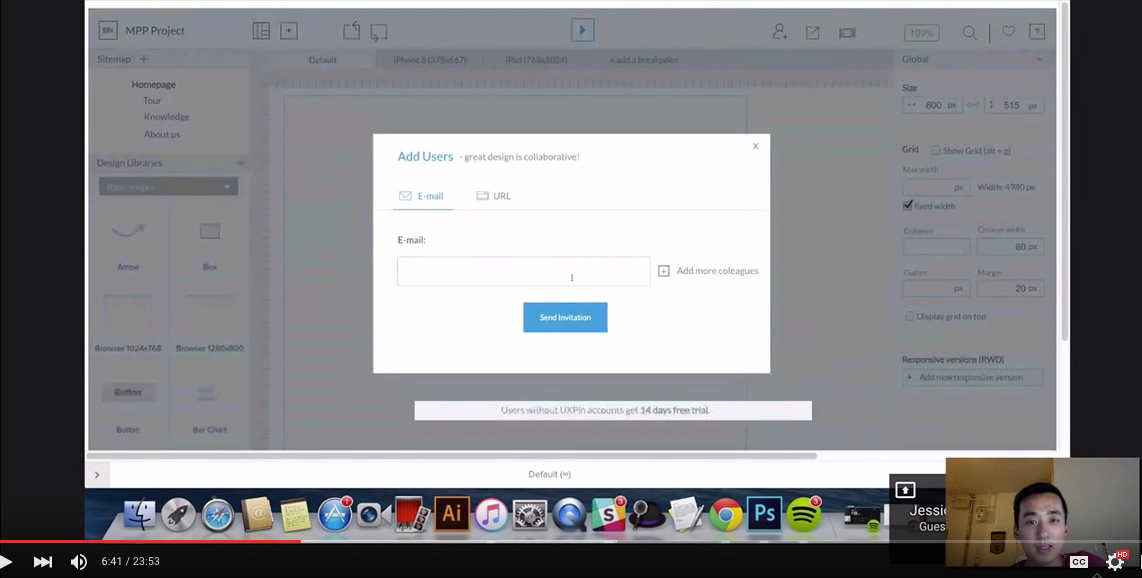 Photo credit: Testing our redesigned interface with designer Jessica Tiao of KissMetrics
Once we created a hi-fi prototype, we ran a combination of remote moderated and remote unmoderated usability tests. The hybrid approach allowed Ben to ask follow up questions if any critical usability issues arose in the moment, while also offering insights into natural use cases.
We did run a handful of moderated on-site usability tests (for lo-fi and hi-fi prototypes) since Silicon Valley is full of top designers, but we leaned on remote tests mostly due to ease of scheduling.
Fitting User Research into the Design Process
It's never a bad time to conduct user research.
User research should be not book-ended at the start and finish of a design. In fact, early- and middle-stage testing can be the most beneficial — testing every major iteration of a design means the feedback can be integrated immediately when the insights are still fresh.
While design processes vary based on the project needs, a loose outline of fitting user research into the process might look like this:
Preliminary User Research

Persona Creation

Product Definition

Information Architecture

IA Testing

Wireframing

Lo-fi Prototype Testing

Mockups

Hi-fi Prototype Testing

Coding
Whatever your process, you should always test when moving from lo-fi to hi-fi prototypes. 
Preliminary User Research
Let's get into the details, with the most common types of tests, and their best practices. We'll start with preliminary research.
1. User Interviews
One of the oldest and most reliable methods of user research, user interviews are a direct approach to getting inside your user's head. There is a lot of flexibility in how you conduct them, for example, which questions you ask and where it's held. Additionally, user interviews can be conducted any time throughout the process, on any topics.
Erika Hall wrote a great overview piece to interviewing, which includes sample questions. Whitney Hess provides additional tips and techniques, delving into how an interviewer should compose themselves.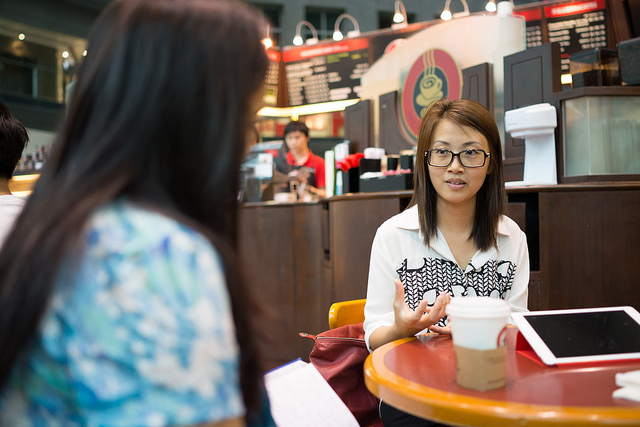 Photo credit: "2014-04-30 17.09.22." Nicholas Wang. Creative Commons.
2. Surveys
For a faster, user surveys require less involvement, at the cost of depth. These written questionnaires can be distributed widely online with tools like Surveymonkey, and answers can be quickly tallied for a mix of qualitative and quantitative data (if you're using a numeric scale).
The downside of course, is that you must account for response bias.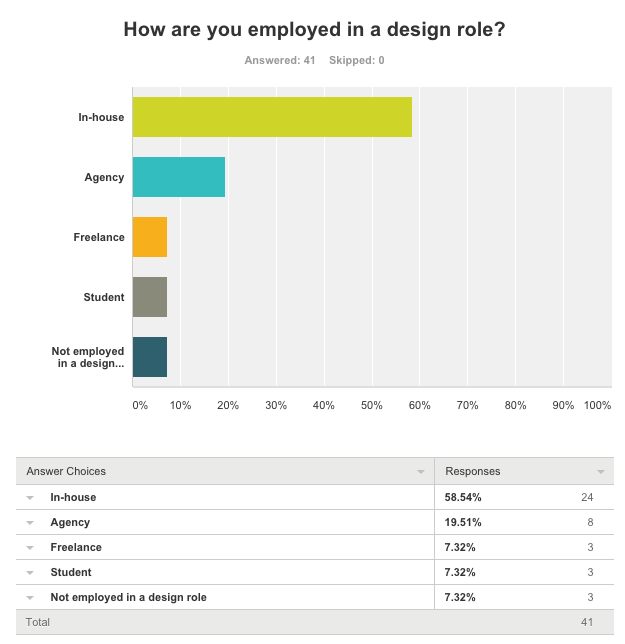 You can start your user research with a survey, then follow up with select users to hold interviews for more in-depth questions.
Diane Loviglio goes into detail with wording and question order, and Dr. David Travis gives 20 tips.
3. Field Studies
Sometimes the best way to understand your users is to see them in their natural habitat. Claimed to be the best effective method of studying users, Field studies examine user behavior in their own environment, and rely less on the user's capability of explaining their actions.
Read Carolyn M. Brown's complete how-to guide, and complement it with The Nielsen Norman Group's tips and advice.