UX designers know better than anyone — it's what's inside that counts. As in, the user's thoughts and feelings, and how those affect what they say and do.
That's where the empathy map comes in. When created correctly, empathy maps serve as the perfect lean user persona:
They quickly visualize user needs (especially to non-designers)
They fit perfectly into a Lean UX workflow as a starting point for user knowledge (you'll build more as you prototype and test)
Because they're quick to create, they're easy to iterate as you revise assumptions based on real data
They prime stakeholders for your design ideas since they've thought beyond their own experiences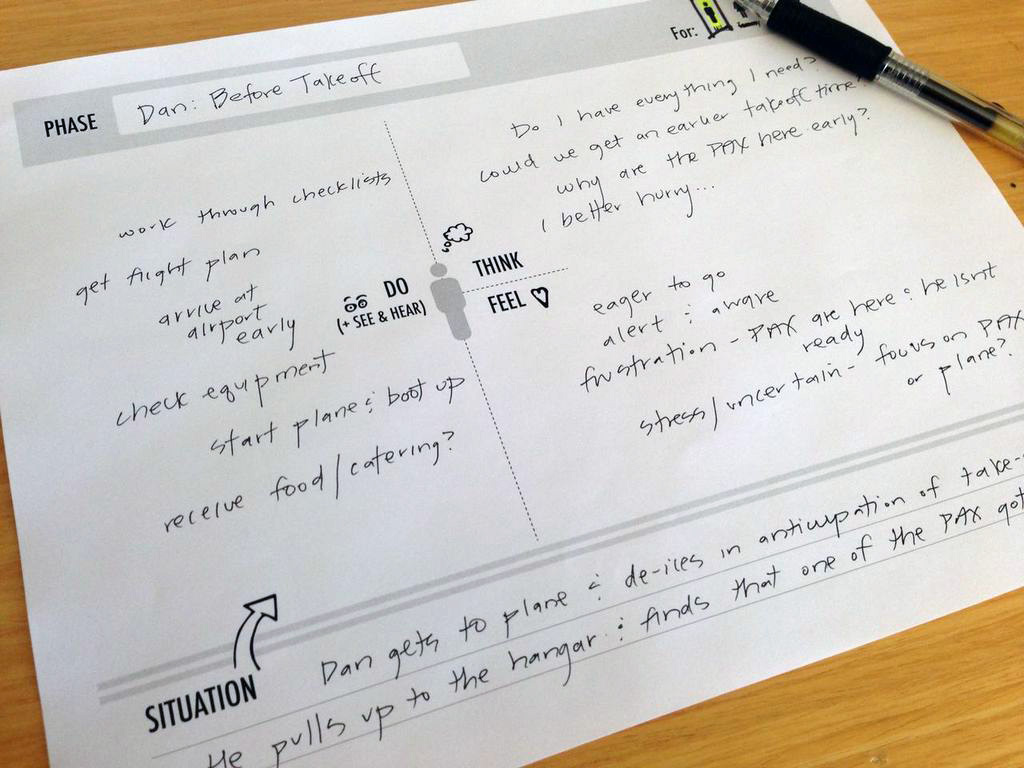 Photo credit: "How to Use Persona Empathy Mapping." Nikki Knox (UX Magazine).
That's what this article is about: a clear-cut, all-inclusive guide on empathy maps, answering why, when, and how to use them.
Let's get started.
When to Use Empathy Maps
Empathy maps are most useful at the beginning of the design process.
Try to complete empathy maps before the product requirements, but after the initial user research. Product strategy is about solving problems, and empathy maps shed light on which problems to solve, and how. This also makes them a great tool for redesigns as well.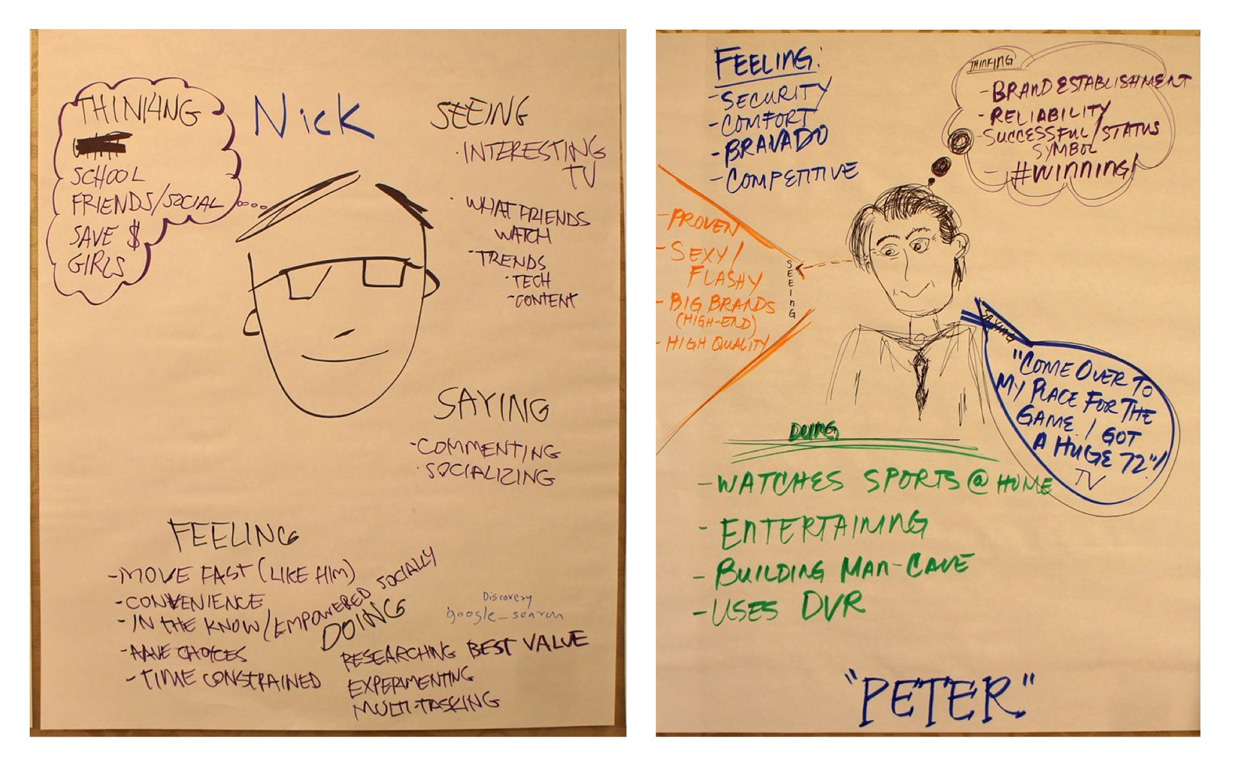 Photo credit: "How to Use Persona Empathy Mapping." Nikki Knox (UX Magazine).
When done well, empathy maps create a "UX domino effect" that affects the entire project. Empathy maps affect the product requirements, which affects the product strategy, which affects the wireframes, mockups, prototypes, etc.
However, empathy maps work better if they're drawn from real data, so they should be made after user research like user interviews. But in a pinch, empathy maps can still be built on your existing knowledge and stakeholder feedback. Quick basic empathy maps offer valuable insight in any meeting — hence the "10-minute persona" nickname.
Join the world's best designers who use UXPin.
Sign up for a free trial.
Try it for free!
Empathy Map Format
A common UX empathy map is divided into four quadrants, outlining notes on four different aspects of the user's internal experience. The quadrants can vary based on needs and preferences, but almost always contain:
Thoughts —

Quotes of what the user is thinking, i.e., "I wonder if there's an example?" or "I hope this doesn't take long."
Feelings —

The user's emotional state, i.e. "is confused by the navigation and

blames themselves

."
Actions —

The user's behaviors, whether in general or in response to a specific instigator, i.e., "returns to the home page every time they don't know where to go."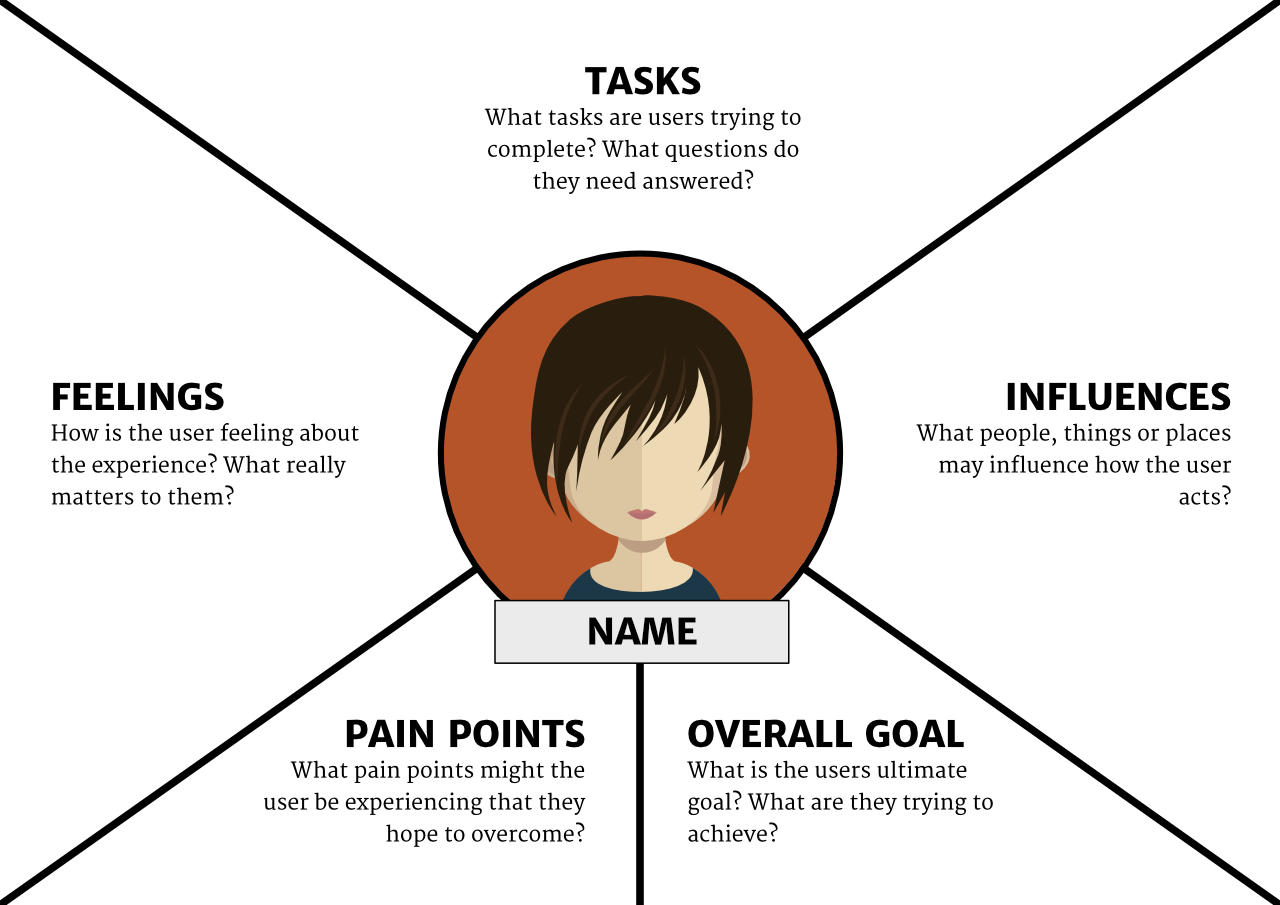 Photo credit: "Adapting empathy maps for UX design." Paul Boag (boagworld).
Some common variants include:
Sights —

Where the user's eyes go, i.e., "loves the colorful mascot."
Quotes —

Things the user says, similar to thoughts. Can be pulled word-for-word from user interviews, or based on existing knowledge.
Influences —

What the user has heard from third parties that might influence how they act, i.e., "They say this is easier to use than Photoshop."
In addition, at the bottom in some empty space, it's always a good idea to include:
Problems ("Pains") —

Any obstacles worth considering, i.e., an unfamiliarity with technology, or a short attention span.
Goals ("Gains") —

What the user hopes to accomplish, i.e., complete the task within 5 minutes.  
Alternatively, you can summarize the above two areas by filling in the simple statement, "The user needs a way to ________________ because ________________." Pay attention to the second blank, since user motivation is the real raw material for feature ideas.
Last, you may want to leave a space for general notes, such as the type of device the user is accessing your product from.
Optionally, it may help to include a picture of the user to make the document feel more real.