What is New at UXPin? We're Back with Another Product Update
It's about time you log into UXPin app, build a new prototype and discover all those changes we'll be talking about it here. Join us for a new product update.
Take a look on our design technology for designing with UI coded components that are interactive by default. Discover UXPin Merge.
Mobile prototype QR code on Preview
A new convenient way of previewing a prototype is here. Share your mobile version of design using a QR code on preview. Open the UXPin Mirror app, scan a QR code on preview, and enjoy testing the design as if it were a final app.
Search comments by authors & assignees
Search for comments left by a specific author or assignee – it works for email domains, too. So if someone from @uxpin.com left you a bunch of comments, you can find them much quicker than before, with no additional scrolling.
Search & replace color or fonts
Zoom into UXPin's layers panel to discover a new search for specific fonts or colors within a page. You'll get a list of matching components that you can then adjust or replace.
Font Awesome Update
Font Awesome is one of the most popular icon libraries. We upgraded it to the newest version 6.
Export selected pages
Instead of bulk export, select pages of your prototype that you want to save or send.
Blur the background of your prototype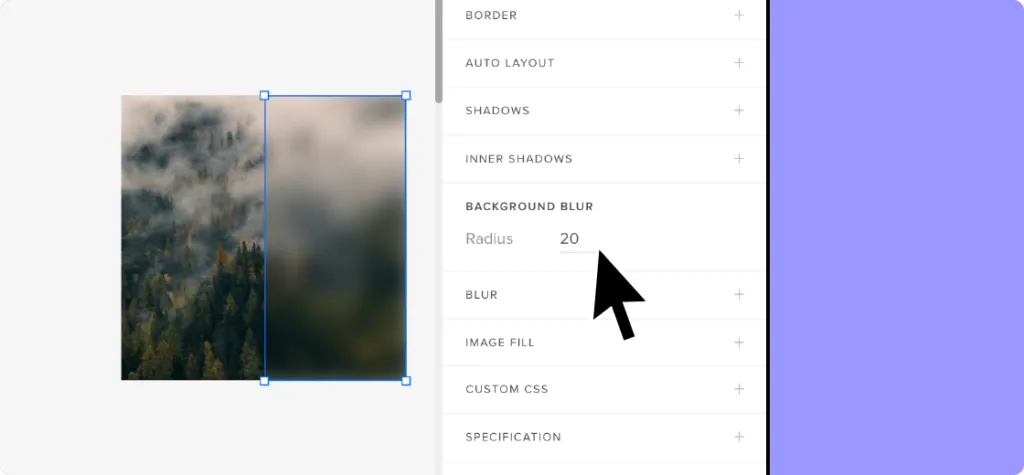 Be it functional or aesthetic, gain full control over what should "pop" by applying background blur to elements. Provide a visual hierarchy to your design, take ownership of directing user's attention, and use it to identify inactive or inaccessible elements.
Ready to revolutionize your design process?
All of the updates that we shared will make design work smoother for you, but they won't tackle all design dilemmas like smooth design handoff or better process. For that, you need UXPin Merge. Discover what UXPin Merge is all about.