App Personalization – How to Get it Right?
In 2021, Google and Apple saw around 140 billion downloads in their app stores – a 20% growth in just two years. That's a lot of demand to cater to! Still, with the multiple options on the market, today's app users want more than 'just' an app that works properly. They want a UX that aligns with their specific, individual needs.
With the "one size fits all" model failing some app designers, how do we ensure that users get the level of personalization and app customization they crave?
UXPin makes it easy to design a prototype that looks and feels like an end-product. With its stellar features, you can build prototypes that your users and stakeholders can actually interact with. It makes user testing a lot smoother. Try UXPin for free and design your first app today!
What is App Personalization?
At its most basic level, app personalization can be defined as the process of building an application that meets the unique needs of a specific audience.
But there's a little more to it than that. How do we know which personalization elements different audience members want? How do we ensure they're satisfied with the existing UX? And which app customization elements matter more than others?
Thanks to the ever-growing number of tools and analytics available today, developing an app that features top-shelf customization options and personalization features is getting easier.
Whether enriching the feedback a user receives after signing up or using predictive algorithms to learn about what motivates and interests them, app personalization has evolved into a data-driven art that requires creativity and an innovative mindset.
Why is App Personalization Important?
When it comes to mobile apps, the overwhelming majority of consumers are on the hunt for one thing. An app that offers them the products and services they need based on unique user histories, individual interests, and special preferences. Getting personalization wrong can be an app killer.
The customer experience is driven by how we're able to personalize the journey for them. Generic, cookie-cutter processes are outdated and known to push users away, while apps tailored for convenience, ease, and efficiency are taking center stage.
Studies and research cases all point to some intriguing data driving demand for more app personalization. Nearly 58% of people feel more positive toward companies that remember who they are. Two-thirds expect brands to understand their needs without communicating them, while nearly three-quarters (72%) of customers will only engage with brands that offer personalized messaging.
Businesses are taking notice, too. Marketers are leading the charge, with 60% stating that their content is extensively personalized. As of 2022, 84% of companies agree that personalization is critical to enriching the user experience.
Users want to feel like they matter, that they're more than just a number on the network. User engagement is key, and being able to do more than simply thanking someone by name for signing up or making a purchase is the secret to getting your mobile app personalization strategy right.
Mobile Personalization, Segmentation or Customization
Before diving into what makes for effective mobile app personalization, we must understand our different user app segments and their role in formulating a strategy that works.
While personalization and customization are used interchangeably, they're different. Both concepts refer to how we can design the user experience to boost engagement, but at the fundamental level, they are responsible for distinct outcomes:
Personalization – involves using data analysis to leverage digital technology and tools to personalize product offers and direct messaging to existing or prospective clients. Personalization happens before something reaches the customer and is the responsibility of the brand or company.
Customization – is the process of allowing the customer to input their preferences or requirements in altering a product or service to suit their needs. While app customization happens in real-time, brands must create an environment for the consumer to do so.
Here's an example of personalization versus customization in action:
"ABC Brands sells coffee at outlets around the country, allowing users to order on their app for collection. When you have the option to add cream, sugar, soy milk, or sprinkles to your order, that's customization. But when you open the app, and it already knows which three coffees you prefer, your favorite outlet, and the time you usually get your caffeine fix – that's personalization."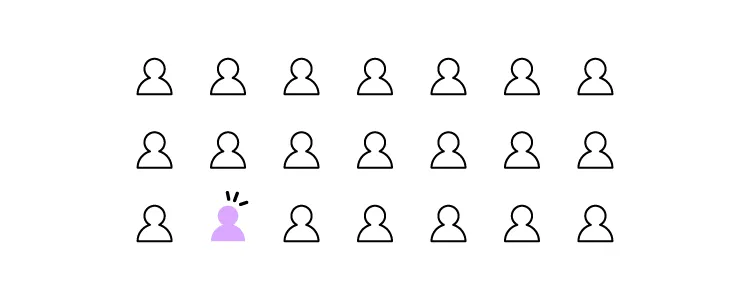 But to ensure that we have access to the data we need to personalize our app offerings and in turn, the level of customization available, we first need to understand whom we're targeting. We need to know about our user app segments.
The depth of both effective personalization and comprehensive customization is predicated on providing a UX that encourages engagement. But while these require an understanding of the target audience, segmentation gives us a way to do just that.
User segmentation – refers to the process of dividing (or segmenting) the target market into smaller, more manageable groups of customers based on their shared interests, needs, and preferences.
Segmentation involves many considerations, criteria, and elements and can be challenging to execute effectively. Always keep your app's needs and objectives in mind when segmenting your market according to any one of these most prevalent factors.
Demographics – relate to the age, gender, income level, employment status, and even race of your customers. They allow brands to understand what different groups of people are looking for based on easy-to-identify mainstream factors.
Geolocation – refers to the physical location of someone. Apps access this information to give us insight into where people live, where they work, and the places they spend most of their time.
Lifetime revenue – gives us an understanding of how long a person has been a customer. It also tells us which groups spend more than others, allowing developers to design a UX that affects each group differently.
Psychographics – are those parts of your customers' lives that define who they are. Things like cultural identity, their world view, their political leanings, and even religious factors. Psychographics play a significant role in what people can expect from the brand associated with the app.
Behavioral segmentation – provides valuable insight into how people in a market behave. In the case of apps, we're looking at things like screen time, bounce rates, app retention, and on-screen hotspots. This data is crucial to understanding user behavior and getting app personalization right.
Psychographics and behavioral segmentation are vital to designers looking to nail their app personalization UX since they're geared specifically to providing you with app-related consumer information. Developers can identify the key user needs and goals from these metrics and can thus customize and personalize the mobile app experience more effectively.
How to Personalize any Mobile App
Once you have an idea of which user groups you should be focussing on, you'll have a much clearer picture of how to go about your mobile app design and personalization strategy.
1. Leverage user segments
Once you've put in the effort of getting a deeper understanding of your app segments, you'll need to ensure each one gets the attention it deserves. And this is the beauty of app customization and personalization – you get to provide a personalized experience for each.
Your app's ROI – and longevity – will depend heavily on giving every user the most comprehensive and rewarding UX possible. But resources can only go so far, and you'll still want to ensure that your most lucrative and valuable customers take priority. So, invest in a personalization strategy that balances out each group's needs and prospective returns.
2. Refine the onboarding experience
First impressions matter, especially with apps, so pay attention to user onboarding. This easily overlooked mobile app personalization component is critical for stable user retention and keeping app engagement rates high.
Ask for the user's name (but beware of asking too many unnecessary personal questions) from the outset and use it where necessary. Offer free trials of upgrade features, and discounts for early in-app purchases, and remember to gently remind them to keep using it.
3. Craft content that reflects good personalization
This is where your mobile app personalization efforts really come to the fore. Tailor your app and well-researched digital content to meet your users' every need. It should reflect previous interactions, their unique interests, and anticipate their desires.
Innovate with different approaches and try to find a way to balance basic personalization with characteristics that'll impress and please your users. Relevance is all-important, so put your research and segment data to good use.
4. Enable push notifications
Push notifications are your app's way of getting noticed on devices. But be very careful of how 'pushy' you want your app to be, and promoting relevant content.
Mobile users will appreciate relevant notifications that help them, like special offers, product recommendations, highlights from the newsfeed or location-based information, vital information related to the app itself, and current updates linked to their interests. A great tip is adjusting notifications to user preferences.
5. Personalize beyond the app
You can create a personalized app experience beyond the app. This boosts brand loyalty and demonstrates your commitment to effective personalization.
Email marketing that shows the customer that you're aware of where they are in their app journey is a valuable re-engagement opportunity. Notifications that help an app user pick up where they left off or remind them of a new app feature or product offer are also excellent personalization motivators.
Duolingo, for example, rewards its users for progress and encourages them to keep going through highly personalized emails and reminders.
The best way to approach mobile personalization
Before you can start personalizing your app, you'll need a starting point. Prototyping is considered one of the most effective and efficient ways to test, refine and perfect your app before you jump into development – especially on the personalization front.
UXPin is an all-in-one design tool for creating an interactive prototype that will grant you detailed user feedback from users interactions with your prototype. UXPin also have a ton of features that will help you design with live data and user input that will be shared from one screen to another.
Prototyping with UXPin allows you to identify the factors that matter most to your customers, weed out the elements they don't want and perfect your personalization strategy without wasting valuable time and money on failed versions. Give UXPin a shot by signing up for a free trial.