How to Deal with FinTech Legacy Systems
Many organizations struggle to free themselves of legacy systems and the headaches they possess. These outdated ecosystems present many challenges, including user experience and digital innovation.
The burdens of legacy technology are why challenger banks can compete with traditional banks, adopt sophisticated technology, and deliver products to customers significantly faster.
This article explores the challenges of legacy systems and their adverse impacts on business and customer experience. We also look at how FinTech companies outperform traditional financial service providers without these legacy burdens and what the latter can do to modernize.
Modernize your UX workflows and create a single source of truth between design and development with UXPin Merge to deliver products faster while reducing time to market. Visit our Merge page for more details and how to request access.
What are Legacy Systems?
Legacy systems are hardware, software, and other outdated technology organizations still use. The company that built the legacy system is usually no longer in business, or they've stopped offering updates and support for the product.
Without updates and support, the organization must employ IT experts to maintain and operate the legacy system. The talent pool for these systems is small, so labor is expensive, and they often have to fabricate hardware replacements at high costs because parts aren't readily available.
Legacy systems also require a significant amount of space. Many organizations operate on systems that are 30-50 years old. The hardware for these legacy systems is bulky, requiring significant real estate to operate and maintain efficiently. Institutions must also worry about data integrity and ensuring they don't lose everything when a system crashes–and legacy systems do crash!
Legacy systems are still widely used in the banking sector and government institutions. Not only are legacy systems expensive to maintain, but they present significant security risks.
According to a Forbes article, most US Federal Government systems are outdated. The US Treasury is one of the oldest systems at 51 years old, closely followed by Health and Human Services at 50.
Legacy Systems and User Experience
These technical issues present a challenge for UX designers trying to design a good user experience for a back-end held together with adhesive tape and bubble gum. Legacy systems offer several critical challenges for product teams:
Poor performance: front-end applications must wait for API (application programming interfaces) calls to legacy systems
Scalability limitations: legacy systems impede innovation
Poor cross-platform experience: restrictions on what users can do with mobile banking apps vs. desktop applications
Budget constraints: legacy banking systems are expensive–consuming valuable resources that could go to UX and digital product innovation
Silos and bureaucracy: make it challenging to compete with fast-moving FinTech startups and institutions that have embraced technology
Security constraints: legacy systems are more vulnerable to attack, adding more complexity and limitations
What Makes FinTech More Successful?
FinTech products solve the same problems as organizations running legacy systems but can compete because they have fewer constraints.
Here are some ways FinTech outcompetes multinational financial institutions with decades of experience and expertise.
1. FinTech moves fast
Speed to market is one of FinTech's greatest strengths. With modern technologies, efficient workflows, and no silos or bureaucracy, FinTech product teams can innovate and deliver projects fast.
FinTech companies are also free to test and adopt new technology, like machine learning, blockchain, and artificial intelligence, which significantly enhance product quality and customer satisfaction.
This efficiency makes app-first investment products like Robinhood, and digital banking providers like Monzo, Chime, and Nubank, to name a few, successful. They offer clients a comparable financial product through sophisticated applications they continually innovate.
Traditional financial institutions battle to compete because they're slow to market and are always two steps behind faster, agile FinTech organizations.
2. User-centric
FinTech organizations adopt a user-centric mindset for decisions and innovation. They understand user needs better than traditional financial institutions because they're more in tune with modern digital software development, specifically, user experience and design thinking.
This user-centric approach enables FinTech organizations to prioritize customer needs and focus on core banking products that meet expectations–creating better trust, adoption, and retention.
3. Better data analytics
Data integrity and quality are significant issues for legacy system financial institutions. Legacy systems prevent holistic real-time analytics, which slows decision-making and innovation.
Conversely, modern FinTech organizations have high-quality real-time end-to-end analytics allowing them to identify issues and opportunities.
These valuable insights enable stakeholders to make educated decisions aligned with the company's vision, roadmap, and customer expectations.
4. UX research and user testing
UX research and user testing are facets of user-centered design adopted by FinTech organizations. These valuable UX insights, paired with quality analytics, provide FinTech organizations with more detailed, holistic customer personas.
This deeper understanding of customer behavior enables FinTech designers to prioritize products and services that meet user needs while identifying unique business opportunities.
5. Cross-functional product development
Many successful FinTech organizations use Agile environments and cross-functional product development teams. These modern workflows minimize silos, align teams, reduce errors (UX debt/technical debt), and facilitate faster, more accurate project delivery.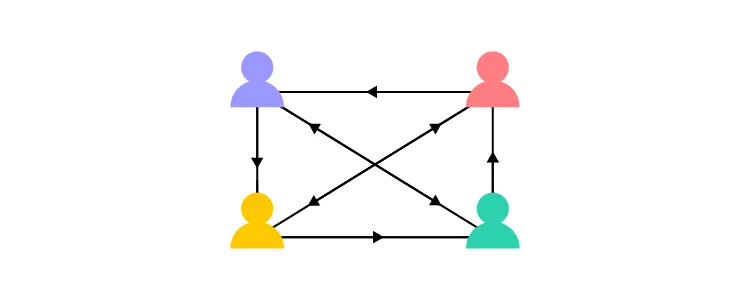 FinTech organizations are also more adept at remote work environments, allowing them to draw from a global talent pool and onboard much faster.
Traditional financial institutions suffer from silos and, due to regulatory requirements and company policies, take longer to onboard talent and build teams.
How Designers Can Help With Modernizing Legacy Systems
1. Measuring and reporting
Measuring and reporting are vital components of modernizing legacy systems, including:
Using these methodologies is just the first step. Design teams must use these insights to present quantitative data to stakeholders. For example,
what is the cost of poor user experience from legacy systems, and what are the potential returns for modernization?
When Talabat's product team battled to get investment for a design system, they built a business case around the costs of front-end debt. The team measured the time it took to develop a UI with and without a design system. The results demonstrated significant losses for Talabat's front-end debt, convincing stakeholders to invest in the product's design system.
Your problem and solution must include numbers to support your business case. Stakeholders want to see metrics and KPIs to assess:
The state and scale of the issue
How your solution improves these numbers
2. Prioritizing effectively using design thinking
Designers can use design thinking to prioritize projects and identify opportunities that maximize business value. Finding the balance between desirability, viability, and feasibility is an effective research technique for innovative products that deliver sustainable long-term growth and success.
Desirability: what do customers need vs. want? Needs are more valuable because people can't live without them.
Viability: can the company afford it, and does it make business sense?
Feasibility: do you have the resources to build it? Is it right for the business? And, how long will it take to deliver?
Finding the sweet spot in this trifecta can maximize business value while solving customer needs. To be successful, the entire organization must embrace design thinking and user experience principles.
Design advocacy and design thinking workshops are crucial in getting buy-in from team members and stakeholders and steering them towards a modern, user-centered mindset.
As legacy-constrained institutions adopt these design thinking principles, it gets harder to justify "the old way of doing things" at the expense of users and the business.
3. Creating a single source of truth
Many organizations, including those on legacy systems, still operate without a design system. Even the "modern" digital payment giant PayPal only adopted a design system for its internal products in 2019!
Design systems ensure there's an organization-wide single source of truth. Streamlining product development workflows and maximizing cohesion and consistency reduces usability issues while allowing designers to focus on solving user problems rather than building components for every project.
Although a single source of truth won't solve your company's legacy challenges, it's a step towards modernizing workflows and reducing time-to-market–a significant issue for slow-moving financial institutions.
Digital Transformation With UXPin Merge
UXPin Merge is an excellent tool for modernizing legacy systems and reducing time-to-market. After adopting UXPin Merge in 2019, PayPal's product designers were able to build UIs 8X faster than before.
Merge also revolutionized PayPal's development process and scaled design output without employing more UX team members–a key factor for organizations struggling with budget constraints!
Synced design and development
PayPal's UX Lead EPX, Erica Rider, chose Microsoft's Fluent UI design system. The DS team created custom components and templates, so designers only had to drag and drop elements to build user interfaces. As Erica calls it, "a 'snap-together' type design."
PayPal used Merge to sync its Fluent UI React library to UXPin, so designers had all the same components. They used React props to set styling and interactivity constraints which designers adjust via UXPin's Properties Panel.
Streamlined design handoffs
Design handoffs in Merge are seamless, almost non-existent–a far cry from the chaotic mess many organizations deal with when releasing new products and features!
With designers and programmers using the same component library, most front-end development is copy/paste and adjusting props to meet designs. UXPin provides JSX code, so designers can copy that too!
Minimal designing and coding from scratch reduce errors, technical debt, and time-to-market while enhancing collaboration and user experience.
Are outdated business processes and legacy systems affecting your UX team's ability to compete and meet customer expectations? Create a single source of truth to enhance product development workflows and deliver better user experiences to your customers with UXPin Merge. Visit our Merge page for more details and how to request access.