UX Team Structure — How to Plan Your Career in Product Design?
User experience design projects often require multiple UX professionals, each with a different function and responsibilities. Understanding a UX team structure and each individual's responsibility helps organizations hire the right people, and UX designers develop the necessary skillset for their desired career path.
This article explores the different UX roles, skillsets, and team structures organizations and startups use for product development. We also look at how UX teams work together throughout the design process to deliver products successfully.
UXPin is a collaborative design tool with features for every UX role and task. From simple wireframes to complex high-fidelity prototypes, UXPin's code-based design tool empowers UX teams to deliver exceptional user experiences to their customers. Sign up for a free trial to explore all of UXPin's advanced features.
Understanding UX Roles and Their Skillsets
Modern product development teams include many UX specialists, each responsible for different elements of the design process. Here are nine UX roles and their skillsets:
UX designer
UI designer
UX researcher
UX architect
UX writer
Content strategist
UX engineer
DesignOps practitioner
Product designer
UX Designer
Most UX experts start as UX designers. UX designers are responsible for the end-to-end UX process in small companies, including research, UI design, prototyping, testing, documentation, and handoff.
In large organizations and enterprise product development, the UX designer role is more focused on user experience, usability, and accessibility.
UX designers spend a lot of time understanding behavior, pain points, emotions, and other human factors to deliver products that meet user needs.
UI Designer
UI designers focus on a product's visual design and interaction design. It's their job to ensure a product looks aesthetically pleasing while remaining functional and cohesive–essentially balancing form and function.
UI designers work with visual elements like buttons, color, icons, typography, images, forms, components, UI patterns, etc., to design user interfaces. They must rely on UX research to create interfaces that meet users' needs.
UI designers often collaborate with front-end developers or UX engineers to understand technical constraints and provide adequate documentation for development.
UX Researcher
UX researchers are responsible for collecting and analyzing user, competitor, and market research. They use qualitative and quantitative research methods to create a holistic understanding of these three segments.
UI designers also conduct face-to-face interviews and usability testing on prototypes with end-users. They may also do field research to understand a specific industry and its target demographics.
UI designers must compile this data into various UX artifacts, including user personas, customer journey maps, empathy maps, etc., for the rest of the team to understand users and guide design decisions. They're also responsible for managing and updating research, so UX teams always have the latest insights to make decisions.
UX Architect
UX architects are responsible for a digital product's structure, information architecture, and navigation. They must understand every user flow to prioritize links, screens, and navigation accordingly.
UX architects spend a lot of time analyzing heat maps, analytics, screen recordings, eye tracking, and other data related to navigation to design a product's architecture that meets business goals and user needs.
A UX architect's primary deliverables are wireframes that UI designers and content strategists use as the foundation for their work.
UX Writer
UX writers focus on language and phrasing for user interfaces. This crucial role ensures that UIs, form labels, components, navigation, CTAs, and other user-facing touchpoints, have consistent and coherent language.
UX writers also ensure system messages (error, success, informational, etc.) and emails have clear, actionable language for users.
UX writing extends to product documentation, policies, disclaimers, and other long-form content. UX writers don't always create this content, but they will collaborate with legal, technical writers, etc., to ensure language is uniform and consistent across all touchpoints.
Content Strategist
It's a content strategist's job to ensure a product's content (text, images, video, etc.) meets user needs and business goals. They're also responsible for managing and updating content so that it's always relevant.
Like any UX professional, content strategists rely on user research. They must understand users and their needs to ensure a product's content is relevant to the target demographic.
Content strategists are not confined to UX. They work closely with several departments, including marketing, customer support, business, and product teams, to source, edit, and publish content.
UX Engineer
UX engineers are front-end developers who understand user experience design and design thinking principles. This hybrid role works in both the UX design process and front-end development.
UX engineers collaborate with design teams throughout the design process, providing technical advice and assistance. They also help designers develop high-fidelity code prototypes using HTML, CSS, and Javascript to test complex functionality.
UX engineers work with UI designers to convert designs into functioning code. They also act as a bridge between designers and engineers to ensure the final product meets design specifications.
DesignOps Practitioner
DesignOps practitioners work on the operational side of UX design. It's their job to optimize UX workflows by removing inefficiencies and bottlenecks. They also help motivate teams and reinforce company culture to keep everyone working as a cohesive unit.
There are three primary DesignOps roles:
DesignOps Leader: A high-level position focused on creating the operational vision and roadmap
Design Program Manager (DPM): Responsible for executing the DesignOps Leader's strategy and roadmap
Design Producer: Works directly with team members at the project level to manage daily administrative and operational tasks
Get our free eBook: DesignOps 101: Guide to Design Operations.
Product Designer
Product designers have a similar function to UX/UI designers, but they work with existing products rather than designing from scratch. It's their job to manage the product's user experience for the remainder of its life cycle.
Product designers focus on designing new product experiences and typically use an existing design system or component library to build user interfaces.
While product designers remain focused on user experience, they're also responsible for increasing business value and ROI on new product releases.
What is the Best UX Team Structure?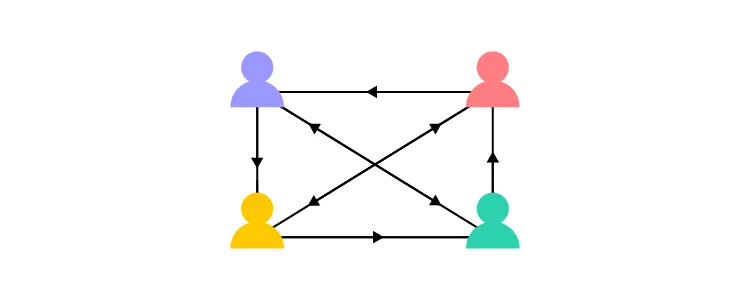 There are three primary UX design team structures:
Centralized design team structure
Embedded/decentralized design team structure
Flexible design team structure
Centralized Design Team Structure
In the centralized design team structure, the UX team works from a single location under a UX leader and UX managers. This UX team structure works best for medium-sized organizations where it's relatively easy for designers to share knowledge and give each other feedback.
Embedded/Decentralized Design Team Structure
The embedded or decentralized design team is a cross-functional structure best for small businesses, agencies, and startups. This cross-functional team model includes UX experts, developers, marketers, a product manager/owner, and a project leader.
Flexible design team structure
The flexible design team structure is a hybrid centralized/decentralized model. The UX team report to a design leader for high-level UX strategy and a team leader for day-to-day tasks. The flexible design team structure works best for enterprise organizations or companies with high design maturity.
How UX Teams Collaborate using UXPin
UXPin's end-to-end design tool allows UX teams to collaborate with each other, stakeholders, and other departments throughout the design process.
Early Stage
During the early stages of the design process, UX researchers can build quick prototypes using UXPin's built-in design libraries or the product's design system to demonstrate user pain points to the rest of the team.
Ideation & Low-Fidelity Prototyping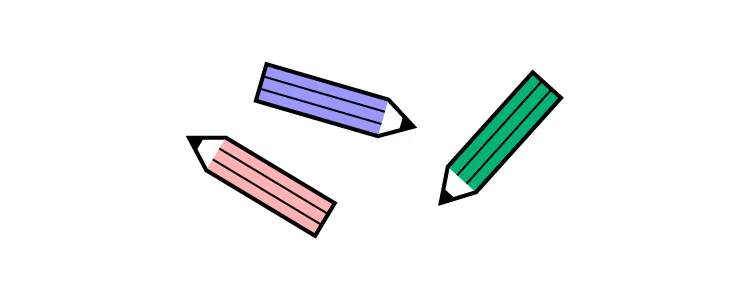 Once the UX team has defined users' problems, they can ideate and build prototypes to test ideas. The UX architect will create the prototype's screens and build wireframes to link them.
The UX researchers and UX designers can use UXPin's Preview and Share feature to conduct tests on user flows and navigation to ensure they meet user needs. They can leave comments and insights via UXPin's Comments feature and assign them to relevant team members–like UX writers and UI designers.
Mockups and High-Fidelity Prototyping
UI designers can use assigned comments and other documentation to build high-fidelity mockups complete with color, typography, and other visual elements. They can use UXPin's Content and Data feature to fill components with dummy data while they focus on designing the user interface.
UI Designers can use UXPin's code-based features like Interactions, States, Variables, Expressions, Animations, and more to accurately represent the final product experience.
UX writers will ensure the UI's language aligns with product guidelines and meets users' needs. At the same time, content strategists can replace dummy data with real content to give users an accurate user experience during testing.
User Testing
Using Preview and Share, UX researchers can test prototype iterations and share insights with the rest of the UX team to make tweaks and adjustments. They can pinpoint usability issues and assign these to relevant team members via UXPin's Comments.
The team can also present high-fidelity prototypes to stakeholders via the Preview and Share link. Stakeholders can review the designs and assign comments to relevant team members.
Design Handoff
UX engineers can work with the UX team to prepare for the final design handoff. They'll convert UI elements to code or grab snippets from the design system for front-end development.
DesignOps assists the UX team with operational issues and onboarding new team members during this entire design process. They're checking UXPin's comments to add these to the backlog and ensuring team members complete each task.
Try UXPin and Prototype 10x Faster
Ready to discover how code-based design can enhance your UX team's productivity and deliver better user experiences to your customers? Sign up for a free trial to explore UXPin's advanced features today!