Building Your UX Team: Roles & Priorities When Hiring
While you may realize the importance of developing the right UX team structure, actually executing this is something that many businesses struggle with. Whether there's a lack of organization or you don't have the right team in place to create a structure, there are many reasons why companies may find this difficult.
In this post, we'll dive into the topic of UX team structures. We'll cover the common types of structures that many UX teams use today, the pros and cons of each, and some tips on how to build a UX team structure that is well-suited for your organization.
Common UX Team Structures
As you're trying your hardest to develop the perfect UX team structure, you may run into many challenges. After all, your goal is to ensure the working environment is both collaborative and efficient. In addition, the structure of your team is always changing and evolving — new team members, staff members who quit, new products, new features; all of these factors can have an effect on the structure of your team. Another factor that leads to more difficulty involves the fact that the UX team structure is often a discipline that doesn't take priority when compared to others; development and product management, for example, are ones that typically hold more weight. That being said, finding a solid UX team structure isn't always the leading priority for many organizations.
Whether in regards to a corporate internal UX team structure or one for a small organization, user experience teams are typically structured according to the following models:
Centralized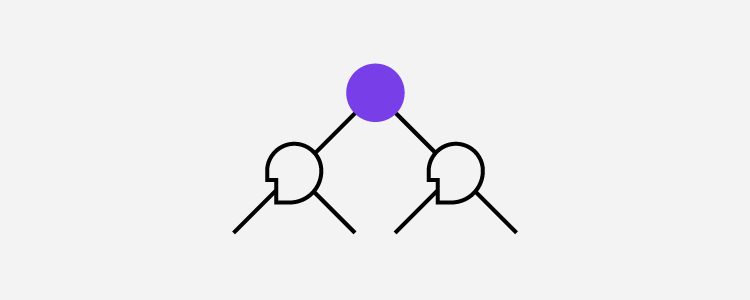 One of the more common UX team structure solutions is a centralized approach. A centralized UX team is one where all UX team members report to a UX manager. Under this approach, the UX staff will work on different products and tasks for the organization, essentially acting as consultants to the rest of the business. UX team members, using this model, may work with multiple departments to solve a need, but they only report to their UX manager. For companies who invest a lot in UX, they may have a much more complex organizational chart as it relates the tasks of the team, but if strictly following this centralized model, then UX team members would report to a single UX lead or executive.
Pros and Cons
One benefit of this structure is that there is typically one UX manager who oversees the performance and contributions of all team members in the group. If someone isn't doing their job effectively or a process needs improvement, the manager can step in and make the necessary changes.
One downfall of the centralized UX team approach is that sometimes other team members of the business may forget to involve the UX staff in their projects. If a UX team isn't always included in the project development process, other staff members may forget they are even there. But this doesn't mean they don't realize the importance of UX; sitting down with the UX team just may be an afterthought for them.
Embedded
An embedded, or decentralized UX team is essentially the opposite of the centralized approach. Rather than having a separate UX team that reports to a single person, an embedded team is one that has multiple team members with various areas of expertise. For example, rather than having one team full of UX team members who report to a single manager, an embedded team typically only has one or two UX members, including other members of the business; usually project managers, developers, etc. Organizations use this approach to better align their teams to specific products, processes, or lines of business.
Pros and Cons
One leading advantage of the embedded approach is that the UX team tends to be more involved at a higher level. Given how centralized user experience teams basically act as consultants to other areas of the business, that tends to lead to less involvement in many projects for the UX staff. But in an embedded team, UX team members are typically involved in many phases of the project, and they're also usually involved in meetings and collaboration sessions with other staff members.
One negative of the decentralized approach is that sometimes it's hard for UX team members to have their voices heard. In a centralized team, there are multiple team members who are involved with UX projects. But when there is only one UX team member working on a project, it can be difficult for these professionals to hold their own. These difficulties may arise when there are differences and disagreements with developers and other members of the team.
Matrix
In simple terms, a matrix UX team is a hybrid of the centralized and embedded models. Using this structure, the UX staff reports to their own specific team, like in the decentralized model, and also to their UX-group leader, as seen in a centralized model. However, it's important to note that one of these two managers holds precedence over the other; therefore, UX team members report to this leader for high-level executive decisions. That being said, the UX staff working under this structure will be overseen by both an individual team lead, as well as a UX-specific manager.
Pros and Cons
A huge benefit of a matrix UX team is that there is typically increased flexibility. As many organizations, and technologies, are constantly evolving, this flexibility can be extremely useful. These teams are usually able to easily adapt to organizational pressures that may change often, and they may also have the flexibility to shift focus to any immediate needs that may arise.
Since UX team members have to essentially report to two team managers, things can get pretty confusing. In addition, these staff members may get pulled in two different directions, wondering who has the ultimate authority over the other. This can create a lot of disorganization within a business, and can lead to an inefficient process when it comes to UX management.
Finding the Structure for Your Organization
After reading about the common UX team structures out there, you may be at a standstill when it comes to deciding the right model for your organization. But the truth is — one model may work great for one organization and be the totally wrong approach for another. But to help you navigate around this topic, it really depends on the size of your team, your priorities, and how much weight you put on user experience.
Take a look at the following considerations you should make when trying to decide on the ideal UX team model:
Workload
While you may want to hire a huge UX team, you need to have work for them. That being said, one factor when looking for a UX team structure involves your workload. Is there enough demand for UX expertise to justify the resources you would use to build this team? Will there even be enough work for them? Before starting the hiring process for a UX team, consider if the demand is substantial enough for growth.
Current Process
You'll also want to look at your existing process to determine if the need for UX expertise is truly there. Does your current team use UX activities in their process? If your team doesn't focus on UX at all, or very little, then it would be extremely difficult for a UX specialist to mesh well with the decentralized team, especially when just starting out. In this case, a centralized approach may be the right path to take.
Collaboration Opportunities
In regards to the decentralized model, there may be some difficulties when it comes to collaboration and resource sharing for the UX team. If these team members are distributed across multiple areas of the business, then it's best to find a way for them to collaborate and share their resources. If you're finding it difficult to find a solution for this, then the decentralized approach may not work for you.
Tips for Hiring the Perfect UX Team
Alright, so you've decided that it's time to focus on building the ideal UX team. To ensure you build the right team with the right professionals that can help your organization grow to new heights, follow these tips:
Understand the Problem
The first step to hiring the perfect user experience teams starts with understanding why you want to hire these people in the first place. What needs to improve with your user experience? What can a new UX designer or UX team member do to help? In order to find the perfect team, you need to understand your current challenges at a high level.
Know Your Process
Another tip is to have a complete understanding of how your organization operates. How would a new UX specialist fit in your team's culture? Would these new UX professionals be able to easily integrate with other team members? These are questions to ask yourself before bringing in a new hire.
Understand Your Team
The most important tip of all is to understand your team to determine who can mesh with them perfectly. Especially if these UX team members will be constantly collaborating and engaging with the rest of your team, you'll want them to get along.
Crush UX Challenges with UXPin
While you need the right UX team structure to conquer problems and grow as an organization, you also need to stay updated on the latest UX tools for the job. That's where UXPin comes in. We help design companies crush their UX goals from every angle. Want to learn more? Contact UXPin today!