Best Practices for Remote Teams: 12 Principles to Guide Your Everyday Work
Before the pandemic, it wasn't unusual for startups and small companies to operate with a remote workforce. Now, it's the new normal for everyone, and many companies offer full-time employees the option to work from home or the office.
The lack of face-to-face communication and collaboration makes remote collaboration design a challenge. Team members must work hard to replicate the collaborative office environment online with Zoom, Slack, Miro, UXPin, and other tools optimized for remote design teamwork.
UXPin is the world's most advanced collaborative design tool for remote work. Sign up for a free trial to try UXPin with your team today!
1. Remote Collaboration With UXPin
UXPin's Comments feature allows design teams and stakeholders to collaborate in real-time on remote projects. You can choose to make comments visible only to team members or public for anyone to see.
You can also assign comments to a specific team member to action, which they can mark as resolved once complete. Any team member added to a project will receive notifications for any new comments, so everyone is always in the loop–perfect for remote design work environments.
Sign up for a free trial and discover how UXPin can enhance your remote design workflows.
2. Hosting Remote Design Sprints
Design sprints are a staple for many companies and projects. The collaborative environment and time constraints help UX designers solve complex issues in less than a week.
While remote design sprints are more challenging than traditional face-to-face editions, teams can still achieve the same results. The structure of a remote sprint is the same but requires more planning to ensure everything runs smoothly.
Check out this step-by-step guide to running remote design sprints with your team.
3. Replacing Office Conversations and In-Person Collaboration
In a remote work environment, teams lose natural exchanges and spontaneous conversations. These discussions often lead to new ideas and help build company culture.
To replicate this with remote design teams, always allow team members to chat informally before starting a Zoom meeting. We also recommend weekly hour-long collaboration sessions where designers can present issues they're battling with or discuss new ideas.
While Slack and other messaging apps have their place, nothing can replace the free flow of ideas that face-to-face discussion provides.
4. Daily Video Calls
Another way to keep the team connected and synced is to kick off the day with a morning call. If your team is spread over multiple timezones, make sure it's during everyone's working hours.
These daily video chats don't need to be longer than 10-15 minutes. It's simply an opportunity for everyone to check in, give a brief progress report, and ask any questions.
5. Arrange Meetups
Another way to maintain company culture for remote design teams is to encourage meetups. Team members can meet for coffee, visit a gallery, attend a yoga class together or go on a hike–anything to replace the informal team-building exercises you usually have at the office.
You can also encourage work-time meetups for team members to collaborate outside of the office, like a coworking space, coffee shop, or someone's living room.
6) Build a Design System
One of the challenges with distributed teams is communication and design collaboration–which often leads to inconsistencies. A design system can help eliminate these challenges while increasing productivity and reducing time to market.
Design systems are also highly effective when onboarding in a remote environment where new team members can't shadow someone in-person.
If you can't afford to build a design system, consider customizing a component library. Many organizations, including Netflix, Spotify, NASA, and others, have customized MUI's component library for their products.
7. Establish Clear Channels of Communication
Without clear channels and protocols, inter-department communication and collaboration can be exceptionally challenging in a remote work environment.
Design leads must establish clear procedures for file sharing, communication, documentation, and, most importantly, design handoffs–all operational processes that DesignOps can facilitate.
8. Implementing DesignOps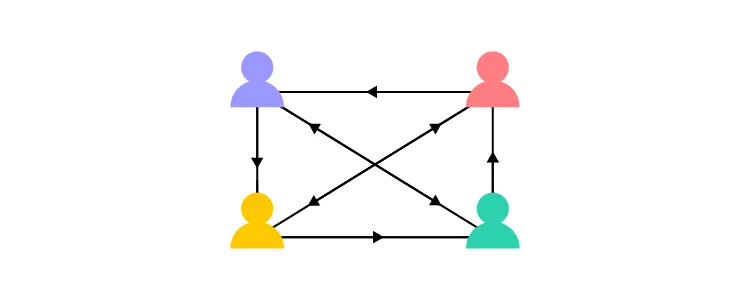 DesignOps is crucial for optimizing UX design processes, onboarding new designers, and creating efficiencies for remote design work. Team members have more tools and administrative procedures to worry about in a remote environment.
DesignOps can fill this gap so that UX designers can focus on design and not get bogged down in time-consuming tasks that slow time to market. DesignOps also plays an essential role in scaling design operations–which is especially challenging with remote teams.
9. Schedule Routine Feedback
Feedback is essential for teams and stakeholders. Team leads must schedule regular feedback sessions and design reviews for stakeholders.
Try to limit the number of tools required for these feedback sessions. For example, you don't want a call on Zoom with design files in Dropbox and comments in Slack.
By using a design tool like UXPin, designers can present information architecture, wireframes, mockups, and prototypes with assets and a design system all in one place. Stakeholders can leave comments on design files or prototypes and assign them to specific team members.
10. Remote User Research
Design Research and testing is another challenge for remote design teams, but luckily there are several fantastic online platforms to find and test users. These are a few of our go-to online user testing apps:
11. Managing Miscommunication
It's easy for designers to misinterpret briefs and assignments when everything is text-based–which is usually the case for remote design work.
Always set up video calls when assigning new tasks or projects so you can provide visual context and allow design teams to ask questions. The aim is to replicate the whiteboard environment where leads explain projects and team members discuss challenges and solutions.
While we all loathe Zoom meetings, these calls can save a lot of time from misinterpretations and miscommunication.
12. Communicating Work-in-Progress (WIP)
Tracking WIP through UX documentation can feel like an administrative burden, but it's crucial for remote teams. This working document details a project's journey from inception to the present.
This single source of truth keeps leads and stakeholders updated while providing historical context for onboarding new team members.
How Do You Organize Remote Design Work?
Working remotely has its challenges for employees, management, IT, and HR. But most of these challenges result from thinking and working that don't serve us well in terms of clarity, brainstorming, focus, output, and creativity.
Remote works give smaller companies the advantage of having offices in other countries and regions without the hefty price tag. It allows team members the freedom to live where they choose while doing the work they love.
Give your remote design teams a tool that improves collaboration, not only for designers but development teams, product teams, project managers, and stakeholders. Sign up for a free UXPin trial and discover how the world's most advanced code-based tool can enhance your UX workflows and product's user experience.