On my first day at Hive, I was stepping into a collaborative design environment across a large organization.
We already had 200,000 customers (just two years after launch), an ambitious roadmap, and a clear need for Rapid and Agile methodologies across teams—especially design.
In other words, we had to ace collaboration.
Evolving the app experience means tackling roadmap challenges together. No single person or team could drive the project forward. Collaboration becomes the driving force.
Collaborative UX Activities at Each Step
In terms of processes, we focus on being flexible—and that includes everything from tools to general workflow. We use whatever we need in order accomplish a required result; it's the freedom to be truly Agile.
A team that's highly effective works as a unit powered by each member's personal strengths. Everyone's input is heard, evaluated, and workshopped, and they know how to optimize the benefits of full transparency. This encourages team members to speak up when they have ideas, rather than wait until the "right" phase of the process—or even keep silent entirely.
We make a point to do workshop together, creating a space for all of our designers to bring their ideas and debate the positives or negatives of each. During workshops, we operate by the principle that every assumption is valid until proven otherwise.
Each step of the way, we are actively collaborating and exploring techniques for staying creatively engaged. Here are the cornerstones of our collaboration strategy that keep our momentum in high gear:
Research
Collect as much information as possible and share references with the rest of your team (we use Slack or Skype to share between teams). Anything from books, articles, videos of talks, new tools, etc., can lead to game-changing ideas for your product.
As designers, it's also important to get familiar with the design community and the top design patterns used in each platform (iOS, Android, Web, Wearables). We're big fans of Dribbble, Behance, Codepen, Awwwards, Google Design, IBM Design, and Graphic Burger.
It's also good practice to become familiar with business strategy (Strategyzer is an excellent place to start).
Moodboards
Moodboards are an invaluable technique for expressing your thought process (both to yourself and others).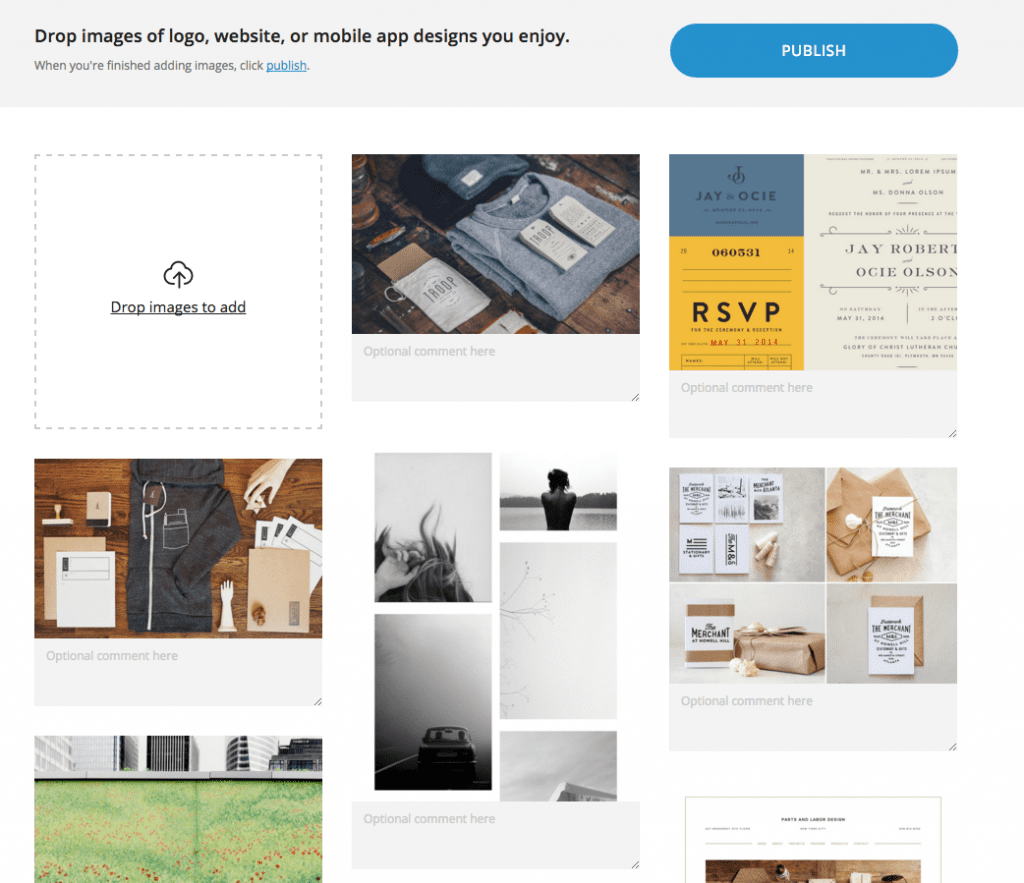 Photo credit: Go Moodboard
Use them as a vision tool, blending anything from inspirational designs to color palettes and photography if it helps convey your idea. We use the free tool Moodboard to aggregate images and quickly send or present during product discussions with stakeholders.
Internal Workshops
Get as many people involved as necessary—designers, product managers, developers—and invite them to comment, debate, and problem-solve together (see the Three Amigos Scrum practice).
The point is to group designers, product managers, and developers from concept until launch. Each will have different ways to tackle a problem, and all three contribute with their speciality and insight.
Usability Testing
Get feedback from users as early as possible.
By building prototypes quickly with specialized tools, you can discover how users interact with your assumptions, helping to guide your product decisions from early concepts to final development.
Communicate the findings to your team with tools like Google Docs (enables quick collaboration) or even Keynote.
Sketching
Whether collaborating with another person, or even an entire room, sketches are often the fastest means of sharing ideas. These become part of the dialogue between designer and developer, reinforcing teamwork and brainstorming.
Resist the temptation to go straight to Illustrator or Photoshop every time you come up with a brilliant idea for a feature or for an interface; try sketching it first.
While your hand is busy drawing, your mind engages in lateral thinking (see Lateral Thinking, by Edward de Bono). I keep a notepad from Dotgrid where I save all my the ideas. These can be scanned for use during workshops or presentations with stakeholders.
I've also used Paper for iPad to quickly sketch and share ideas with the team. Plus, they have a cloud platform, which means other users can interact with shared sketches and add their ideas, too.
Photo credits: Hive Design Team. Example of a workshop session.
Harness the Power of Play
"Almost all creativity involves purposeful play." – Abraham Maslow
In the grand scheme of things, "play" becomes an attitude, not just another process. It's a path of thinking that leads to fascinating insights, both into your team's engagement and into your users' perceptions and expectations.
At Hive, for example, we like to test design assumptions by involving our users, designers, product managers, and stakeholders in a collaborative "game" during User Labs sessions. Everyone is invited to sit through these sessions and participate with their own ideas and questions. This alone has proven to change perceptions and misconceptions.
There's a big difference between asking someone what their ideal product looks like and literally passing them paper and a pencil to draw what they can't articulate. Engaging our users at this level allows them to naturally tap into their creativity and collaborate with us in a "fun" way. They feel like a bigger part of the process—which benefits them and us. Instead of giving them dull paper tests, we try to create an atmosphere that empowers the user to teach us instead. They understand the purpose of play and really appreciate participating.
With 1:1 workshops we establish a number of tasks, where each task is a problem to solve that's very similar to those the design team must face. For example, "Draw your ideal heating schedule component knowing that you must be able to copy settings from one day to another. You can add and remove events, but you cannot have more than 6 events."
Photo credits: Lookback.
Another example is to film users while they test a prototype through Lookback. These videos show the user's personality and real opinions, helping the team stay informed and help with communication between user needs and business needs.