Top 8 Design Podcasts that You Should Listen to
There are podcasts for everything now nowadays, including UX design. These design podcasts provide incredible insights from leading UX experts from some of the biggest and most innovative companies. One problem–where do you find them, and which are the best design podcasts?
Here are UXPin's best design podcasts featuring many UX experts and innovators. While many of these podcasts focus on design topics, some episodes feature product, business, tech, engineering, career advice, and entrepreneurship.
Change how you and your team design, prototype, test, and release products with UXPin, the world's most advanced code-based design tool. Sign up for a free trial to explore all of UXPin's exciting features.
1. Design Details
Topics: design process, culture, career, product, tech
Hosts:
Brian Lovin: Product designer at GitHub. Previously at Meta (Facebook), Buffer
Marshall Bock: Design Lead at YouTube Gaming. Previously at Google
Notable episode: Twitter's Follow Button
Listen on:
Launched in 2014 and featuring over 400 episodes, Design Details is one of the oldest and most popular design podcasts. Hosts Brian Lovin and Marshall Bock have extensive experience working at the world's biggest tech companies, which makes for fascinating listening.
Design Details offers insightful and humorous takes on the latest UX, product, and engineering trends, including deep dives into random components, like our favorite episode on Twitter's Follow Button.
2. Re:Considering Podcast
Topics: career, workplace, wellness
Hosts:
Meredith Black: Founder of DesignOps Assembly
Bob Baxley: SVP Design at Thoughtspot. Previously at Apple, Pinterest, Yahoo!
Aarron Walter: Director of Product, US COVID Response
Notable episode: Resilience and career change with Maria Giudice
Listen on:
Reconsidering's hosts are well-known design industry advocates and leaders with extensive knowledge and experience. The podcast goes beyond design to offer career, relationship, and workplace advice to become a better designer and human.
3. The Rosenfeld Review
Topics: career, design process, state of design
Host Louis Rosenfeld: Publisher and Founder at Rosenfeld Media
Notable episode: Amplify, Not Optimize with Dave Malouf
Listen on:
Lou Rosenfeld talks with many brilliant, interesting changemakers in the UX world and beyond. The podcast focuses on current UX and business trends, how these influence companies, and strategies for scaling design and processes.
Rosenfeld also features four popular UX communities:
4. Brave UX with Brendan Jarvis
Topics: career, design process, user research, building design culture
Host Brendan Jarvis: Managing Founder of The Space InBetween agency
Notable episode: The importance of executive leadership staying connected to customers with Janelle Estes
Listen on:
A passion project of New Zealand-based agency Space InBetween. The Brave UX podcast "Unpacks the stories, learnings, and expert advice of world-class UX, design, and product management professionals; Brendan Jarvis is on a mission to help you create better products."
5. UX Pathways
Topics: career, workplace
Host Marc Majers: Author and lead user experience researcher at Progressive Insurance.
Notable episode: Jeff Sauro, Principal at MeasuringU
Listen on:
UX Pathways offers advice to aspiring UX designers from industry leaders. These bite-sized episodes range from a few minutes to just under a half-hour featuring experts in UX, user research, web design, product design, and design leadership.
6. UI Breakfast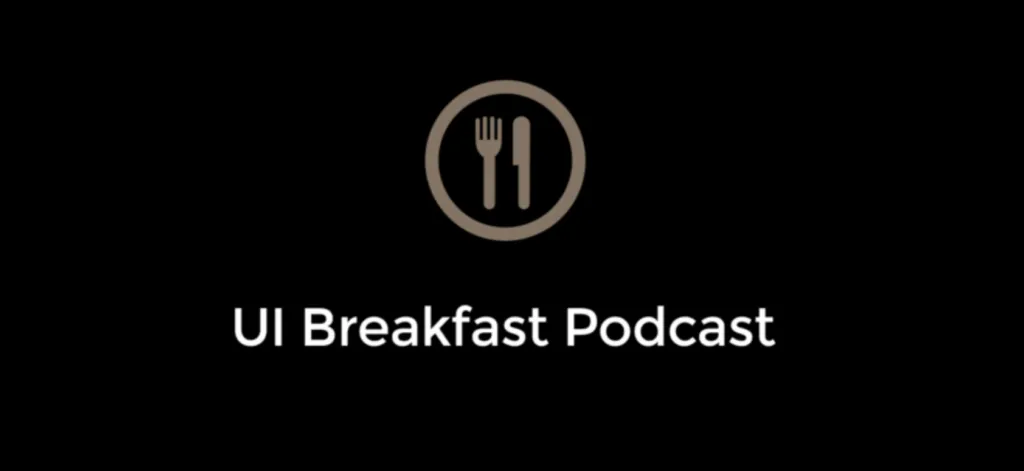 Topics: design, product, marketing
Host Jane Portman: Founder of Userlist
Notable episode: Object-Oriented UX with Sophia Prater
Listen on:
Behind Design Details, UI Breakfast is one of the most consistent and long-running design podcasts, with more than 200 episodes. Host Jane Portman releases a new episode every week featuring industry experts in UX, design, product, sales, marketing, customer service, entrepreneurship, business, and more.
7. UX Podcast
Topics: design, product, marketing, tech
Hosts:
James Royal-Lawson: Designer, digital analyst, and economist
Per Axbom: Designer, coach, and visual explainer
Notable episode: Creating a better society with Don Norman Part 1 & Part 2
Listen on:
Sweden-based designers James Royal-Lawson and Per Axbom have been hosting the UX Podcast twice a month since 2011 with over 280 episodes. The duo chats to design experts from around the world, including a two-part episode featuring the legend Don Norman, NN Group Co-Founder, and Principal.
8. UX Like Us
Topics: design, research, engineering, product, DesignOps
Hosts:
Roman Bercot: Product Innovation & Design Leader
Larry King (no, not that Larry King!): Product Design Leader
Notable episode: Designers in Space
Listen on:
UX Like Us covers a range of UX, product, and engineering topics with global industry experts. Hosts Roman Bercot and Larry King look at thought-provoking topics many UX experts aren't thinking about, like UX design for space products and the unique challenges facing designers in space!
Code-Based Design With UXPin
UXPin's code-based design tool empowers UX designers to build prototypes that accurately represent the final product. Instead of "imagining" that a UI element does something, UXPin prototypes do it!
One of the challenges UX designers face is replicating a code experience using image-based design tools. We're still using visual design tools and techniques to design for user experience and coded products.
UXPin is the next generation of user experience design tools–taking the familiar design tool UI and adapting it to render HTML, CSS, and Javascript instead of vector graphics.
The result? A sophisticated design tool capable of creating prototypes that look, feel, and function like the final product. Designers can build and test:
Fully functioning forms capable of capturing data to create dynamic user experiences
Build a fully functioning end-to-end checkout experience capturing customer information, credit card details, and shipping information
Validate email and password fields with helpful, actional error messages to test with usability participants
Create multiple states for a single component for buttons, dropdowns, accordions, and more, all in a single frame
Use Conditional Interactions to add javascript-like functionality to prototypes, allowing you to replicate code-like experiences
Connect APIs to test integrations and triggers with external products
With UXPin, the possibilities are endless, empowering design teams with high-fidelity prototypes that deliver meaningful results from usability testing and stakeholders.
Join the code-based design revolution. Sign up for a free trial to explore all of UXPin's advanced features today!