Checklist to Track DesignOps Maturity
Maturing and scaling DesignOps is crucial for long-term success. But where do you start, what do you track, and how do you measure the right metrics?
We took inspiration from the NN Group's DesignOps Framework and questions from our UXPin Community to create a checklist template DesignOps practitioners can use to track and measure maturity.
Sync your component library to UXPin's editor to create a single source of truth and increase adoption with UXPin Merge. Check out Git for React libraries or our Storybook integration for other popular front-end frameworks. Discover UXPin Merge.
Using Metrics to Track DesignOps
Without tracking DesignOps efforts, it's impossible to know whether changes are successful or the organization's maturity level. These metrics are also crucial for reporting success to stakeholders, getting buy-in, and scaling Ops.
Picking the Right Metric
Our December 2021 webinar with Patrizia Bertini looked at the ROI of DesignOps and picking the right metric. Patrizia framed DesignOps metrics in two categories, efficacy vs. efficiency.
Efficacy is about behavior and doing the right things. It can be subjective and challenging to measure.
Efficiency is measurable and quantifiable using numbers, percentages, and ratios.
Stakeholders like seeing efficiencies because it clearly shows cause and effect. But efficacy is just as significant because behavioral and subjective improvements help to increase efficiencies, thus helping to scale and mature DesignOps.
Watch the webinar again on our YouTube channel and learn how Patrizia approaches efficacy and efficiency. Subscribe for upcoming webinars on DesignOps, design leadership, and design systems.
Using a DesignOps Framework as a "Maturity Checklist"
The NN Group's DesignOps framework is an excellent template for understanding the "DesignOps landscape." DesignOps leaders can use this framework as a checklist for tracking maturity and identifying areas for improvement.
A 2020 survey of 557 design and UX practitioners from the NN Group found that DesignOps was "low in most organizations."
The survey reported that "organizations only did 22% of recommended DesignOps efforts, did not have DesignOps-dedicated roles, and had low DesignOps maturity overall."
Using this framework as a guide, DesignOps practitioners can create a checklist to track progress and maturity.
According to the framework, there are three primary DesignOps areas:
How we work together
How we get work done
How our work creates impact
How We Work Together
"How we work together" scored the lowest in NN Group's DesignOps maturity survey with an 18% average. The category "Humanize: Enable development and growth" was the poorest performer in this area.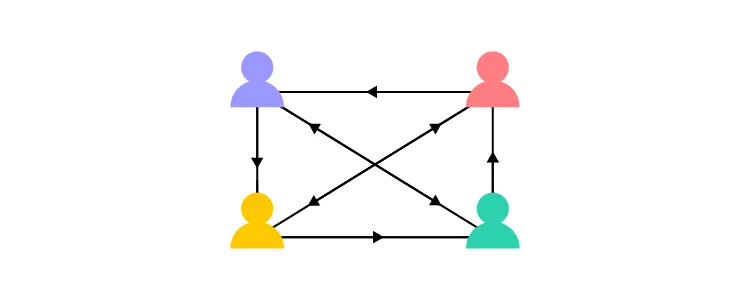 Executives and Design/DesignOps leaders must be particularly concerned with poor performance in this area because it correlates to collaboration, communication, teamwork, hiring, and skills development–metrics related to UX output.
Organize: team structure
Building the "right team" is crucial for a project's success. The NN Group's survey identified three critical areas for improving DesignOps maturity:
Shared design team organizational structure
Balanced design teams with complementary roles and skills
Design leaders are peers with leaders from other departments
Collaborate: effective communication
Design's role is understood and agreed by design team members and stakeholders
Communication channels for designers to share UX knowledge and insights
Work environments encourage internal and cross-functional collaboration
Formal channels for team members to share interests and passions
Humanize: Enable development and growth
Consistent hiring and interviewing practices that encourage objective candidate assessment
Defined onboarding milestones and goals with regular check-ins for new team members
Clearly defined paths for designer career development
Existing processes for regular skills evaluation to identify growth opportunities
Awareness of DesignOps services
Another way to frame "How we work together" is awareness–socializing work to build awareness and engagement across the organization. Some examples include:
Awareness of skills – essential for building the right teams
Awareness of skill gaps – crucial for long-term growth and scaling UX
Awareness of career status and opportunities – inspiring individual development and growth to retain talent and keep employees motivated
Brand and culture recognition – keeps UX in touch with the organization's broader vision
Want to get better in the "How We Work Together" area? Get our free eBook about the first pillar of DesignOps and learn about this important aspect of DesignOps. Get it here: DesignOps Pillar: How We Work Together.
How We Get Work Done
How we get work done relates to project workflows, tools, processes, and protocols. This area is usually a primary focus for DesignOps because it influences productivity, project delivery, and consistency.
The NN Group's DesignOps maturity survey showed a 20% average across all metrics.
Standardize: Use consistent tools and processes
Standardized, documented design process shared with stakeholders and used by internal design teams
Design is adequately incorporated in the development process
Designers work with standardized UX principles that guide work for consistent project delivery
Designers use a consistent toolset for creating UX artifacts
Design tools integrate with external partners, primarily product and engineering
Harmonize: Share resources and insights
Shared design system or style guide
Centralized, searchable, shared research artifacts and insights
Shared, easy access to design artifacts
Prioritize: Decide what to focus on and why
Design teams operate at a realistic capacity–i.e., there is enough time for proper research, design, prototyping, testing, documentation, and delivery
Realistic timeframes and budgets for design projects
Usefulness of DesignOps Services
We add one more component to the NN Group's framework, the "usefulness of DesignOps services."
Design leadership and stakeholder's awareness of design projects' status
Design team health
Successfully completed design programs
Design system impact–productivity, efficiency, time-to-market, consistency, etc.
How our Work Creates Impact
Impact is the final DesignOps area of focus. While Impact scored highest on the NN Group survey at a 30% average, many metrics were below or near single digits!
Design advocacy plays a crucial role in scaling and maturing this DesignOps component.
Measure: Define and track design quality
Socialize: Educate others about design's role and value
Design successes and case studies shared with partners and stakeholders
Unified messaging and sharing of design role and value to partners and stakeholders
Recognizing non-designers when they apply user-centered design principles
The organization understands design's value
Enable: Cultivate organization-wide use of design activities
Design activities and methods are available to external partners to use
Design skills training for non-designers–i.e., design thinking for problem-solving
Employees outside of design participate in design processes–i.e., ideation, prototype testing, design sprints, UX research, etc.
Adoption of DesignOps services
We add another layer to the Impact component: Adoption. Adoption and completion are crucial for Impact because it gives DesignOps case studies and success stories to share with the organization and stakeholders.
Adoption of tools, processes, and systems–encouraging change
Attendance for design events, design team members, external partners, and stakeholders
Projects that follow standardized design processes
Projects that follow the design review process
Number of design programs managed
Number of successfully completed programs
Scale Design With UXPin Merge
You don't have to hire more designers to scale design output. After adopting UXPin Merge in 2019, PayPal delivers projects 8X faster–and they didn't have to hire more designers!
With a fully integrated design system syncing design, product, and development, teams spend more time focused on building amazing products with little or no designing and coding from scratch. Iress created a "fully integrated design system" with UXPin Merge, giving them:
Design in (no) code
No design drift
Consistent design
Seamless (no) handoff
Eliminate many DesignOps challenges with a single code-based design solution from UXPin Merge. Request access to this revolutionary technology and start building better product experiences for your customers.