What is Product Design?
Businesses that prioritize product and good design have a significant advantage. With so many choices for software products on the market, users are looking for apps that cater to their specific needs and use cases.
In fact, 32% of customers will abandon a brand or product if they have just one bad user experience. That's precisely why teams must focus on continuously improving their product. 
Still, the specifics of what 'product design' entails may not be clear. What is product design, really?
Increase teamwork during the product design process. Use an advanced prototyping tool that makes it easy to collaborate on the design from start to finish. Speed up product development process by using interactive components in prototyping. Discover UXPin Merge.
What is Product Design?
Product design refers to the process of creating and improving digital products that address the specific problems and use cases of your target users. To do this, design teams will need to:
Conduct user research to understand who a product's users will be.
Identify common pain points that frustrate users. 
Brainstorm potential solutions to these user needs and find out how well they solve them.
Understand how their product will fit into a user's regular workflow.
Strive towards achieving a business goals that stakeholders want.
Test and iterate a product design based on user feedback. 
The end goal here is to design a product that is built around users' needs and anticipates how the users will engage with a product.
The Difference Between Product Design and Industrial Design
Originally, the term 'product design' was used interchangeably with 'industrial design'. The latter is reserved to describe the act of designing and creating real-life, material products. As the name already reveals, it was coined to describe the newly-found ability to create mass products for millions of users after the start of the industrial revolution.
For the first time in history, designers were propelled to develop solutions that weren't heavily customized to fit the exact user. Rather, they were intended for universal use for users with various needs, at an attainable price.
Examples of industrial design can be found everywhere – from your toaster and the spoon you stir your morning coffee with, to the ergonomic desk chairs you can find at your office.
With the rise of digital products, there is now a tendency to use 'industrial design' and the term 'product design' separately. The latter is commonly used to describe the process of creating visual design for mobile and web apps. Just like their physical counterparts, these products also need to follow the right product design practices and be constantly refined to stay relevant. 
In this chapter and throughout this guide, we'll refer to 'product design' as the process of creating intuitive interface design for digital products. Let's go!
5 Stages of Product Design Process
While the process of designing products is unique to each product and industry, most designers list five common stages in product design. These are:
Empathize: Product designers must learn and understand the user of the product. Who are they? What are their likes and dislikes? How do they approach problems? What types of issues with similar products frustrate them the most? At this stage, they build out detailed user personas which serve as the pillar for any new product design. This stage also involves empathizing with the business. It's crucial to understand the business needs that stakeholders have.
Define: Here, product designer role is to identify the specific user needs a product should focus on. They should use the personas created in the previous step to evaluate which problems to tackle with their problem-solving skills. 
Ideate: Designers will then brainstorm solutions to these user needs – perhaps, using techniques like design thinking, user journey mapping or storyboarding to explore and expand creative ideas. At this stage, all ideas are welcome – designers get absolute freedom to discuss potential solutions to user needs and problems.
Prototype: Designers build a prototype to test whether the product solves the necessary user problems. Prototyping also helps designers determine if they're building the right design solution. Some designers build a low-fidelity prototype that is devoid of any interaction design, while others jump to high-fidelity prototyping and create interactive mockups of the end-product.
Test: Finally, designers test design concept (the prototype) with real users to collect feedback. This involves feedback from stakeholders, developers, and above everyone else, users. The more resemblant of the actual product the prototype is, the more accurate the feedback from user testing will be. 
Bear in mind that – while the above steps might seem chronological – product design isn't a linear, one-off process of designing a user interface. It's iterative, in which product designers continuously refine their solutions and fine-tune them for the market, testing user flows and adding useful functionalities.
What is the Role of Product Design in Product Development?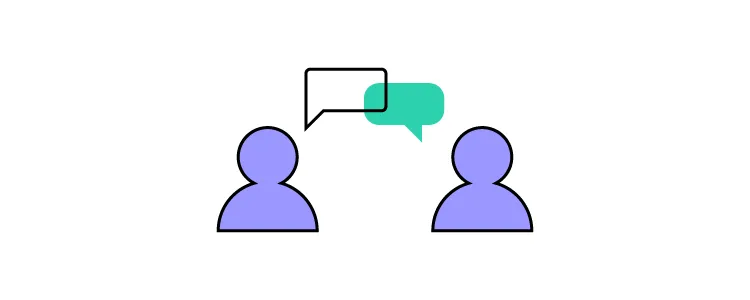 As we've explained in our guide on product development, designers are involved in every step of the product development lifecycle. 
In the earliest stages, designers create early prototypes and wireframes to visualize products. On top of their principal task of creating visuals, product designers also engage in research, such as A/B testing, running interviews, and communicating with other product managers on the product roadmap. 
Product design precedes software development. It unlocks a sense of clarity of what solutions should be delivered as part of the product, and how they should look and operate for the end user. As the product goes live, designers and developers collaborate closely on refining the app or website. Or, at least, that's the approach that distinguishes the best product development teams out there!
A great example of this approach can be observed at Segment. Their Head of Product Design, Hareem Mannan, calls it a dual-track framework. In it, designers and other product team members are all involved in two simultaneous actions – discovery and delivery.
Discovery: Designers look to research and discover new ideas and validate them through testing and prototypes. This phase is driven by feedback – whether that's from internal sources or collected from real users via surveys, interviews, or usability testing sessions.
Delivery: Once a design team has a solid idea of how the product should look or how it can be improved, they can proceed with drafting up the designs. Great UX design is achieved when designers and engineers work with the same components and collaborate together. 
How can designers validate design ideas? You should collect insights from users to help identify what they need from a product. This warrants surveys and user interviews to help collect data. These insights should be combined with broader analysis. This includes:
Exploring what competitors are doing, by taking a look at their site, and verifying what people say about them on social media and product review sites 
Addressing the current market conditions – will developing a feature or proceeding with a specific design help you position yourself against competitors? Also, will the product design improvement contribute to the price customers are willing to pay? This leads to the last point, i.e.:
Identifying how to outperform key competitors using great product design. Is there a better way to help users complete their journeys in products like yours? Perhaps, you can simplify the checkout process, or reorganize the information architecture?
Ultimately, to ensure a balance between delivery and discovery, prototyping is key.
By using a prototyping solution like UXPin Merge, designers and developers can use the same code components while collaborating on product. The ability to validate design ideas and move them quickly into the delivery and coding stage helps shorten production times and ensures consistency. 
The Design Team's Role in the Final Product
Product design involves ideating, designing, and delivering a product that accurately solves your users' needs. It's important to remember that product design isn't just for building physical products anymore. Web apps, websites, and mobile apps design also involves numerous iterations and prototype testing.
While it's a common misconception that product design refers to the initial phase of developing a product, in actuality, product design is an iterative process.
How so? As customer needs change, so must your product development and design process. Product design should be consistently improved upon, and new solutions should be constantly explored, developed, and tested.
In fact, this responsibility to build and adapt products to suit your users extends beyond the product design team. It's the responsibility of the whole organization.
Successful product design circulates around perfecting practices and using the right prototyping tools. Here's where a solution like UXPin Merge can do wonders. It allows designers to prototype faster, get more quality testing results, while also streamlining the design-developer handoff, thus reducing time to market and costs. 
Instead of designing from scratch, designers drag and drop UI coded components to build fully functioning code-based prototypes that look and work like the final product. Discover UXPin Merge.