Website Navigation Trends: 16 UI Patterns Totally Deconstructed
Every website needs to present quick orientation (where am I?) and clear navigation (where should I go?).
In this piece, we'll examine 16 web navigation UI patterns that stand the test of time:
Searches
Notifications
Jump to Section
"Sticky" Fixed Navigation
Vertical Navigation
Slideouts (Drawers)
Popovers
Modals
Calls to Action
Featured Content
Recommendations
Related Content
History / Recently Viewed
Next Steps
Walkthroughs & Coach Marks
Links to Everything
We'll explore plenty of examples, best practices, and appropriate scenarios. When you're done, feel free to check out the free e-book Web UI Patterns 2016 Vol. 1 for more tips an examples.
Let's begin!
1. Searches

Problem
User is looking for something specific and doesn't know where it is or wants a direct route there.
Solution
One of the most basic and popular patterns, including a search option is a navigation necessity. Typically a search bar in the upper-right corner, this feature finds related content within the site, saving the user time in going where they want.
Tips
If you're tight on space, use an expandable input bar coupled with a magnifying glass icon. The New York Times even has a dropdown search bar when the user clicks the icon at the top.
The autocomplete pattern further saves the user time and may even suggest content or proper wording.
If the user can search for multiple criteria, use the input hint pattern to explain (i.e., Facebook).
2. Notifications
Problem
The user doesn't know when others are interacting with them, or when new content is available.
Solution
Notifications have been popularized by social media sites as a way for users to know when others are interacting with them. However, it's since spread to sites and web apps, with notifications available for new content, products, comments, or sales. The user, of course, selects which items they'd like notifications for.
Google actually integrates notifications across multiple products. This means that when a user logs into Gmail, they can receive quickly check to see if anyone responded to their comment on YouTube.
Tips
The most generally accepted icon for notifications is a bell.
Notifications are almost always marked by a colored and circled number next to the appropriate icon. Choose a color that will stand out, as the point of notifications is to attract attention to new material.
Occasional product updates are fine, but don't abuse notifications with too much self-promotional news. This weakens the impact for worthwhile news.
If a user has not logged in for quite some time (e.g., one week or more), consider adding a quick notifications summary modal to highlight important events.
3. Jump to Section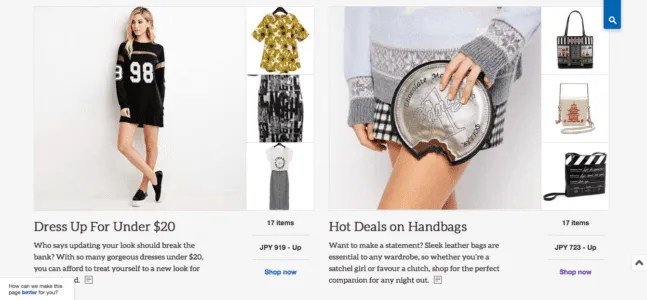 Problem
Browsing or returning to certain sections on a page involves too much scrolling.
Solution
A jump-to option, whether a text link or icon, saves the user time. As an optional feature, this should not draw too much attention from the main text, but it certain helps provide anchoring points for long-scrolling sites.
For long text-based content, adding links to the table of contents is a quick solution. This is a simple and practical solution that's been around for a while with Wikipedia as the most known example.
But with the increasing popularity of infinite-scrolling sites, particularly with user-generated content, the option for jumping to the top of the page has become a pattern. This lets users return to familiar ground in case they get lost, or want to visit another page.
Tips
A return-to-top button usually goes unused since people can just scroll quickly, but it may be helpful for infinite-scrolling sites. For this reason, the option should be small and unobtrusive, like Tumblr's and eBay's tabs, "stuck" to the side scrollbar.
Unnecessary if you use an effective sticky navigation bar (described below).