7 Productivity Hacks for UX Designers
Maximizing productivity is vital for UXers and product managers who are often under tight project deadlines. Startups and small teams also seek UX productivity tips to maximize limited resources.
Whether you suffer from procrastination or just want to increase your value as a UX designer, this article offers actionable advice to optimize your UX team's productivity.
Streamline UX workflows with the world's most advanced design tool. Try component-driven prototyping and 10x your productivity today. Discover Merge and see what it can do for you and your team. Find out more.
What Does it Mean to be Productive as a UX Designer?
Being productive as a UX designer means maximizing your output efficiently. While this statement applies to any profession, it's essential for UX designers and DesignOps practitioners because they often have to demonstrate Design's value.
Some examples of what UX productivity means include:
Meeting deadlines
Delivering a positive ROI for design investments
Finding solutions to minimize designing from scratch and maximize time spent solving user problems
Leveraging tools to optimize UX workflows and design processes
Representing the customer within the organization and advocating for user experience
Implementing systems to spend less time onboarding
Effective use of design sprints and brainstorming sessions to solve big problems fast
Creating channels for cross-functional collaboration to maximize output and minimize errors, drift, and rework
Busy vs. Productivity
Sadly, there are many distractions plaguing our lives. These distractions are disguised as work, like email, pointless Zoom calls, Slack, etc. You can attend to these distractions and get nothing done all day–busy, not productive.
Productivity is about delivering outcomes that bring you closer to achieving goals. Productive UX designers help the organization meet its UX strategy and product roadmap vision. 
7 UI/UX Design Productivity Hacks
Some of these productivity hacks apply to UI/UX designers, while others are more general and could apply to any profession.
1. Avoid starting from scratch
There is a misconception that it's a UX designer's job to make pretty UIs. UX design is less about visual design and more about user experience design–solving human problems.
When UX designers spend time creating components and user interfaces from scratch, they reduce their productivity, even though they're doing design-related work.
Using a design system eliminates the need to design from scratch so designers can focus on user experience and user needs, increasing design efficiency and UX productivity. There are many open-source component libraries organizations can customize or build a design system from scratch.
UXPin has built-in design libraries so designers can build screens and layouts using user-tested components and design patterns. They can customize these components to meet product/brand requirements and save them to UXPin's Design Systems, where designers can share libraries, set permissions, and create documentation.
2. Component-driven prototyping
Component-driven prototyping is the next iteration of adopting a design system. Designers use ready-made interactive components from a repository to design UIs. These UI elements include styling (color, typography, spacing, etc.) and constraints set by the design system, so designers only have to drag and drop to build products and features.
These interactive components allow design teams to build exact replicas of the final product, so usability participants and stakeholders can interact with dynamic, immersive prototypes. These advanced prototypes deliver meaningful feedback and actionable insights UX designers can use to maximize project outcomes.
Companies like PayPal, Iress, and TeamPassword use UXPin Merge to sync repository components to UXPin's design editor, creating a single source of truth across the organization.
Merge, and component-driven prototyping significantly increased PayPal's productivity, where product designers build UIs 8X faster than before!
3. Control of your workflow
Omkar Chandgadkar, a Senior UX Designer at Amazon Alexa Smart Home, created a design offerings framework to maximize his team's planning and productivity.
Omkar's team applies this framework to project intake and backlogs to quickly identify the next steps, assign resources, and begin work. The framework has three product offerings:
Horizons Class Project: creating and executing a product vision for the next X years (long-term projects)
Mountains Class Project: an end-to-end design project for launch within 12 months (medium-term projects)
Plains Class Project: optimizing user experience and fixing usability issues (short-term projects)
With a clearly defined design offerings framework, UX teams can maximize productivity by:
Reduce calls and meetings at project intake
Developing a roadmap for projects (shared product management tools like Trello, Asana, Airtable, Notion, etc.)
Assigning resources in advance
Identify resource issues early and make preparations–i.e., hiring new talent or contractors
Create specialized teams–i.e., a "Plains Project Team" that specializes in fixing usability issues
4. The DesignOps mindset
Implementing DesignOps creates operational efficiencies, which ultimately leads to increased UX productivity. The DesignOps mindset helps designers together to get impactful things done.
Many people see DesignOps as an enterprise UX solution, but even startups and small businesses can apply the mindset and principles. DesignOps is about standardized tools, templates, workflows, and policies for design-related tasks. When everyone follows the same protocols, UX teams increase collaboration, consistency, productivity, and quality outcomes.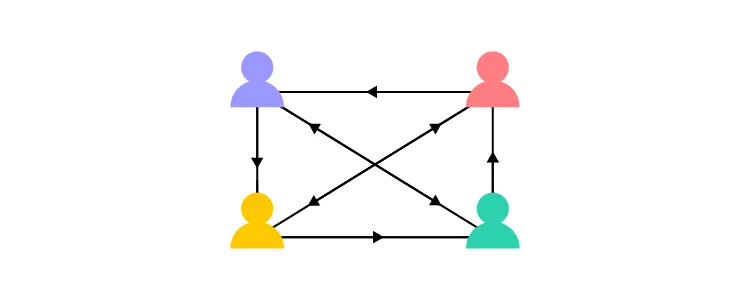 In this article on DesignOps strategy, the four stages of DesignOps maturity. Initially (stage 0), no one is responsible (usually startups and small teams), but the UX team has tools and processes to maximize productivity.
By stage three, the DesignOps team has an established structure with a DesignOps leader and DPMs managing and optimizing operational processes.
The ultimate goal of DesignOps is to remove operation work from UX teams to focus on user experience and solving problems, thus maximizing Design's effectiveness and productivity.
5. Engineering collaboration
Part of the DesignOps role is to facilitate design team and cross-functional collaboration. Even if designers don't have this operational mechanism in place, creating channels to communicate and collaborate is essential for UX productivity.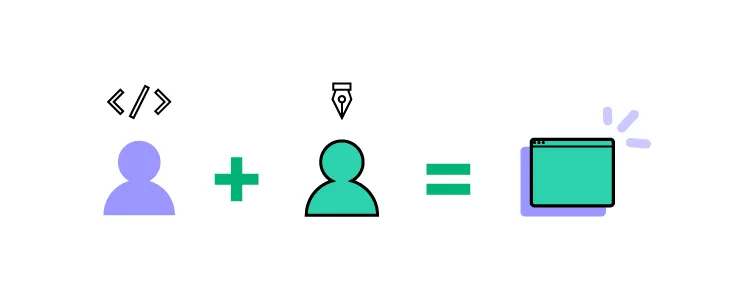 Designer/engineer collaboration is crucial because these teams must work together to deliver projects with different tools and constraints. Poor cooperation between these departments leads to design drift, friction, UX debt/technical debt, chaotic design handoffs, and project delays, to name a few.
Working to increase designer/engineer collaboration will only produce positive outcomes:
6. Go deep
In his book Deep Work, Cal Newport outlines the importance of distraction-free work sessions. Deep Work is the practice of shutting off the outside world to focus on completing tasks and projects.
Cal provides several examples of the most successful people in history using Deep Work. In tech, the most famous example is Microsoft founder Bill Gates. Bill takes regular 7-day sabbaticals (Bill's "think weeks"), where he retreats to a cabin with books and research materials to think about ideas and solve problems.
Retreating to a cabin is not a luxury most can afford, but there are some things UX designers can do to go deep and achieve comparable results:
Disconnect: set periods (90-180 minutes) of work where you completely disconnect from team members, family, social media, and all digital communications.
Plan: to avoid the internet and its many distractions, try to gather the research you'll need before each session. This planning also limits time wasted trying to find materials, maximizing your focus on the task at hand.
Prioritize: set goals for each session with a to-do list. Cal recommends setting challenging goals so that it forces you to push to get things done!
Cal also highlights the importance of boredom–even in your personal life. For example, when waiting in a queue or enjoying downtime, our first instinct is to reach for our phones to check social media and other news feeds. Fighting this urge will train your brain to focus better during Deep Work sessions.
7. Optimize your work environment
Neuroscientist and Professor in the Department of Neurobiology at the Stanford University School of Medicine, Andrew Huberman, offers excellent science-based productivity hacks and workspace optimization.
Here is a summary of Andrew's informative article, 5 Science-Based Steps to Improve Your Workspace:
Sit or stand: switching to sitting and standing every 30 minutes "can reduce neck and shoulder and back pain and even help augment some of the positive effects of exercise."
Time It Right: Andrew outlines three phases your body goes through during the day. Planning the type of work you do during these times can significantly impact performance and productivity.
Screen placement: ensuring your screen is straight ahead or slightly elevated will raise your alertness. If you're constantly looking down, "neurons related to calm and sleepiness are activated," making it difficult to focus.
Background noise: white, pink, or brown noise can help with focus during 45-minute sessions. Binaural beats (with headphones) are also effective in "increasing certain aspects of cognition, including creativity, and may reduce anxiety."
Work environment: different spaces are more optimal for specific types of work, "consider using different locations: rooms, buildings, indoors or outdoors to help access specific brain states and the types of work they favor."
Andrew's podcast, Huberman Lab, is full of fantastic insights about how the brain works and optimizing your performance, focus, and productivity.
UXPin–The Ultimate Productivity Hack for UX Designers
UXPin's advanced design and prototyping tool enables design teams to build high-fidelity prototypes that look and feel like the final product.
Better prototypes result in meaningful feedback from usability testing and stakeholders, leading to high-quality design project deliverables and a faster time to market.
Revolutionize your product development workflows with advanced prototyping from UXPin. Introduce reusable components into prototyping and build interactive hi-fi designs faster than ever. That's the best productivity hack you can implement as a designer. Read more about UXPin Merge.