Think about all the frustrating products you've used at work. Expense reporting apps. Outdated CRM systems. Database management tools. In the world of B2B products, UX has historically been an afterthought.
That's because it's not easy to overcome years of engineering-driven culture, legacy technology, and complex bureaucracy.
In the 2017-2018 Enterprise UX Industry Report, we gathered insights from 3,157 designers, developers, and product managers in the B2B world. In this post, we'll dive into just a slice of the data.
The top challenges in enterprise UX included:
1. Improving UX consistency (59%)
2. Testing designs with end-users (53%)
3. Clarifying requirements (46%)
4. Collaborating between teams (44%)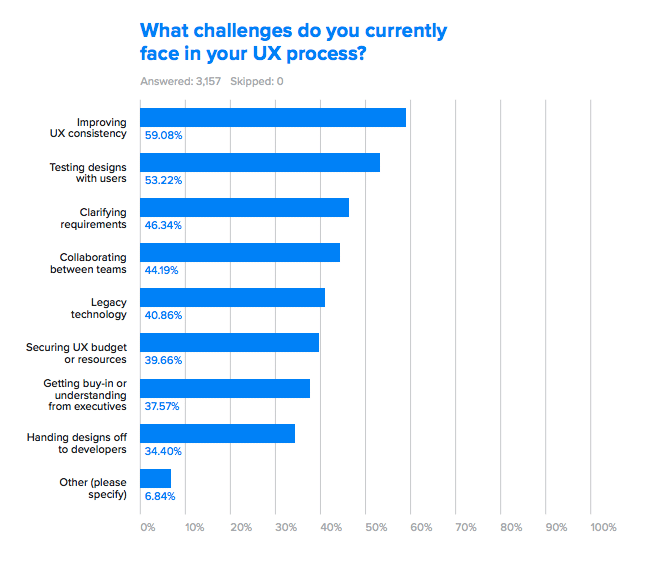 Legacy technology issues increase with company size
61% of respondents in companies with 5001 or more employees report legacy technology as a UX challenge.
Meanwhile, only 33% of respondents in companies with 26 to 100 employees reported the same challenge.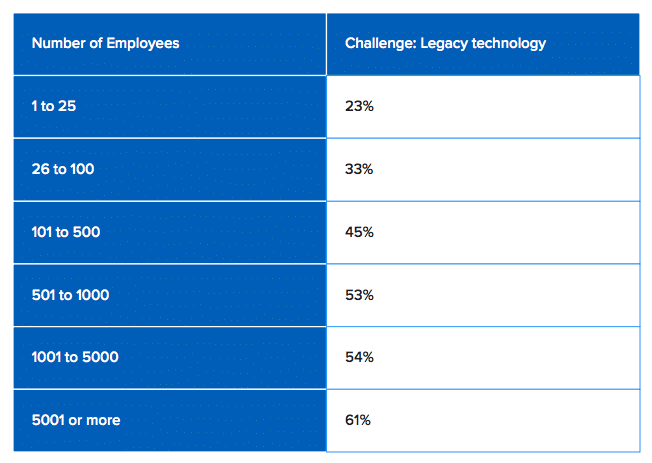 UX consistency is a universal challenge
The data indicates that improving design consistency becomes a significant challenge once a company grows beyond 25 employees.
The results aren't surprising since poor product consistency is a byproduct of poor communication and collaboration (both of which become increasingly difficult with distance).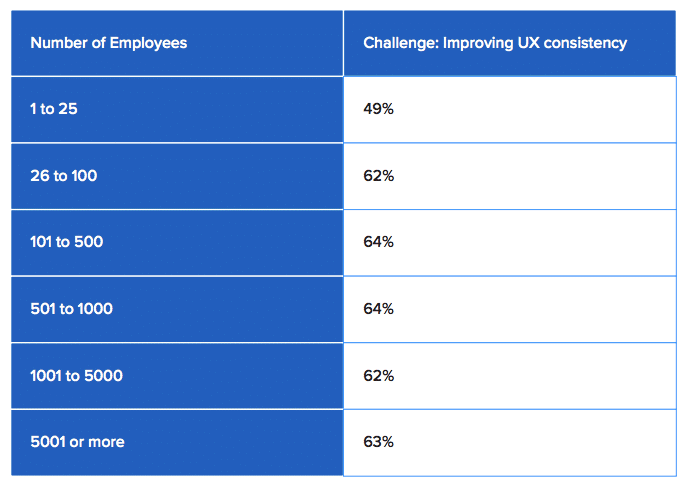 Executive buy-in becomes more difficult as company size increases
Almost half of all respondents from companies with 5001 or more employees reported that executive buy-in and understanding of UX is a challenge.
Collaboration becomes more difficult as developers outnumber designers
The data showed that larger companies tend to be distributed and hire more developers per designer.
As designers support more developers across locations, collaboration certainly becomes a greater challenge.
Want to know more about the current state of enterprise UX? Check out the 2017-2018 Enterprise UX Industry Report for all the details.