A Simple Recipe to Building Resilient Design Operations
As organizations strive to streamline their design processes and enhance collaboration, DesignOps serves as the backbone to align design objectives with business goals.
UXPin recently hosted a webinar with three DesignOps experts titled Strategies for Building a Resilient DesignOps Practice, which provided valuable insights and strategies.
The webinar featured a panel of three industry experts:
Salomé Mortazavi, Senior Director of DesignOps and Design Systems at SiriusXM
Meredith Black, a seasoned DesignOps consultant
Adam Fry-Pierce, Chief of Staff for UX Leadership at Google
These highly knowledgeable individuals brought unique perspectives and experiences, discussing the challenges and opportunities in DesignOps.
Streamline redundant operational tasks and workflows with a single source of truth from UXPin. Visit our Merge page for more details and how to request access.
Pinpoint the Real Needs of Design Teams
It's essential to understand and address the real needs of design teams when building a resilient DesignOps practice. One of the fundamental challenges that design teams face is the lack of alignment between design and the overall business strategy. This misalignment can lead to inefficiencies, communication gaps, and resource constraints that hinder the design process.
Creating a common vision
A pivotal step in addressing the needs of design teams is to create a common vision. This shared vision involves aligning the design team's objectives with the business's broader goals. By establishing a shared understanding of the role of design within the organization, teams can work more cohesively and effectively.
Learn about creating Design Team Vision Statement.
Streamlining workflows
Another critical aspect of supporting design teams is streamlining workflows. Design teams often encounter bottlenecks and inefficiencies due to fragmented processes. DesignOps can help design teams overcome these challenges by streamlining workflows to improve efficiency while fostering a more collaborative environment.
Implementing design systems
The implementation of design systems is an effective way to address communication gaps and resource constraints. Design systems provide a set of standards and guidelines that help maintain consistency across different design projects, facilitating better communication and collaboration among team members.
Aligning roadmaps with maturity models
Aligning roadmaps with maturity models is beneficial in the design planning process, including assessing the design practice's current state and identifying improvement areas. By aligning roadmaps with maturity models, design teams can ensure their efforts focus on achieving specific milestones and objectives.
Check out: Iress Quests of Achieving the Final Level of Design Maturity.
Rightsize the DesignOps practices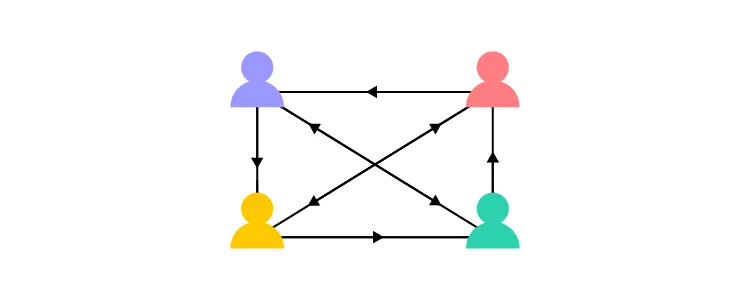 Rightsizing DesignOps practices is essential for tailoring operations to the specific needs and maturity of the design teams, including aligning the DesignOps roadmap with the organization's maturity model, which helps define areas of focus within the dimensions of maturity.
Using maturity models
One effective approach is to align DesignOps roadmaps around a maturity model by gathering the design leadership team and discussing qualitative challenges, needs, and goals. The maturity model helps outline focus areas and identify and prioritize themes. This alignment ensures that DesignOp's efforts focus on achieving specific milestones and objectives that align with the organization's maturity.
Read a Checklist to Track DesignOps Maturity.
Advocacy for design inclusion in planning
Another critical aspect is advocacy for the inclusion of design in the organization's planning process. Sometimes design is not seen as an essential planning component, so it takes advocacy from the design team to change this perception. By advocating for design and demonstrating its value, DesignOps can ensure that design is a key consideration in the organization's planning and decision-making processes.
Internal focus and team growth
In addition to aligning with organizational goals, it's vital to focus internally on the design team's needs. This alignment involves assessing how the team can grow and how to provide designers with development prospects. Sometimes designers may get stuck working on the same type of project, and it's essential to provide them with diverse opportunities that contribute to their growth and development.
Read our eBook about design teamwork: DesignOps First Pillar: How We Work Together.
Identify and Establish Critical Cross-Functional Partnerships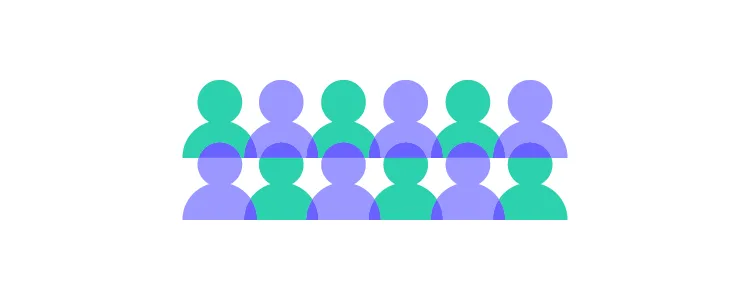 Establishing critical cross-functional partnerships is essential for the success of DesignOps. These partnerships ensure that the design operations align with the goals and incentives of other teams and departments within the organization.
Understanding goals and incentives
One of the key aspects of establishing cross-functional partnerships is understanding the goals and incentives of partners. It is essential to recognize that different teams and departments have distinct goals and motivations that drive their actions.
By understanding these goals and incentives, DesignOps can align its efforts with those of other teams and work towards common organizational objectives. This alignment is crucial for ensuring that DesignOps integrates with the broader organizational goals and doesn't operate in isolation.
Balancing urgency and importance
Another important consideration in establishing cross-functional partnerships is balancing urgency with importance. While it is important to focus on building culture and connecting designers, it is also crucial to recognize that urgency often takes precedence. DesignOps must focus on driving value for design organizations while ensuring efficiency.
Scaling and scoping DesignOps
When establishing cross-functional partnerships, it is also essential to consider the scale and scope of DesignOps, including assessing the unique needs of different teams and determining the appropriate scale and scope of DesignOps to meet these needs.
Starting slow and understanding the nuances of the team and organization can help identify what types of support and resources they need. This systematic approach ensures that DesignOps is rightsized and tailored to the organization's specific needs.
Measure and Impact: How to tell a story about the ROI of DesignOps
Measuring the impact and telling a story about the ROI of DesignOps is essential for justifying its role within an organization and focusing on the critical aspects that drive value for design and cross-functional teams.
Focus on impact
One of the vital aspects of measuring DesignOps is focusing on impact. DesignOps practitioners must resist the urge to do everything and instead concentrate on the most critical things. It is important to recognize that the size of the DesignOps team does not necessarily equate to impact. Therefore, focusing on efforts that are low cost but high reward is essential.
Building the foundation
Before adding layers to DesignOps, you must build a solid foundation by focusing on the essential aspects that drive value for design and cross-functional teams. Once you lay this foundation and there is buy-in from the organization, you can start adding additional layers while being mindful not to detract from the core value that DesignOps provides.
Internal scaling and multipliers
In times of austerity, getting creative with scaling efforts is crucial, which does not necessarily involve increasing headcount but may involve partnering with managers or leaders interested in DesignOps. It may also affect unlocking opportunities for design leads interested in processes and DesignOps activities. These internal multipliers can help scale efforts without necessarily increasing costs.
Transitioning designers to DesignOps
Another approach to scaling DesignOps is transitioning designers to DesignOps roles. Many designers may already be performing DesignOps activities without realizing it. By transitioning these designers to DesignOps roles, organizations can leverage their understanding of design to drive value for DesignOps.
Scope Impact: Cost Centers and Revenue Generators – Metrics in our Sphere of Control
It's essential to focus on business needs through cost centers and revenue generators when scoping the impact of DesignOps. This scoping involves establishing robust cross-functional partnerships and focusing on metrics within DesignOps' sphere of control.
Focus on business needs
Identifying the critical aspects that drive value for the business and focusing efforts on these aspects is vital for impact scoping. It is essential to recognize that while there are many things that DesignOps can do, focusing on those that have the most significant impact on the business creates the most value and ROI.
Establishing cross-functional partnerships
Establishing strong cross-functional partnerships involves building relationships with other departments and functions within the organization, such as engineering, product, and technical program managers. These partnerships ensure that DesignOps is aligned with the organization's broader goals and can contribute to achieving them.
Personal relationships as an investment
Building personal relationships with cross-functional partners allows DesignOps to better understand other departments' and functions' goals and needs, which helps align efforts while focusing on metrics within DesignOps' sphere of control.
Adapting to changing times
DesignOps must be agile and adaptable to change by being resilient and looking for opportunities to grow and develop, even in times of austerity. By being flexible and resilient, DesignOps can continue to drive value for the business, even during change.
DesignOps and ChatGPT (+ Other Generative AI)
In the context of DesignOps, artificial intelligence (AI) and generative models like ChatGPT can significantly streamline design processes and enhance productivity. Here's how:
Automating routine tasks
AI can automate routine and repetitive tasks in the design process, freeing designers to focus on more complex and creative aspects of their work. For example, DesignOps practitioners can use AI to automate design asset generation, user interface components, and even entire layouts based on predefined rules and guidelines.
Rapid prototyping
Generative AI models can assist in rapid prototyping by generating design concepts based on specific inputs. Leveraging AI can significantly speed up the design ideation and concept development phase, allowing designers to explore a broader range of ideas in less time.
User research and data analysis
AI can also assist in user research and data analysis. For example, AI can analyze user behavior data to identify patterns and trends, providing valuable insights to inform design decisions. DesignOps can also use AI to conduct user testing and gather feedback, automating the otherwise time-consuming process of collecting and analyzing user responses.
Enhancing collaboration
AI models like ChatGPT can improve collaboration by serving as virtual team members generating ideas, providing feedback, and assisting with various tasks. These AI assistants can enhance the efficiency and productivity of design teams, especially in remote and distributed work environments.
Enhance designer and developer collaboration by bridging the gap with UXPin's Merge technology. Create a single source of truth across the organization, eliminate drift, reduce time to market, and minimize debt with one tool. Visit our Merge page.