Texting and driving don't always mix.
Sure knowing where the next turn is has been virtually solved. And self-parking, even self-driving cars exist. But texting while driving is more to blame for car accidents, especially among teens, and the accident rate continues to skyrocket.
While it can be so helpful, even life-saving at times, technology has demonstrated that it can also greatly compromises a driver's attention. Regardless, drivers will continue (probably need to continue) using technology for navigation and communication. Certainly, entering text on a phone is a huge problem, and a lot harder to justify than safer means of communication, where hands are uninvolved and eyesight is minimally distracted.
But it presents a huge opportunity for compelling design. In this post, we'll take a look at how design can elevate the problem of texting while driving.
Smartphones: The Real Problem?
With smartphones, whose capabilities tower over previous iterations of mobile phones, there is a slew of different distractions and dangers, such as rummaging for the device, unlocking the screen with a code, selecting an app, entering text  and reading.  The time and focus taken away from the road becomes more severe.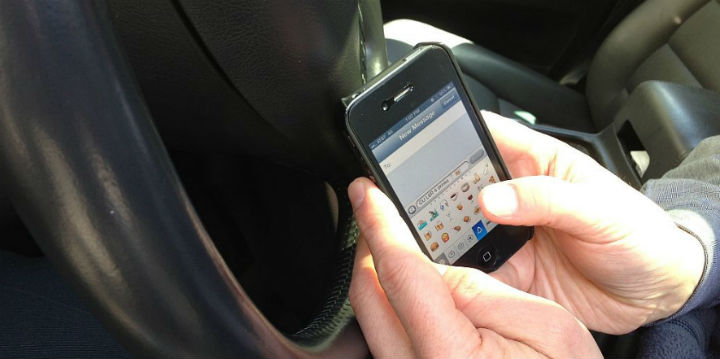 Photo Credit: Intel Free Press, Creative Commons 2.0
Smartphones aren't designed with safe driving practices in mind, especially when it comes to the design and user interface its apps.  While ideally suited for public spaces, offices, and home use, the many glances, grip, and fingertip manipulations required in the operation of a smartphone spells trouble for drivers.
So, the bigger problem is not the need to communicate or be assisted with navigation as much as it is the interface. Legislation in states like California trend toward totally hands-free tech usage. The presiding wisdom behind this and other new driver laws seems to be: go ahead and listen, talk even, but keep your hands on the wheel.
When comes to keeping a driver's eyes on the road, digital agency Huge did an excellent study on the UIs found in most automobile interfaces, which can also be applied to smartphones.  Here's what Huge's study recommended:
Understand the act of driving. Being at the helm of a vehicle limits what a person can do at any given time. They can't reach for their phone, text or check Instagram, while hurtling down the freeway at 65 mph or higher.
Understand what occupies the driver. What is it that the driver is doing at any given moment? What occupies their attention?
With the best interest (and survival) of users in mind, let's look at what designers can do to ensure drivers don't get into an accident.
Know Your Driver's Limits
Those two tips from Huge basically boil down to knowing your driver's limits. More than that, it's also knowing what type of apps a driver will need to use. So what is a driver likely to do with their smartphone in car:
Make a phone call
Send a text (yeah, we know it's going to happen)
Navigation (also probably to find out where cops are hanging out)
Change the music
Navigation is a big one for drivers. After all, why pay for a costly navigation system pre-installed in your car when there's an app for that? Phone calls and texting probably tied for second. But when, where and why does a driver use these things.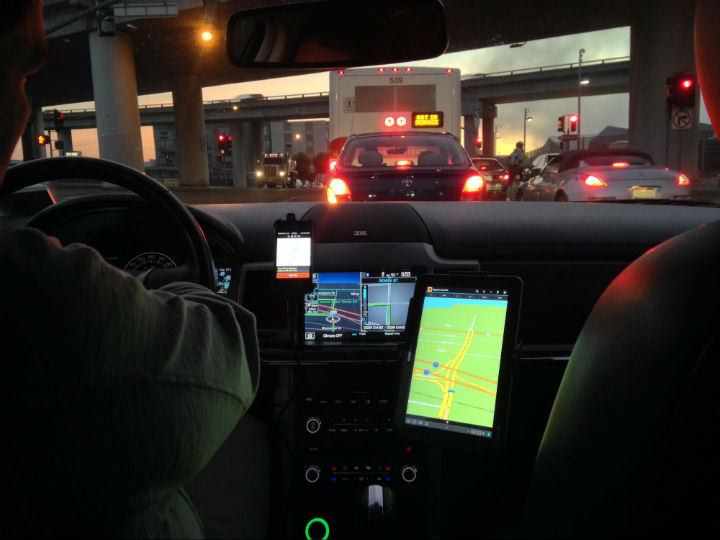 Photo Credit: Jason Tester, Creative Commons 2.0
You need to start by understanding the driver — who in this case will be the user. So you'll have to get to know him or her as you would any other user.
As we outlined the free e-book, The Guide to UX Design Process and Documentation, there's a few ways to do this:
User personas. Create a persona of the driver. What type of apps do they use? What kind of driver are they? Are they a heavy commuter? How much time do they spend in the car?
User stories. Craft a journey of a driver from departure to arrival. What are the things that they do as they drive?  When do they make calls? What's the situation they'd text in? When do they enable navigation?
You can also talk directly to drivers and conduct user testing with them. Probe directly into how they use their smartphones during driving.
Understanding the context of what a driver is doing at all times will help inform how you design specifically for their needs.
Keep Driver's Hands Free
At least since the days of my family's epic road trips in the '90s, when my dad hooked up a car phone in the GMC Suburban, feeding through the speaker system (output), and connecting to a dash microphone (input), people have been leveraging components already in place in their cars to make calls more safely. Actually, this has been happening since much earlier.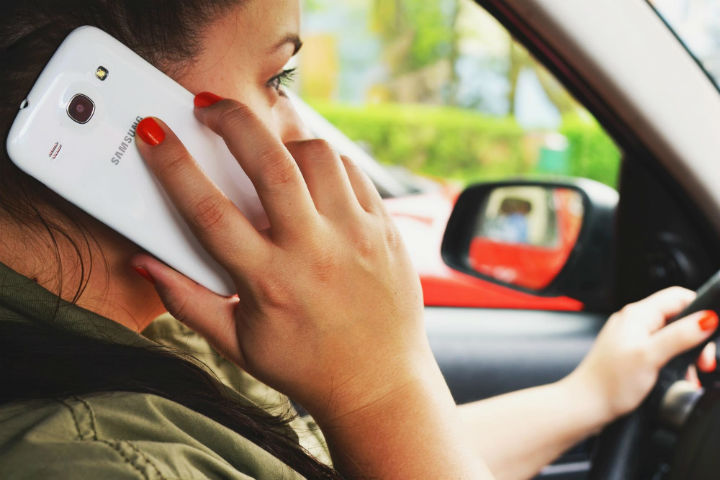 This creates an interesting dilemma for designers, posing a couple of questions:
How do you keep drivers hands on the wheel?
And how do you allow them to still interact with an application, like a navigation device?
The key may be integration with existing car components, like hooking up a 90s car phone. The tech is already there with cars coming with their own touch-screen interfaces and bluetooth tech. Here's what designers have to work with:
Better smartphone integration. Today's models have better Apple and Android integration than ever before. Having phones tied to the car operating systems will make it easier for the next bullet.
Voice-operated systems. Both bluetooth-enabled and manufacturer-installed car gps units operate via voice, which has user's safety in check. Voice command, though imperfect, is considered the least distracting means of communicating while driving.
These technologies give designers an open playing field and may provide the solution for ensuring drivers don't fumble with their phone in their hands.
Keep It Simple
Let's face it, people are still going to go for their phones. It's going to happen. They're going to change the song playing on their Spotify. They're going to update their destination on their navigation app. However, we strongly urge that folks refrain from driving while holding their smartphones.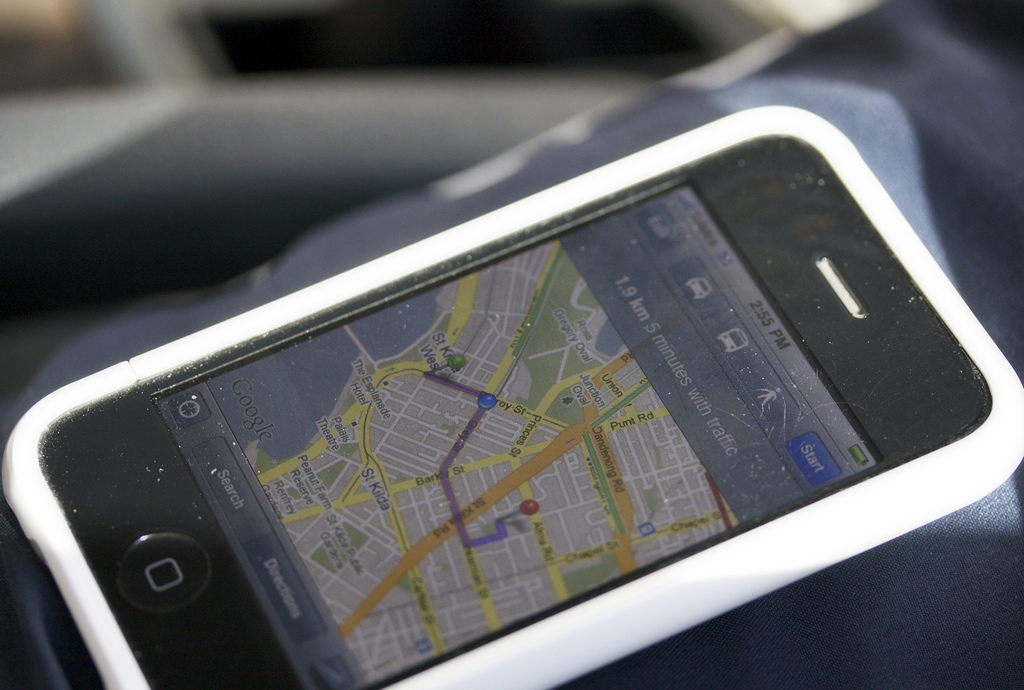 Photo Credit: Michael Verhof, Creative Commons 2.0
A 2014 research paper outlined a few guidelines for car interfaces, which could easily apply to apps used whilst driving. Here's what researchers recommend:
Get rid of the menu.  You don't want drivers to be flicking through a lot of options. Limit their options to what they need. For example, on a navigation app, you might want to just have options to chart the route and then start directions.
No touch options. This goes back to our point above about keeping the driver's hands free. Voice-activation may be the future of smartphone applications while driving.
One thing to consider is having a "driving mode" to applications. This is could potentially be more streamlined, more safe, and more effective with the advent of wearables.  Their application in the realm of driving is mostly untapped, but huge opportunities exist, given these devices' minimalistic and intuitive interactions. Turns of the wrist or waves are part of a bodily UI, movements users employ in many daily tasks, and would be preferred to more artificial movements, such as those involved in using a smartphone or any other touch screen.
Voice along with gesture controls may be an avenue worth pursuing as a way of keeping things simple so that a driver doesn't get too distracted.
Takeaway
Smartphone use while driving is still a relatively new arena. Designing for that distracted driver, some call it worse than drunk driving, does present some unique challenges and a chance to raise the user experience bar.
As it stands there are thousands of car, wearable, and accessory interface combinations at play, and it is (very hard) to take a stab as to which is best for users generally.
If you want to dive deep into mobile UI design, check out our free e-book, Mobile UI Design Patterns. We examine the hottest mobile apps — such as Spotify, Uber, Mailbox and Yelp.